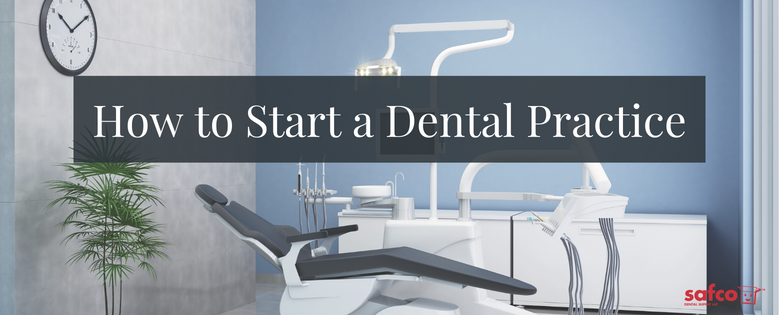 Are you a new dental school graduate or recently completed a specialty residency? If so, you may be thinking about starting a dental practice. See our guide to get started and to learn more about opening a dental practice including –
Creating Your Business Plan

Selecting a Location for Your Dental Practice – Choosing the Right Space

Determining What Dental Equipment & Supplies You'll Need to Buy

Securing Financing for

Running a Dental Practice

Securing a Lease

Determining Staffing Needs

Creating a Dental Marketing Strategy
Your business plan will serve as the first impression for potential partners and investors. In addition, it serves as a roadmap for your practice during the first several years. If you're looking to create a business plan, you can follow the general guidelines that most small businesses use.
Before writing your business plan, ask yourself these questions –
Can I provide a detailed description of my future dental practice?

What other dental professionals are in the market?

How I can make my practice stand out from others in the market?

Who is my customer?

What pricing and payment policies am I considering?

Do I have an actionable marketing plan?
Writing a thorough business plan to open a dental practice takes some time and thought. Below is an overview of each section of a business plan.
1. The Executive Summary
The executive summary should include your mission and vision statements, a brief overview of your plans and goals, a brief look at your future practice, an outline of your business strategy, and brief information concerning your financial status and current financial needs.
2. Practice Management
The management section of your business plan describes which individuals will run the practice. This can be a short paragraph mentioning that you will be the sole executive with a bio of your background.
3. Products and Services
It's essential to make a convincing case for the services you sell. Describe your healthcare services as solving a customer's problem and include brief information on –
benefits

competition

costs

features

target market
4. Industry Analysis
This section gives investors and partners a "snapshot" of the dental industry and any current trends. Industries ebb and flow so it's important to include an industry analysis in your business plan.
5. A Marketing Plan
Providing marketing information shows that you know your target customers and understand how to reach them with a well-thought-out marketing plan. Briefly mention what you sell, prices, where you sell from, and how you plan to reach potential patients.
When researching your target audience, think about:
Age

Sex

Level of education

Geographic location (where your potential customers live)

Marital status

Financial status
6. Operations
Cover these areas in the operations section:
Equipment

Facilities

Labor

Materials

Processes
Include anything that is critical to operations or can give you a competitive advantage.
7. Your Financial Plan
Smart investors often look at the financial section first when reading a business plan and it indicates the current health of a potential business. Financial statements like income statements, cash flow statements, and balance sheets provide a picture of a company's current value and its ability to earn a profit long-term.
Selecting a Location for Your Dental Practice
There are several factors to consider when choosing a location and renting office space for your practice.
Questions to ask when choosing a geographic location include:
How many other dental practices are located in the part of the city you're considering?

It's best to set up a practice in a location that isn't filled with competing businesses.

Is the neighborhood safe?
Know the area where you choose to locate. What is the crime rate? Starting a dental practice where you feel safe and protected is important. Choose a geographic location where your patients and staff will feel comfortable visiting. Also, consider the safety of your business. Will you be storing equipment or supplies that may be at risk for theft? Will you or an employee be running the office late at night?
In most cases, local zoning ordinances will designate where you can locate your practice. Don't sign a lease until you're sure it's legal for you to operate your practice in a particular location.
Choosing the Right Office Space
Parking, public transportation, ease of access for staff and patients, and ADA compliance are important factors to consider before signing a lease agreement.
Parking
Does the office space you're considering have plenty of vehicle parking to accommodate patients and staff?
Public transportation and ease of access
Is the office space on a public transit route? Is it near a major highway? If the office is located in a remote area or is difficult to find, it can affect your success. Choose a location where employees want to work and where patients find it convenient.
ADA Compliance
Americans with Disabilities Act (ADA) was created to protect the rights of people with disabilities in all areas of public life. As a business owner, you may want to note Title III of the ADA regulations.
Title III governs public accommodations, including workplaces, stores, and education. Under Title III, such places must provide accommodations that allow people with disabilities full access to facilities or services.
Learn more about the Americans with Disabilities Act at ADA.gov.
Determine Staffing Needs and Associated Costs
Finding talented, quality employees is essential to your practice's success. One way to find qualified staff is to ask former classmates and work colleagues how they find qualified employees.
Overhead costs are rising and that includes the costs related to staffing. Consider how many staff members you'll need. Should all employees work full time or should some work part-time?
Paying more for well-qualified personnel pays off in the end as they will be able to accomplish more in less time, and with minimal training.
Investing in training is one way to help keep staff costs in control without affecting the quality of care. When you cross-train and educate your employees each will be able to work to their full potential. Quality employees enjoy learning and applying new skills and techniques.
In addition, create an efficient office environment by reading a book about leadership or taking a leadership class, yourself.
Determine Which Dental Equipment & Supplies You'll Need
Purchasing dental equipment and supplies is a large expense when opening a new dental practice. In addition to the products you use daily you'll need to buy or lease furniture for the waiting area, dental software, desktop computers, tablets, cleaning supplies, patient brochures, etc. The equipment and supplies you'll need will be partly dependent on the type of dentistry you practice. Below are a few supplies to keep in stock –
Dental Crown and Bridge Products

Dental Veneer Products

Fillings and Dental Bonding Products

Orthodontic Products

Teeth Whitening Products
Dental Burs – Long Straight Shank (HP), Latch-Type Shank (RA), and Friction-Grip Shank (FG)
Diamond Burs

Tungsten Carbide Burs
Handpieces – Air Propulsion, Electric Propulsion,

Integrated LED Light

Prophy Angles and Prophy Paste

Ultrasonic Scalers and Inserts

Dental Sealants – Glass Ionomer and Resin-Based
Topical Anesthetics

Prophy Angles designed for children

Prophy Paste in kid-friendly flavors

Toothbrushes and Flossers for kids

Nitrous Oxide Accessories

Small Toys, Stickers, and Kids' Take-Home Gifts
Finishing and Polishing Supplies
Mandrels

Pre-mounted Discs, cups, and points

Stones

Polishing compounds and pastes

Finishing Strips
Securing Financing for Running a Dental Practice
Most dental professionals will need a small business loan when building a dental practice. Financing options include –
Online lenders
Consider online lenders. It can be easier to qualify for a loan with an online small business lender rather than a traditional bank. Online lenders usually offer a faster application and approval process – often less than a week.
Traditional, brick-and-mortar banks
Many banks offer loans specifically for healthcare professionals. Some may offer discounts for dental association members. For example, members of endorsed associations receive a 50% discount on administration fees at Bank of America.
SBA Loans
SBA loans, issued by participating lenders, often have flexible terms and low-interest rates but certain rules apply and the application process can take months. The U.S. Small Business Administration guarantees SBA loans.
Investor Funding
Another funding option is crowdfunding or finding investors. Investors who are willing to invest funds in new businesses are a growing trend and it may be easier than trying to qualify for a loan or grant. Connect with potential investors and show them your business plan. You'll make connections that can bring future benefits.
Creating a Dental Marketing Plan
As a new business owner, it's important to learn the basics of inbound and traditional marketing.
Start with your business plan
When developing your marketing strategy, many answers will already be in your business plan. Your business plan is an invaluable "roadmap" to creating your branding and marketing strategy.
Define your brand
Brand consistency is important for making your message memorable, as well as for effective search engine optimization (SEO). Elements of practice branding include:
Practice name
Address and phone
Business logo and brand identity elements
Unique Selling Proposition (USP)
URL and Website
Social media accounts
Business directories and business websites
On-site signage and printed brochures
Blogging
If you find that creating and following a marketing strategy is time-consuming, consider partnering with a marketing agency that specializes in digital marketing for dentists.