Written by

Jess Cilenti

Written On

June 20, 2022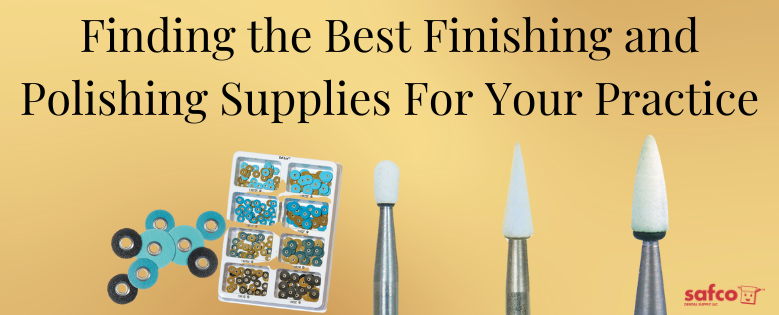 Finishing and polishing are important parts of any dental service. The finish is what your patients physically see and feel, so it is your calling card that the patient takes with them.
Providing your patients with a comfortable and smooth result will guarantee satisfied patients. Having the correct supplies and tools to provide the beautiful results you desire will ensure that you are well prepared and confident in your ability to create excellent results. Read on to explore some of the options available to you.
Finishing and Polishing Starts Outside of the Patient's Mouth
Mandrels
Choosing the correct mandrels is an important part of readying your practice for success. The best mandrels will securely hold arbor bands or polishing discs in place while you work to either aggressively shape or to refine and polish metals, acrylics or porcelain. The choice of either snap on or screw top mandrels is personal preference.
Discs
There are many different types of polishing discs and again, it is personal preference as to which ones you use. There are discs that make use of a silicone snap mount system for ease of use. 3M's easy to use eyelet style discs pop on and off quickly, and are also available in a super thin option. They are color coded to help you easily determine the grit sequence you need chairside.
Stones
Using tools such as Dura-White Stones in the lab or when prepping for your patient will save you time and allow you to get the result you want. Micrograined aluminum oxide provides exceptional fine finishing on enamel, composites, compomers and porcelain.
The varied shanks that are available will ensure that you can use these burs with friction grip, contra angle or straight handpieces.
Notable Finishing and Polishing Materials
For polishing and shaping alloys and amalgams, there are various types of mandrel tools for the handpiece you prefer that will give you the finish you are looking for. They are available in a variety of shapes and levels of abrasiveness, allowing you to find a sequence and combination that works for you.
Using pre-mounted discs, cups and points eliminates the need to change discs while working on composite. With the level of abrasiveness dictated by the pressure you apply, you are in control of the finish while using these tools with your choice of handpiece.
To ensure the smoothest possible result, chamois discs or acrylic wheels can be used to finish. Using the handpiece you prefer, these options give you an excellent finish result that will satisfy both you and your patients.
Some polishing compounds are used for exclusively extraoral applications. With varying levels of grit, some compounds are designed specifically for use on particular materials.
Embrace Wetbond Seal-n-Shine can help completely eliminate final finishing and polishing steps, creating a high gloss finish on resin restorations or small particle composites.
Of course, polishing and finishing is not limited to the teeth – both natural and prosthetic. Creating a well finished and smooth result on flexible partial materials is important for your patient's comfort and well being. Using a thermoplastic kit for finishing partial dentures will allow you to accomplish this goal.
Comfort is Key- Intraoral Polishing and Finishing
When choosing which tools and products you plan to use, efficacy, ease of use and comfort (both for your patients and yourself) are all important factors to consider.
Just as every patient is unique, each provider's unique technique combines with their preferred tools and materials to create the best results. Some options are:
Silicone
Silicone polishers are a good choice for many reasons; they can be used to polish and finish simply by varying the pressure you use. Silicone polishers can also be used to remove excess cement, to address intrinsic stains on teeth, or to polish enamel after scaling. They won't damage enamel, and won't crumble.
Strips
Strips are a very useful tool to use with enamel, composite or porcelain restorations. Some can be used with metal and glass ionomer, as well. Using diamond as the abrasive substance, strips can smooth and polish spaces not easily reached with other tools.
Because they are so thin, strips can be used to loosen tight contact points, to remove extra adhesives, and will minimize damage to gingival tissue. Strips come in serrated or non-serrated options as well as different widths; Kerr's NTI Diamond Finishing Strips provide excellent options. They allow you to choose your grit levels so you can customize according to your needs with each patient.
For improved visibility and more control, opt for reusable perforated stainless steel. Another reusable option includes Intensiv's Proxo Strips, which feature perforated ends for a secure grip and excellent control.
Polishing Pastes
Some polishing pastes can be used for both extraoral and intraoral applications. Premier's one-step diamond paste provides a glazelike polish and can be applied with a felt barrel, wheel or point. There is an intraoral version available as well as an extraoral.
Another option for intraoral polishing is to use a compound with potassium nitrate as a topical desensitizer. This can minimize possible discomfort and vastly improve the patient experience while still providing you with an effective polishing substance and excellent result.
Intensiv's Unigloss Paste is universal, odorless and tasteless, to be applied with a prophy cup or low speed bristle brush. Since it is universal, it can be used on all restorative materials as well as natural enamel allowing for a faster polishing.
Safco Dental Supply: Best Online Dental Supply Company
Providing your patients with beautiful results requires attention to detail and a concern for your patients' comfort and overall experience. Here at Safco Dental Supply, we are dedicated to providing you with a one stop shop for all of your dental supply needs.
In addition to a wide range of finishing and polishing products, we also carry a large inventory of essential supplies for cosmetic dentistry, orthodontics, surgical dentistry, and more.
Do you have questions about the supplies we have to offer? Do you need help choosing supplies that will enable you and your staff to best serve your patients? Feel free to contact us anytime; our dedicated customer service team is here to answer your questions and help you find what you need.
To further explore the supplies we have to offer, please request a catalog.
Be sure to check out our Blog page for more informative dental blogs.