Written by

Jess Cilenti

Written On

June 13, 2022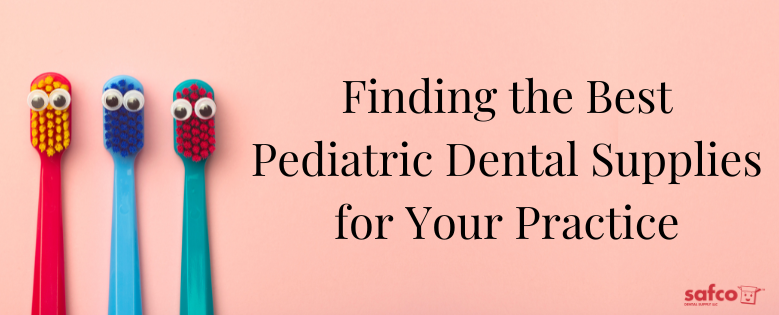 Providing pediatric dental care is arguably one of the most rewarding aspects of dentistry. When it comes time to choose the products and supplies you use for your pediatric patients, it is important to make sure you're choosing only the best. Let's break down everything you need to know about finding the best pediatric dental supplies for your practice.
It's incredibly important to ensure that your little patients are comfortable in the chair from start to finish. When it comes to topical anesthetics, you don't have to compromise efficacy for fun flavors, and vice-versa.
Safco Dental Supply's SensiCaine is available in fun and delicious flavors such as bubblegum, mint, cherry, pina colada, raspberry, and strawberry.
LolliCaine is available in delicious bubblegum, cherry, mint, and pina colada flavors. This 20% benzocaine gel comes pre-packaged in convenient and sterile single-use packages that mimic the look of a packaged lollipop. This fun visual detail can help make kids feel more comfortable and excited about their treatment, and the single-use packaging can help you eliminate cross-contamination and product waste.
For little ones who want a wide variety of flavor options, GINGICaine is available in banana, cherry, chocolate mint, cotton candy, mint julep, pina colada, and strawberry; there's something for everyone.
Helping children establish a positive relationship with their oral health is one of our most important tasks. Using fun and colorful prophy angles can help little ones feel much more comfortable and excited about their pediatric dental cleaning.
FUNimals disposable prophy angles are fun and playful, designed to look like animals like giraffes, dolphins, pandas, alligators, pigs, and dalmatian puppies.
These cute and playful prophy angles will help reduce your patients' dental anxiety while simultaneously providing exceptional performance. The latex-free cups are designed for maximum splatter control, and well-designed flares allow for superior subgingival access.
Zooby prophy angles are also designed to look like animals, allowing little ones to choose from penguins, zebras, tigers, cheetahs, and pink flamingos. Zooby prophy angles feature a soft and webbed cup and are designed to fit all slow-speed handpieces.
When it comes to pediatric dental care, sometimes even the smallest details can make a difference in helping little ones feel comfortable in the chair. A prophy paste with a yummy taste and fun or playful design is just an example of a small detail that can make a big impact on pediatric dental patients.
Zooby prophy paste is a patient favorite, available in kid-friendly flavors like Spearmint Safari, Chocolate Chow, Gator Gum, Growlin' Grrrape, Happy Hippo Cake, and Turtle Melon.
Zooby pastes are low-splatter and available in medium and coarse grits. They are gluten-free and contain xylitol. Autoclavable cup grippers come in turtle, alligator, and hippo shapes to provide an extra bit of fun for your patients.
Butler Monsterz 1.23% fluoride prophy paste is splatter-free, provides very minimal residual grit, and is available in bubble gum, cherry, and mint flavors.
Toothbrushes and Flossers
Toothbrushes made especially for kids come in a wide variety of shapes, colors, prints, and designs; there's something for everyone to help make at-home oral care fun.
For little ones with a favorite television show or movie character, there are fun options like:
Colorful and easy-to-use kids' flossers make flossing a fun and enjoyable experience for little ones. This ultimately helps them understand the importance of keeping the space between their teeth clean and healthy.
Crayola kids' flossers are made to fit perfectly in little hands and mouths, are available in fun colors, and feature grape-flavored fluoride-coated floss.
Plackers kids' flossers feature a dual-gripped handle and an angled head for easy use. Fruit smoothie swirl flavored floss helps make flossing fun and enjoyable for little ones.
Nitrous Oxide Accessories
For pediatric patients who are simply too nervous to sit comfortably in the dental chair, nitrous oxide is sometimes necessary. In order to make the process as comforting and relaxing as possible, it's best to invest in high-quality pediatric nitrous oxide accessories.
Crosstex is one of the top brand choices for pediatric nasal hoods. ClearView nasal hoods are brightly-colored and available in pleasant kid-friendly scent options such as Birthday Bubblegum, Groovy Grape, Outlaw Orange, and Sassy Strawberry. They are also available in unscented options.
ClearView hoods are latex-free, provide a visual indicator when the patient breathes through their nose, and create an exceptional seal against the face. A well-designed low profile provides easier access to the patient's mouth and expands the field of view for the clinician.
Personal Inhaler Plus+ nasal hoods are also suitable for pediatric use; they are also available in bright colors and fun scents such as Birthday Bubblegum, Groovy Grape, Outlaw Orange, French Vanilla, Fresh Mint, Perfect Peach, and Sassy Strawberry. Like ClearView nasal hoods, PIP+ hoods are also available in unscented options, as well.
Toys, Stickers, and Other Fun Take-Home Gifts
There's nothing quite like the smile that lights up a child's face when they are told they can pick out a sticker or toy at the end of their dental visit. Providing a fun gift at the end of the visit is a great way to reinforce the idea that the dentist's office is a safe and fun place to be. In fact, picking out a gift on their way out is often a large drawing factor for children that helps them feel comfortable and excited about their visit to the dental office.
Check out Safco's range of treasure chests and assorted toy sets, stickers, toys, and patient gift bags. For patients with a sweet tooth, xylitol tooth-shaped lollipops are a fun, tooth-friendly, and delicious treat to send them home with.
Safco Dental: Best Online Dental Supply Company
Pediatric dental care requires a dedication to detail and placing a strong emphasis on your patients' comfort and overall experience. Here at Safco Dental Supply, we are dedicated to providing the equipment and supplies you need to provide your patients with the top-tier care that they deserve.
For high-quality dental supplies, place your trust in Safco Dental Supply. In addition to a wide range of pediatric supplies and products, we proudly boast a massive inventory of essentials for cosmetic dentistry, orthodontics, surgical dentistry, and more.
Do you have questions about the orthodontic supplies that we have to offer? Looking for some assistance in choosing the supplies that will best serve both your patients and your staff? Feel free to contact us anytime; our dedicated customer service team is here to answer your questions and help you find what you need.
Looking to thoroughly explore all of the pediatric dental supplies we have to offer? Click here to request a catalog.
Be sure to check out our Blog page for more informative dental blogs.