Focus on the Positives!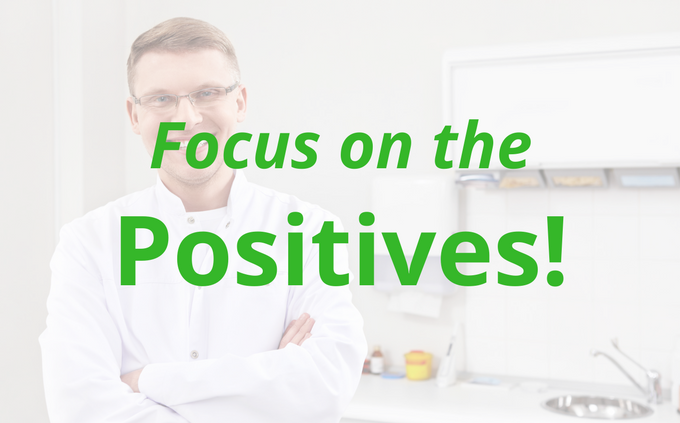 It's no secret that dentistry is a tough profession! As a clinician, tough patients and complex procedures await you daily. Patients don't want to be there very often. We have "experts" out there telling us what we are doing wrong. If you are an office manager, running a practice has an equal amount of challenges. There's insurance, regulations, office team personalities and dynamics, and more to deal with week to week. In other words, it's not difficult to get sucked in to a negative mindset.
However…having said that, most of my colleagues would agree it is ALSO a very gratifying and rewarding occupation! I believe that there are a few ways to FOCUS ON THE POSITIVES which will consistently allow you to remind yourself why you became a dentist or work in a dental office.
As a dentist and business development consultant, I work regularly with offices as well as with companies that sell products and services to practices. I always teach what can be said in a negative manner can also be said in a positive manner. When you think and talk about good things, you become more productive and content. You stay "on time", you adjust to challenges well, and you take the "good with the bad" cycles that are certain to occur daily.
When working with colleagues, I ask them to think about and answer the following questions, and to do so daily, whether it be to themselves OR in their team "huddles":
1. Why do patients like coming to your office? Whether you are a dentist, office manager, hygienist, or assistant reading this, what is your answer? It could be: "patients don't have to wait to be seen", "we talk about their kids' soccer games", "we have coffee, fresh flowers, and/or TV's in each operatory", or "we offer a clean, comfortable, and safe environment". No matter what you said, I'm sure it's brought a SMILE TO YOUR FACE!
2. What are you most proud about what you've accomplished as a dentist? It may be that you earned a Fellowship to the AGD or AACD, that you have done mission work to treat underprivileged children in Guatemala the past 10 years, or you wrote an article in Dental Economics. Regardless, again, don't you feel good now?
3. What new products, services, programs, or procedures will you be implementing in the next 3-6 months? Dental offices take pride in being the best and offering the latest and greatest. Over my decades long career as a dentist, I always continued to learn about what was new out there and it could help my patients be healthier and make my practice more efficient! How about you? What's on your list? What will you look to try, learn about, and bring in to the practice this year?
By asking yourself these 3 questions regularly, you will be FOCUSING ON THE POSITIVES and "rejuvenate" your love for dentistry.

Dr. Anthony Stefanou, D.M.D. – "Dr. Tony"