A Good Morning Huddle – Part 1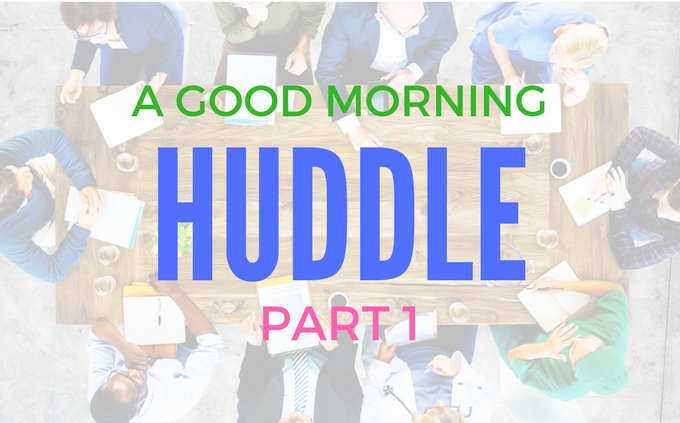 Some of my best memories of being an office manager involved morning meetings, otherwise known as a "huddle" – although I refer to this as a meeting as it better reflects the purpose. I was constantly thinking about ideas to spice things up and every day I was preparing for the next morning. I used to gulp coffee as soon as the alarm went off, listen to loud and fun music in the car, and rehearse important points I didn't want to forget.
Almost any practice management consultant you work with will immediately ask about your morning meeting during the onboarding process. The reason is that those meetings are a critical part of the culture in your office. As a consultant, I talk in great length about an office's AM meeting very early on and how to get past resistance from the team. Here are a couple roadblocks offices encounter and how to move past them…
Roadblock: Not every team member arrives at the same time & there hasn't been a pre-established start time set.
Solution: There are usually several reasons for this such as childcare issues, lack of leadership and systems, or patient scheduling. If you want your entire team to show up at the same time and engaged, it's not a rule you can change one day and expect 100% compliance. Give your team a 3-6 month heads up on the changes. This gives plenty of time to make arrangements and prepare for a new routine. Tell them you realize this is a big change, but stand your ground on the new start time and there isn't much room for negotiating.
On a meeting's maiden voyage, be sure to make a big "to-do" by providing breakfast and being thankful. Your first one may not be perfect but they will evolve over time.
Roadblock: Your office has extended hours and there are two different shifts.
Solution: I often run across this situation with larger, multi-provider practices. Attempts to get two meetings per day were futile so we came up with two possible alternatives: a message board in a central location or a meeting right after lunch during the day.
A message board works only with very specific instructions. Each department should have a form to fill out (coming in Part 2) and instead of presenting the information in the morning meeting, it is posted on the board. Use a sign-in sheet each day so everyone is responsible for reading the information and contributing.
The second option would involve coordinating the lunch hours of two different shifts so there is 15 minutes right before or right afterwards. Be aware of your state's HR laws though and be respectful of an employee's lunch hour. If a team member is running behind, simply assign someone to pass along the information to those not able to attend.
You have tackled half the battle now. Compliance and commitment from everyone is a must, especially the doctor and office manager. A morning meeting is the door that opens the day which means expectations are in place and it's productive. In Part 2 we will jump into the details of how your morning meeting will flow.