A Good Morning Huddle – Part 2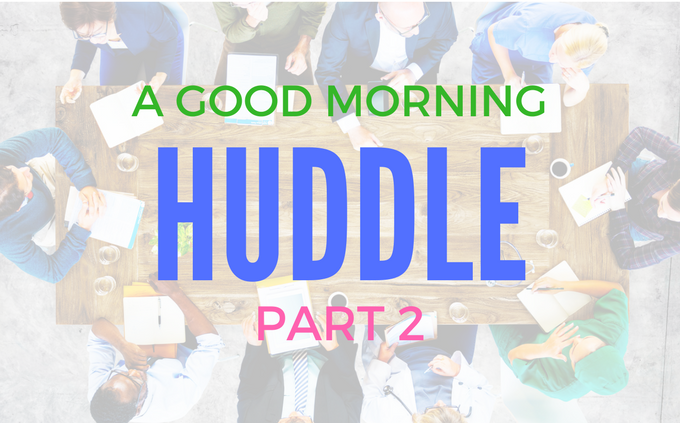 In Part 1 of my morning huddle series I shared some tips on how to get the team on board and establish a time and place. Now, let's move on to the details! This is broken down by department and goes into the specific expectations of the team.
Office Manager and/or Doctor Kickoff: Start by reviewing what went well the previous day, and take this opportunity to identify any good deeds and any team members that went out of their way. You also want to talk through trouble spots and have team members come up with solutions. This isn't the time to try to fix systems, but it is a good opportunity to see if the same situation has the potential to pop up again and to be prepared to handle it.
Administrative or Scheduling Coordinator: The admin team should know the schedule in and out while constantly be looking ahead to prevent holes and anticipate potential problems. For example, frequent no-show patients should be red-flagged and brought to the attention of the team. Here are some ideas for additional areas to address in the huddle:
Emergency appointments: I have the entire team agree on how to handle these. It's important that the clinical team and doctor are on the same page so the admin team can schedule effectively.
Open time and possible replacements: If there are holes in the schedule, I expect to hear from the admin team that they have contacted several patients and exhausted all options.
Other situations: Next available production, new patient, SRP appointment.
Hygienist: Hygienists are crucial to treatment plan acceptance and presentation, as well as the continuity of the schedule. They tend to know the patients the best and can recall personal information about the patients and sometimes know about unscheduled treatment without even looking at the chart!
Post op calls: Report any results and note any that need to be done. If they don't have time, it is their responsibility to see if it can be delegated.
Perio charting: Identify when assistance from another team member will be needed.
Unscheduled treatment: This is so important! When the hygienists identify these patients, I always ask how they will approach it and their plan of action.
Referrals: Want new patients? Trying to grow your practice? If you know who your biggest fans are, those are the ones to ask for a referral!
Assistants/Implant Coordinator: The flow of the practice sometimes lies within this part of the office! Assistants also know patients very well and can gauge how the doctor is feeling throughout the day.
Lab cases: I see this fall through the cracks often in offices. It's important to check one and two days in advance for lab cases as well as monitor any cases that have been unseated.
Post-op calls: Same as hygienists, report any results and communicate to doctor or office manager if any feedback is out of the ordinary.
Unscheduled treatment: Some patients dodge hygiene appointments and only come in when something is bothering them. Assistants should address these patients in advance so the doctor and hygienists are prepared when walking in to the appointment.
Office Manager or Doctor Closing: Attitude and energy are crucial here!
Goals: Discuss where you are for the month in relation to your goals and how the office is doing overall. If you have to say something negative, be sure to counter it with something positive or look to the team to help come up with solutions.
Policy changes: Discuss with team any changes in operating procedures or other pertinent information.
Times needed for consult coverage: The clinical team will have a good idea on who might need some extra time discussing treatment needed and of course, be prepared to do consults with new patients.
Close on a positive note!
As I mentioned in Part 1, I used to love this part of the day and would prepare by blasting music in my car and slap on a smile and upbeat attitude no matter what was going on in my life. Some days it was hard, but always worth it. Good luck and don't forget to share your successes or roadblocks with me in the comments section!