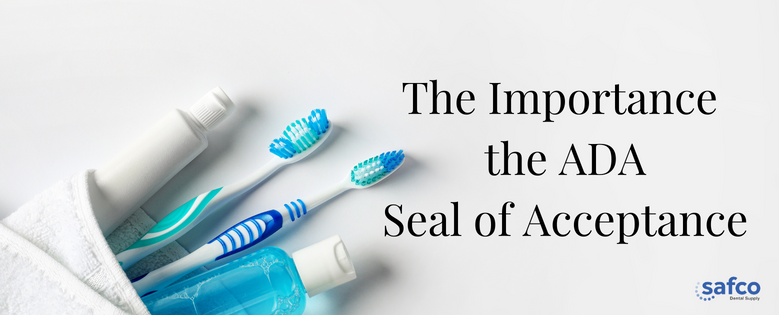 The Importance of the ADA Seal of Acceptance
It's likely that you have noticed that some dental products promote an ADA seal of acceptance. But what exactly does it mean to be ADA accepted? Let's explore everything you need to know.
What is the ADA Seal of Acceptance?
The American Dental Association (ADA) is an organization that advocates for public health. Specifically, public health in regards to the dental industry. Founded in 1859, it is the oldest and largest dental association in the United States.
In 1866, experts began to challenge deceitful product packaging and marketing.
Many agreed that there had to be some sort of accountability held. Someone had to ensure that products were actually providing the results they claimed. The American Dental Association was the group that brought this notion to life.
The ADA Seal of Acceptance is an official accreditation. It is earned after successful scientific testing. The very first Seal of Acceptance was awarded in 1931. The ADA has continued to successfully regulate dental products in the years since.
So, what does ADA accepted mean?
The ADA seal confirms the following:
The product provides scientific evidence of its efficacy

All claims made about the product by its manufacturer prove to be true. This encompasses both packaging and advertising

The product is high-quality and safe for the public

All advertising tactics and materials abide by the

ADA's guidelines and standards
The ADA Seal of Acceptance can be found on toothbrushes, toothpaste and mouthwash. It can also be found on floss, whitening products, chewing gum, mouth-guards, and more. Just take a look at the product packaging; you will be able to easily locate the seal to confirm.
The American Dental Association's website also features a handy search tool. You can use to find products that have officially received an ADA acceptance.
What is the Importance of the ADA Seal?
So, why is the ADA seal important?
The Seal of Acceptance ensures that you are receiving a product that is safe and effective. With so many different dental products to choose from, it can be difficult to choose. How can we distinguish the ones that actually provide the results we want and need?
Thankfully, an ADA approval saves the day in this respect. It's an official confirmation that. your chosen products put their money where their mouth is – no pun intended.
The truth is that this extends far past simply achieving a whiter smile or super fresh breath. The ADA seal exceeds in providing consumers with significant peace of mind. It ensures that products that have been thoroughly tested to ensure complete safety.
The Seal of Acceptance also provides dental professionals with peace of mind. It confirms that they are using and recommending quality products for their patients. This applies to all forms of dentistry, including cosmetic dentistry, orthodontics, and dental hygiene.
This isn't to say that products without an ADA seal are necessarily dangerous or ineffective. When purchasing products that have not been approved, the consumer takes a risk. Without the seal, there is no confirmation that the products can back their claims.
How Are Products Evaluated?
In order to become ADA accepted, products must undergo thorough tests and evaluations. This process can be quite grueling, and only the best of the best emerge victorious. Not every product that is submitted for an ADA Seal of Acceptance receives approval!
Products must first receive approval from the U.S. Food and Drug Administration. Without this first requirement, the process does not move forward.
As stated by the American Dental Association, below are the first set of instructions:
"Supply data from independent laboratory and clinical studies that supports the product's safety and effectiveness."

"Submit ingredient lists and pertinent product information."

"Provide evidence that manufacturing facilities meet FDA standards."
The ADA's team of scientists will then evaluate the product at length. If the product is approved, it is awarded the Seal of Acceptance for five years.
After these five years pass, the product must once again be submitted for review. This is the best way to ensure that products maintain their quality.
We Stock ADA Sealed Dental Products
Here at Safco Dental Supply, we are proud to provide a wide range of ADA-approved dental products.
Not sure where to begin? Please free to give us a call at 800.621.2178 to speak with one of our specialists. We will gladly help you create a personalized list of products that have earned the ADA seal of approval.