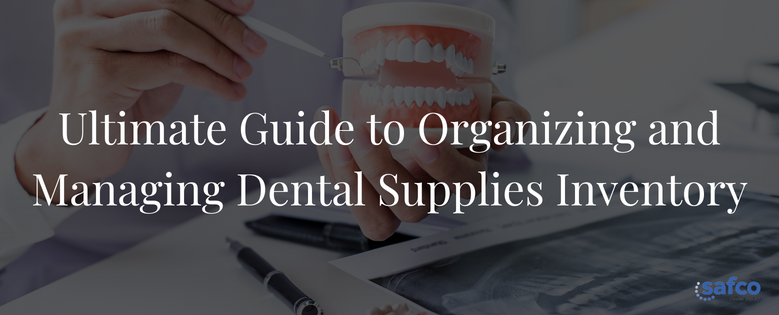 Learn more about the causes of tooth sensitivity and tips to relieve sensitive teeth from Safco's latest blog.
No matter your specialty, day-to-day operations in any dental clinic require precise organization. Dental inventory management ensures your staff knows exactly where everything is. Things should be located at a moment's notice.
From gauze to acetaminophen, it is crucial to keep your supplies organized at all times. Read on for some valuable tips for dental office inventory management.
Why Dental Inventory Management is Important
Dentistry is by all accounts a hands-on industry. Thanks to technological advancements, there are many digital applications in the dental field. However, there are still many things that must be manually done by dentists.
Inventory is made up of supplies, materials, and equipment used to provide treatment. To keep things running smoothly, consider developing an organized system of inventory control.
Benefits of organizing your dental inventory include:
All supplies can be found at any time

Supplies can always be put away in an organized manner

Inventory can be thoroughly and simply managed

Lower team stress levels

Supply orders can be done quickly and efficiently

No over-ordering or forgetting to order certain items
Not sure where to start and looking for a dental inventory list template? Check out this dental supply list template below:
How to Organize & Manage Your Dental Supplies
For ultimate inventory control, consider the ABC (Always, Better, Control) approach. You may also consider the VED (Vital, Essential, Desirable) approach. The way you choose to organize your supplies is up to what works best for you and your staff.
Many things go into a well-organized practice. Let's break down some of the things you can do to ensure that your dental supplies are as organized as possible.
1. Address Common Concerns with Inventory
The first thing to do is identify where your concerns lie with your dental office inventory. Many practices find themselves going through sterilization pouches, gloves, and masks the most.
If proper inventory records are not kept, you may face the risk of running low on these items. You may even risk running out completely. This has the potential to throw a major wrench into things.
Identify which items tend to quickly run out in your dental office. Take the time to identify which items are difficult to restock. Be sure to keep track of expiration dates, as well. Taking a proactive approach is the only way to ensure that you can keep things running on track!
Be sure to set a supply budget. A good rule of thumb is to ensure that your inventory costs are no more than 5-6% of production. Having a set budget will help you pay close attention to your costs. It will also help you develop an ordering system that works best for your practice.
Below are some common examples of concerns with dental inventory:
Going over budget when ordering supplies. This can happen often if you find yourself running low and placing large orders to quickly stock back up.

Responsibility for ordering falling on one individual and becoming overwhelming

Orders arriving too late and causing a backup in production

Overstocking and/or under-stocking
2. Create a dental inventory spreadsheet
The best way to keep track of your inventory is to create a detailed spreadsheet. Your dental inventory spreadsheet should provide complete organization. It should allow you to manage every single item in your practice.
Ultimately, this helps you avoid the disaster that comes along with under-stocking. It also helps you avoid the financial waste that comes with overstocking.
Below are some things that should be included in a dental office inventory checklist:
Item name

Item ordering number

Item location

Number of items that must be kept on hand at all times

Number of items that is currently on hand

The expiration date of the item (if applicable)
Anyone given the task of ordering products should be able to do so without difficulty. There are times in when someone else has to take inventory or place an order. You should be able to rest assured that the process will be done exactly the same without error.
3. Organize Your Supplies
Knowing how to organize dental supplies is crucial in this industry. Organization ensures that everything can be easily found and stocked. It also ensures that things can be properly sanitized, eliminating serious health risks.
Organized products can easily be kept track of. When you know exactly what you have, you know what you need and what you don't. Inventory can be done without searching through every cabinet and drawer in the office.
Start by ensuring that frequently used items are easily accessible. This ensures that team members are able to locate and grab what they need in a pinch. This is important when setting up operatories or fetching something for the dentists.
You may be tempted to keep overstock throughout the office in empty cabinets or drawers. While it is tempting, it is absolutely crucial that you keep everything together. This eliminates the chance of confusion or error in the future. When running a busy dental practice, the fewer complications, the better!
Consider Using an Inventory Management Software
For busy practices, it can become difficult to work with pen and paper. A physical dental office supply inventory list might become difficult to manage. In this case, you might want to consider using inventory management software.
Dental inventory management software makes it possible to completely streamline your inventory management.
Below are some notable features of inventory management software:
Design an intelligent digital inventory list

Incorporate item barcodes that help keep an inventory of items in real-time

Receive low inventory alerts to help avoid under-stocking issues

Send digital quote requests to find the best product at the best price

Quickly and efficiently process orders

Efficiently manage invoices
For high-quality dental products for your practice, trust Safco Dental Supply. We provide a wide range of products to fit every need, with free shipping on orders over $250.
We strive to get you your products as fast as possible. All orders placed before 4:30 pm CST (3:30 pm on Friday) are shipped out same-day. Give us a call at 800.621.2178 to speak with one of our experts.