Written by

Amanda Hill

Written On

March 16, 2021
Job searching can be a scary thing. It feels vulnerable, you don't feel in control, and there are so many unknowns. I recently helped my office hire a new team member, and I learned a few tips based on my experience. Some of these might feel like common sense, but I assure you each tip comes from something that actually happened!
Tip #1 Read the Job Description
Take time to read the words the employer has crafted before you apply. First, determine if this job looks like a fit for you? Is it even something you want to do or learn how to do? When you reach out to the employer to apply, be sure to tie your introduction back to something in the job description.
We were hiring for a front desk position. I received numerous applications highlighting the job seeker's dental assisting experience and desire to further their dental assisting career! Take a minute to be sure you know what job you're applying for.
Tip #2 Establish your brand
When job seeking, it's essential to put your best foot forward. This means establishing your professional brand. Make sure you have a professional email address, voice mail message, and profile picture. Surveys show the 70% of employers look up a candidate on social media before they offer an interview. Clean it up! It's time to show employers that you are just the professional they can count on.
When calling applicants to get to know them a bit, I encountered more than one with an unprofessional voicemail recording. So my first impression was not at all how I'd want them to answer the phone at our office. Consider switching that out while job hunting.
Tip #3 Respond
After you have applied for a job, be on the lookout for a response. That might come in an email or a voicemail. Respond to that message within 24 hours at most. Even if you have accepted another job in the meantime, let them know. If they've taken the time to reach out to you, be professional enough to respond. The dental industry is small, and you never know when you might be job searching again. Not responding to an email or, worse, no showing an interview shows a lack of respect for the person reaching out to you.
I'd estimate at least half of the candidates that applied did not respond to my initial email. A couple didn't answer the phone when I called for the phone interview we scheduled. While this certainly helped me weed out quite a few applicants, I was shocked at the lack of response.
Tip #4 Research the office
Interviewing is a two-way street. You are interviewing them as much as they are interviewing you. Before you have an interview with the office, spend a little time online learning about them. Read patient reviews and look at their website. Not only will this help you determine if it's a good fit for you, but you'll also sound knowledgeable when you talk to them. Have some questions ready before you go in. Get curious about the office.
Our office has a solid online presence. We are proud of our Google reviews. The candidate we ended up hiring knew a ton about our office before the first conversation. It was pretty impressive. She sounded familiar with our philosophy and training and let us know how she could complement our practice.
Tip #5 Know yourself
This tip is the most important one. If you don't know yourself, you can't begin to understand what the right office is for you. When hiring and job seeking, I use the DentalPost.net job board. In addition to posting a resume and searching for jobs in my area, they have assessments that allow me to understand myself better. So when an office asks what your strengths and weaknesses are, you can answer that question with confidence after reading your DISC personality assessment. There's a core values assessment that will help you know if your values align with the prospective office. Know who you are and what you value will help you shine in an interview and give you the insight to know the right fit.
Whether you're a new grad or a seasoned professional, you want to put your best foot forward. Sticking by these tips will help you determine the best fit for you and shine in the process.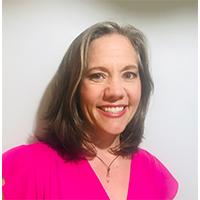 Amanda Hill, RDH, BS has been in the dental industry for over 30 years, she earned her B.S. in Dental Hygiene at Old Dominion University in Norfolk, Virginia and has had the opportunity to experience dentistry around the world. Amanda has a love for learning and is obsessed with continuing education in all its many forms. Amanda practices part time clinically and is an industry educator for the nation's largest dental job board, DentalPost.net. Amanda is a proud Navy spouse and mom of 3.