Written by

Jess Cilenti

Written On

March 16, 2022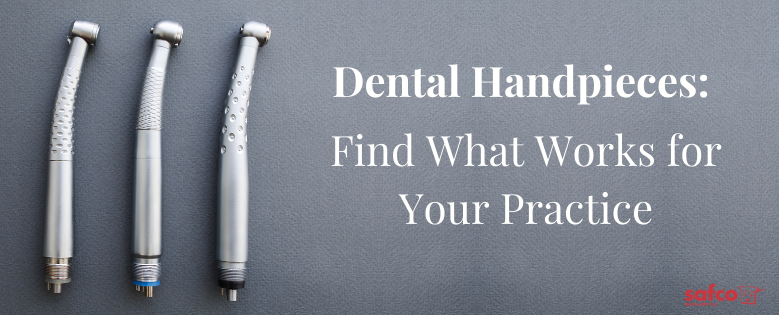 Dental handpieces are the cornerstone of many different types of dental treatments; whether you're removing caries or making bite adjustments to your patient's new crown, it's important to ensure that you are using the best dental handpiece to help you get the job done.
High-speed handpieces are ideal for tooth decay removal, crown preparations, retention grooves, and creating margins. They may also be useful for polishing and finishing restorations.
As the name suggests, high speeds operate at high rotating speeds–typically between 180,000 and 450,000 rpm. The high rotating speeds – in conjunction with the use of a water spray as a coolant – enables easy and quick removal of both enamel and tissue with no vibrations or heat.
Safco Dental is proud to offer a wide range of different high-speed dental handpieces for your practice, including:
In contrast with the high-speed handpiece, low-speed handpieces operate at a low rotating speed – typically up to 80,000 rpm.
Slow-speed dental handpieces are ideal for removing soft decay, trimming, and polishing without posing a risk to the enamel.
Safco Dental offers a wide range of slow-speed dental handpieces:
Rather than using the air system to rotate the bur, electric handpieces use an electric motor. Electric dental handpieces provide more consistent torque, allowing you to maintain consistent speed and make use of smoother margins and cuts.
Electric handpieces provide excellent precision, making them ideal for tight spaces or difficult angles.
Safco Dental's inventory of electric dental handpieces includes:
When using an electric handpiece, it is important to keep in mind that they are not compatible with air-driven systems, and vice-versa.
As the name suggests, endodontic handpieces are designed for use in endodontic procedures. They provide exceptional precision during root canals, allowing you to expertly clean and shape the canal – every time.
The use of an endodontic handpiece introduces and ensures predictability during endodontic procedures – two things that are worth their weight in gold in this industry.
Check out Safco Dental's inventory of endodontic handpieces here.
Surgical handpieces are useful in implantology, periodontal procedures, and maxillofacial surgery. They are commonly used for the sectioning and removal of third molars or other impacted teeth.
This type of dental handpiece typically features a head that rests at a 45-degree angle. They are structurally designed to direct air away from the surgical site, automatically lowering the risk of air embolism.
Check out some of the top-tier surgical dental handpieces Safco Dental has to offer:
The Surgic Pro is an excellent surgical handpiece system that guarantees accurate speed, precision, and torque.
Prophy handpieces operate on the same system as a low-speed handpiece, making use of a slow rotating speed of less than 80,000 rpm.
Dental hygiene handpieces make it possible to deliver a smooth, comfortable, and thorough polishing during your patient's dental cleaning. Disposable one-time heads make it easy and simple to quickly change out and get ready for the next patient.
Safco Dental is proud to provide a wide range of prophy handpieces, including:
Implant handpieces are surgical handpieces that are specially designed to ensure precision, comfort, and simplicity during implant surgeries.
A quality dental implant handpiece can ensure that the procedure runs smoothly from point fixation to implant placement.
Successful implant placements have the potential to completely change the way your patients feel about their smiles. Safco Dental proudly provides a few of the very best implant handpieces for you to choose from to ensure success and patient satisfaction.
When investing in new dental handpieces for your practice, it is important to keep your budget in mind.
Here at Safco Dental, we believe that every dental professional deserves access to top-tier products. We are proud to provide dental handpieces for every budget.
Dental Handpiece Maintenance
Each dental handpiece comes with a set of detailed instructions for proper upkeep and maintenance. In order to ensure the longevity and performance of your handpieces, it is crucial that these instructions are followed closely.
In the unfortunate event that you need a dental handpiece repair, have no fear; Safco Dental has you covered.
We offer a comprehensive handpiece repair service: simply ship in your damaged or broken air-driven handpieces in our repair box. We will provide you with a free estimate based on the repairs needed. Once we have successfully completed the repair, we will mail the handpiece(s) straight back to your practice in 24-48 hours.
For more information about our dental handpiece repair services, click here.
Safco Dental: Best Online Dental Supply Company
The dental handpiece you use has a massive effect on the quality of care that you are able to provide your patient – no matter the type of treatment that is being administered.
We know that as a dental professional, it is of utmost importance to ensure that you are able to provide your patients with the highest level of care possible. That is why we are dedicated to providing the equipment and supplies you need to do so.
For high-quality cosmetic dental supplies, place your trust in Safco Dental. In addition to a wide range of dental handpieces, we proudly boast a massive inventory of essentials for general dentistry, pediatric dentistry, surgical dentistry, and more.
Do you have questions about the dental handpieces that we have to offer? Feel free to contact us anytime; our team of dental supply experts is here to answer your questions and help you find what you need.
Be sure to check out our Blog page for more informative dental blogs.