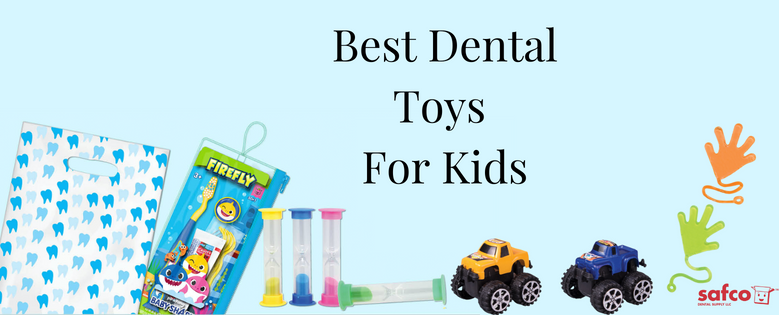 Let's break down some of the best dentist toys for kids to give you some solid ideas for making your practice more fun!
Best Dental Toys for Kids
All pediatric dentists know the importance of making a visit to the dentist fun and exciting for little ones. Providing children with a positive experience from the very beginning helps set a strong foundation for the way they view and approach their dental health for the rest of their life.
In most cases, this can be achieved with the use of kid-friendly equipment, goodie bags, and dental supplies.
Let's break down some of the best dentist toys for kids to give you some solid ideas for making your practice more fun!
Benefits of Giving Away Dentist Toys to Pediatric Patients
For decades, savvy dentists have given out kids' dentist toys to improve the pediatric patient experience.
Below are some of the most notable benefits of giving away dental toys for good behavior:
Create a positive and playful environment

Give children something to look forward to both before and during their visit

Encourage children to relax and trust their team of dental professionals

Reward children for being brave in the dental chair (positive reinforcement)

Alleviate and distract from general dental anxiety

Show parents that their child's comfort and overall experience is just as important to you as it is to them
Stickers from their Favorite Characters
There's nothing quite like seeing a child light up with excitement about their favorite show or movie character. It's likely that even as an adult, you can remember with fondness some of the characters that you adored as a child.
Providing stickers and other types of exciting memorabilia from popular children's shows and movies is a great way to keep visits to your dental practice fun and exciting.
Like most things in childhood, favorite characters tend to come and go as little ones grow and find new interests. Be sure to keep your prizes updated with the latest and greatest children's favorites!
Check out these Batman and Spider-Man stickers for little ones who are crazy for superheroes. . If princesses are more their thing, you may want to offer stickers that feature classic Disney princesses like Ariel and Cinderella, or perhaps someone new like Moana.
Looking for something that provides plenty of options for picky young patients? Our variety roll provides something for everybody!
Cool Sunglasses
It's impossible not to feel even just a tiny bit cooler with a pair of awesome sunglasses on.
Handing out super-cool sunglasses to your pediatric dental patients can help them feel like the superstars they are on their way out after their visit is complete.
These awesome animal print sunglasses will encourage a wildly-fun feel for your patients. But please, no pictures!
Tasty Tooth-Shaped Pops
It's no secret that children love sweets. Of course, you'll recommend your patients stay away from sugary sweets, but a tasty lollipop can do the trick when it comes time to calm an anxious little one.
Lollipops made with xylitol rather than regular sugar boast a tooth-friendly quality that just can't be beat; xylitol has actually been proven to help prevent cavities!
Handing out tasty
tooth-shaped xylitol lollipops
can help even the most nervous of patients feel confident and excited about their time in the dental chair.
Grape-Flavored Kids Flossers
Flossing is the foundation of a healthy, happy mouth. As a pediatric dentist, getting your patients to understand the importance of brushing and flossing at home is one of your top priorities.
These colorful and fun kid-sized flossers are grape-flavored and available in beautiful magenta, green, and blue color options. Designed to fit perfectly in little hands, these fun flossers will help get kids excited about flossing their teeth at home.
Oral Travel Kits Popular Kids Characters
Most parents ensure that their children have a toothbrush at home, but what many may not know is that their child's toothbrush must be replaced from time to time.
Handing out these oral care travel kits after your patients' visits helps ensure that they can enjoy the use of a new toothbrush while getting excited about seeing some of their favorite characters.
Oral Travel Kits adorned with popular cartoon characters are a hit with both kids and their parents. They can help parents save money on travel-sized hygiene products while encouraging kids to brush their teeth.
Use this as an opportunity to educate parents and their kids on how frequently toothbrushes should be replaced.
2-Minute Brushing Timers
In many cases, the issue isn't getting kids to brush – it's getting them to brush thoroughly. Two minutes can feel like an eternity for a busy little body!
Encourage little ones to learn the importance of brushing for a full two minutes by handing out some of these fun tooth-capped two-minute timers.
These tooth-brushing timers will help little ones get excited about timing their brushing and will provide them with a visual aid to help them understand the process.
Shop Online for Dentist Toys for Kids
Looking for some assistance in choosing some fun and exciting kids' dentist toys? Feel free to contact us anytime; our team of dental supply experts is here to answer your questions and help you find what you need.