BioSonic® UC-125
(Made in USA.)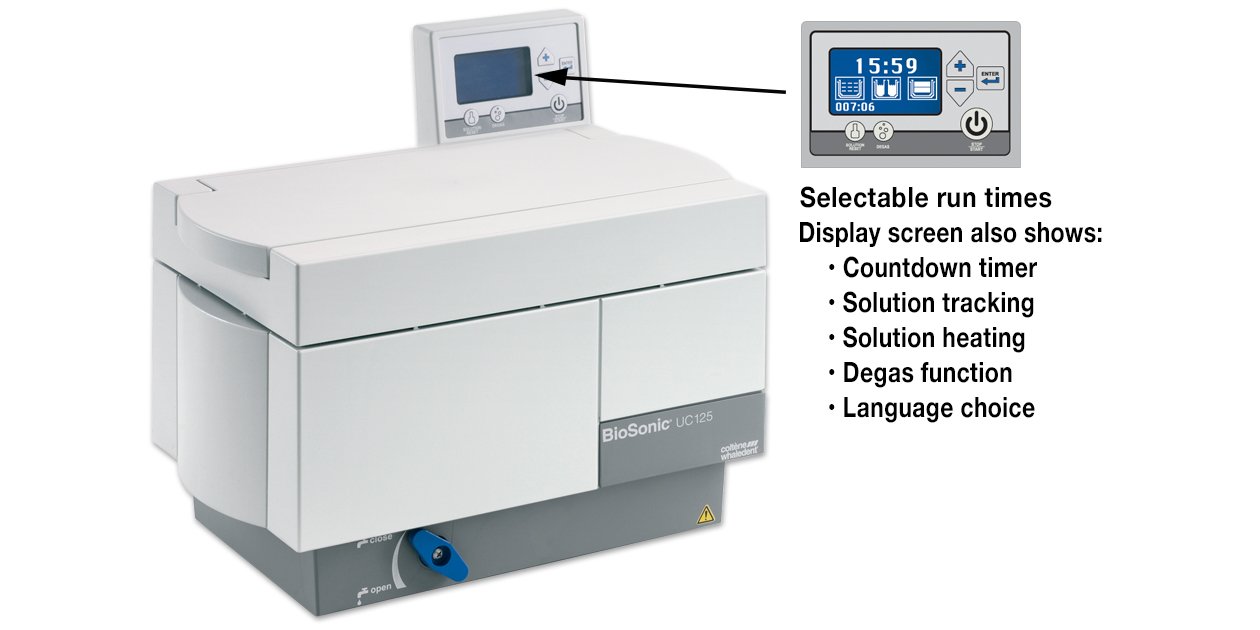 Product Details
The BioSonic UC-125 features a large, 1.25 gallon capacity tank and a variety of customized enhancements such as:
Selectable cleaning times

- allows you the freedom to individually select clean times by operation.

Countdown timer

- shows the cleaning time remaining until the cycle is completed.

Solution tracking

- indicates how long the solution has been in use, so that mandatory changing of the solution will not be forgotten.

Degas button

- simply touch the button and it will release the air entrapments in the solution which hinder the cleaning process.

Fully functional cover

- limits airborne contaminants and significantly reduces noise level.

Free, full size FingerGuard™ basket

- keeps sharp instrument points inside the basket reducing accidental finger sticks.
2 year warranty from date of purchase.
Overall dimensions: 16.5" L x 10.5" W x 13.75" H. (13.75" H includes height of LCD display. Unit height with lid open is 17")
Tank dimensions: 11.25" L x 5.62" W x 5" H.
Safco Complete Satisfaction Guarantee
You are welcome to use the BioSonic UC-125 on a complete satisfaction guarantee basis; if you are not fully satisfied with this product,
return it within 30 days for a complete refund.
You may use one in your office on a trial basis; however, we can only accept the return of one unit in used condition.