Isolyser® SMS® In-Office Sharps Disposal
(Made in USA.)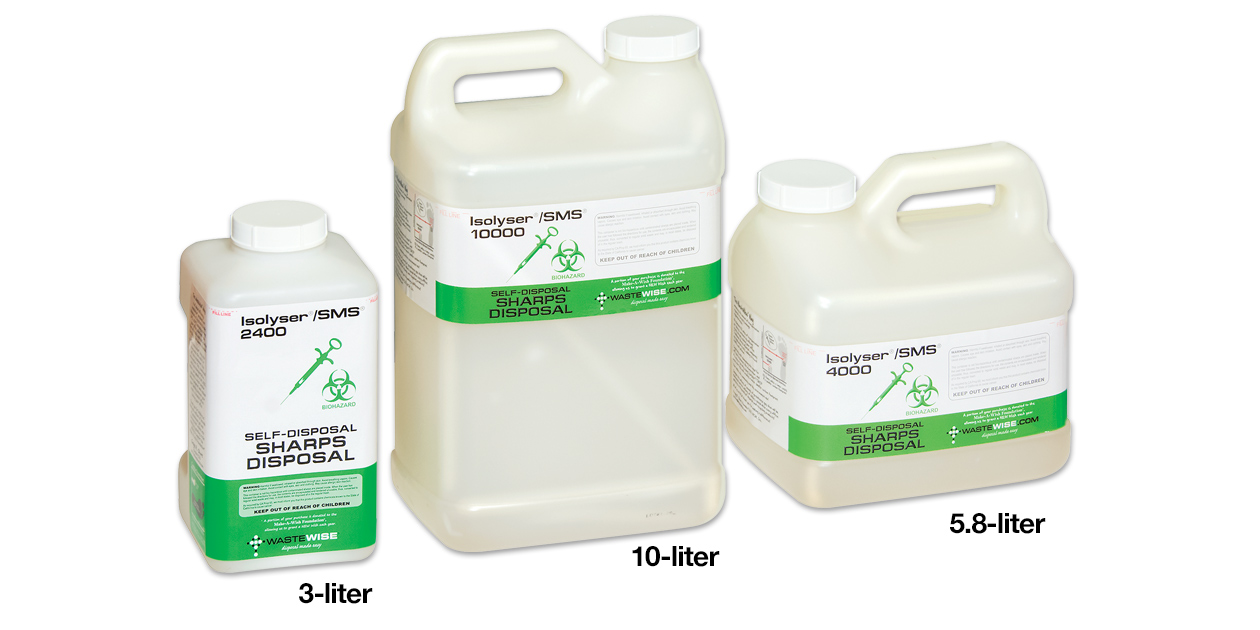 Product Details
Simple in-office disposal system. Just add catalyst to a full container to render sharps safe for regular trash disposal. An exothermic reaction binds and disinfects medical waste into a solid, non-infectious matrix.


Not available for use in the following states where in-office disposal is not supported by regulation: CT, DE, FL, MD, ME, NH, NJ, NM, NY, OR, RI, VA, VT. Dental offices in these states must use Isolyser SMS mail-back disposal system.
Clinical Evaluations
Isolyser/SMS 2400
3-liter container was evaluated by 30 consultants over a period of up to two months.
Isolyser/SMS 2400 is an EPA-approved, self-contained sharps management system designed to meet the regulatory requirements of the OSHA Bloodborne Pathogen Rule 29CFR1910.1030. The product includes an opaque bottle partially filled with a proprietary solution. Once the bottle is full of sharps, the catalyst is added to the base solution and an exothermic reaction disinfects the contained materials. The liquid then solidifies. Once solidified, the container can be safely relabeled as decontaminated solid medical waste, placed upside down in the shipping box and disposed of in the regular trash.
The Isolyser/SMS 2400 container was stable on the countertop and puncture resistant. Several consultants suggested increasing the size of the opening to afford better access for sharps disposal. Many users found the Isolyser/SMS 2400 easy to use and cost efficient, and they liked the convenience of disposing of their sharps waste in the regular trash. This disposal method raised concerns among some consultants who were accustomed to maintaining records of proper disposal from their commercial waste haulers. After mixing the catalyst into the solution, solidification was complete. 20% of consultants noted that sharps could float to the surface and were not incorporated into the set material after adding the catalyst. This led to some instances of needle tips protruding from the set material.

Nearly half of the consultants found Isolyser/SMS 2400 to be better than their current system of sharps management. 41% of consultants indicated they would switch to Isolyser/SMS 2400 and 59% would recommend it.
Shake well to coat floating items.
To prevent floating items, lay container on its side after adding catalyst and shaking.
Pour plaster over the sharps that floated and were not incorporated into the set material.
"I like the convenience of disposing of the container in the trash."
"Isolyser/SMS 2400 is less costly than our present system."
"A larger opening would make the container easier to fill."
"With this system of sharps disposal, I have no manifest documenting proper disposal."
"Cap through which sharps are dropped should snap into place instead of fitting loosely on the bottle top."
©"The Dental Advisor" February 2005