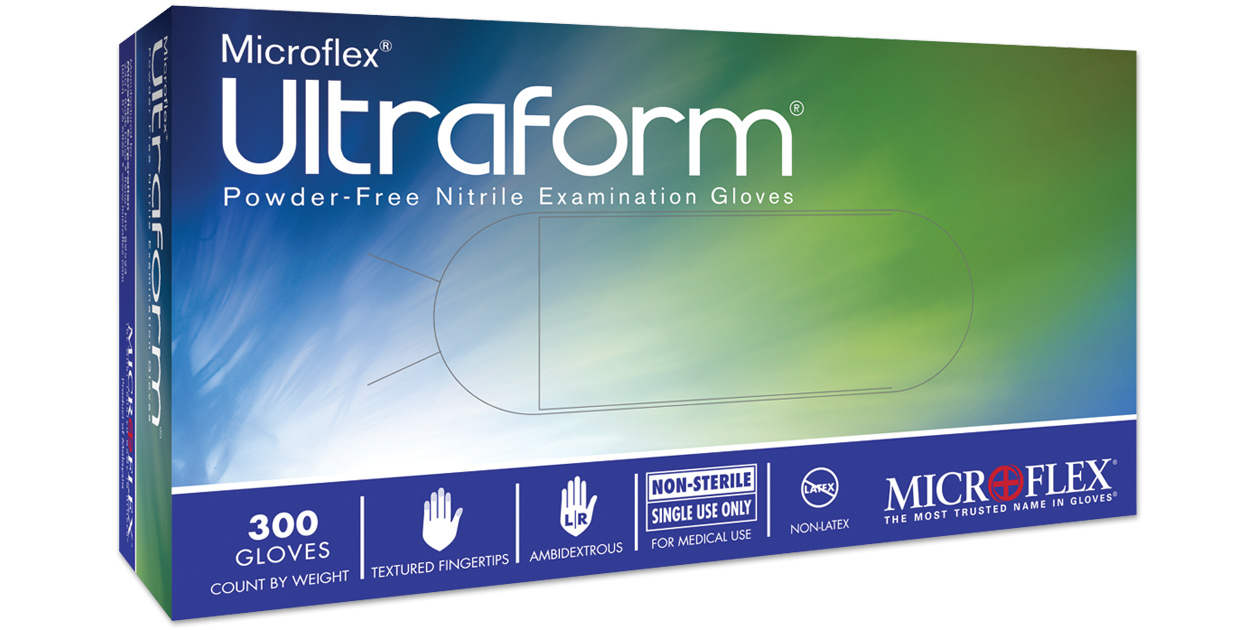 Product Details
Powder-free nitrile exam gloves.
Ultra-soft and form fitting.
Textured fingertip finish
Beaded cuff
Chlorinated
Ambidextrous
Cobalt blue color
Thickness: at palm 2.0 mils; at fingertip 3.1 mils
300 gloves per box (250 for x-large)
Order 10 boxes to purchase a case
Clinical Evaluations
Ultraform Powder-Free Nitrile Examination Gloves
were evaluated by 43 consultants in over 3,800 uses. This product received a 95% clinical rating.
Description
Ultraform Powder-Free Nitrile Examination Gloves are non-sterile, single use, ambidextrous, non-latex gloves with textured fingertips. The gloves are made of a soft, light-weight material and are designed to increase fine motor task performance.
Ultraform gloves are strong, lightweight nitrile gloves. Consultants found them to be noticeably thinner than other gloves, providing an excellent tactile sense. The softness and flexibility of the material enhance fit and comfort. Gloves are easy to don and remove. Very few reports of rips or tears were reported; most tears were related to donning the gloves. 69% of users who were between glove sizes found that sizing down helped them find a glove that fit comfortably.
81% of consultants found Ultraform to be better than other nitrile gloves and 74% could perform tasks better with them. 89% of consultants would switch to Ultraform, and 98% would recommend them.

Clinical Tips
If your hand is between sizes, choose the smaller size.
Pull gently when donning Ultraform.
"Gloves are soft and light-weight."
"No strain on my hands."
"The most comfortable nitrile gloves I have ever used."
"They do not feel like a typical nitrile glove; they are made of a very thin material, offer good tactile sense, provide better fit with less hand fatigue."
"Easy to get on and off, with no tearing!"
"Great color!"
"Fit at wrist is loose."
©"The Dental Advisor" July-August 2012