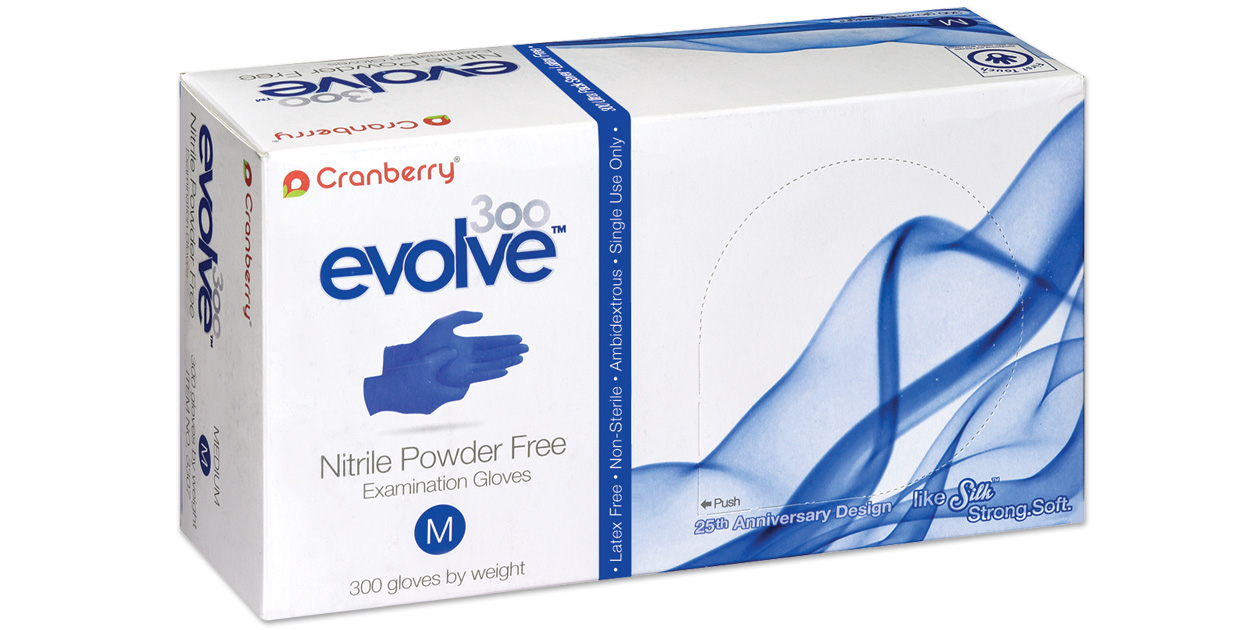 Product Details
Powder-free nitrile exam gloves.
Strong and soft comfort during extended wear.
Textured fingertip finish
Beaded cuff
Chlorinated
Ambidextrous
Royal blue color
Polymer coated for easy donning
Thickness: at palm 2.0 mils; at fingertip 2.0 mils
300 gloves per box
10 boxes in a case
Clinical Evaluations
Evolve 300
was evaluated by 43 consultants in 3,430 uses. The product received a 92% clinical rating.
Description
Evolve 300 is an ultra-lightweight, powder-free nitrile exam glove that combines high tensile strength with exceptional tactile sensitivity. Evolve 300 is designed with a silk-like softness that provides a bare hand feel that contours to the clinician's hands. Textured fingertips provide both agility and dexterity, enhancing excellent grip, even in wet conditions.
Product Features
Evolve 300 is a very soft, flexible glove that provides a comfortable fit, even for extended periods of time. This nitrile material has some stretch and flexibility to conform to the hand. The texture on the fingertips aids in grip and is less slippery than some other nitriles, and the thinness contributes to comfort and tactile sense. Minimal tearing was noted; occasionally a glove would tear at the cuff during donning. Users of other nitrile gloves found Evolve 300 caused less feeling of hand constriction and strain. Hands also feel soft upon removal. 54% of consultants reported that Evolve 300 was better than competitive products, while 23% said it was equivalent, and 23% said it was worse than their current gloves. 74% would switch to Evolve
300, and 86% would recommend it.

Consultants' Comments
"It's one of the best feeling nitrile gloves."
"Gloves do not stick together and are easy to remove from the box."
"Go on easily."
"Extremely soft and comfortable."
"Cheerful color."
"Sizes run slightly large"
©"The Dental Advisor" September 2015www.dentaladvisor.com