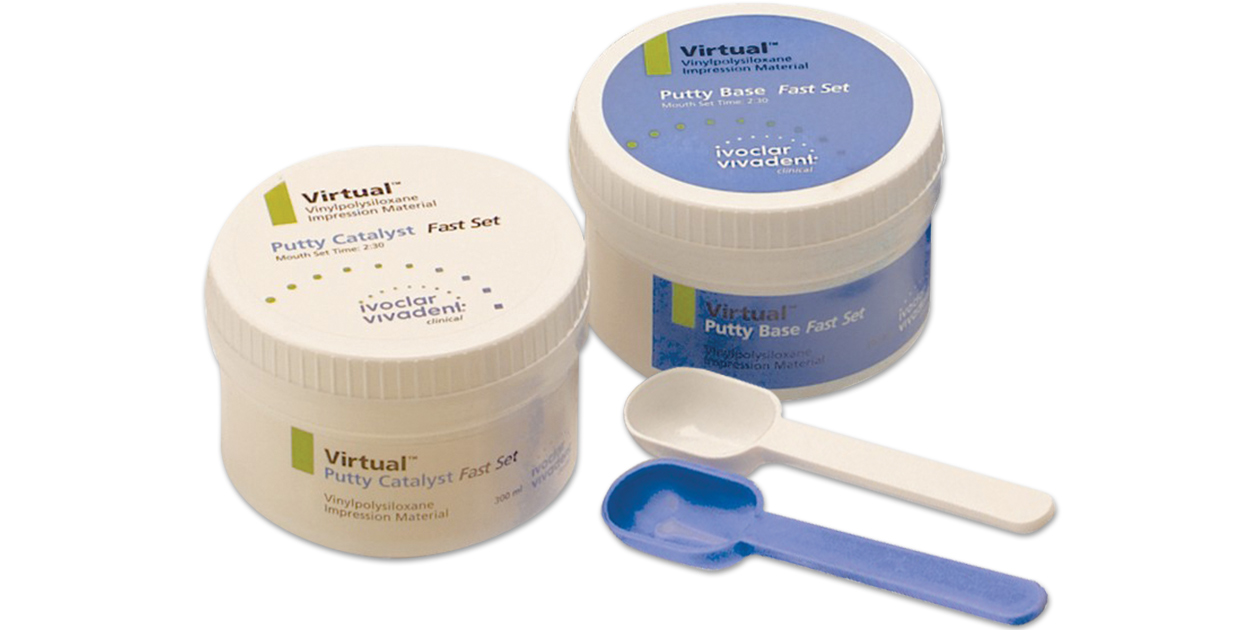 Product Details
| | | |
| --- | --- | --- |
| | Working time | Set time in mouth |
| Regular set | 1'' 15" | 4'' 15" |
| Fast set | 1'' 15" | 2'' 30" |
Clinical Evaluations
Virtual
was used by 30 consultants in making over 600 impressions, which included the use of the heavy/light, putty/light, monophase, and bite registration materials. This product received a 96% clinical rating.
Virtual is a line of addition silicone impression materials indicated for all crown and bridge and removable prosthetic impressions. The viscosities evaluated were Light Body, Heavy Body, Monophase and Putty, in both regular- and fast-set formulations. The light body is a "khaki" beige color; the monophase, heavy body and putty are all "denim" blue.
The vast majority of consultants were very positive about the simple packaging, clear labeling and automix delivery system of Virtual. The viscosity of the lightbody material is excellent, as it flows well into the sulcus and does not slump. 60% of consultants noted that Virtual behaved much like a hydrophilic material, displacing moisture and resulting in very accurate impressions with excellent reproduction of detail. Color contrast of the "khaki" and "denim" hues make margins easy to read. Consultants commented favorably on the setting times of both the regular- (4.5 minute) and fast-set (2.5 minute) materials. The fast-set materials are ideal for 1 or 2 preparations. Patients appreciated the reduced time in the mouth as well as the neutral taste of the material.

93% of consultants noted that Virtual was as good as or better than the impression material they were currently using, and 40% would switch to it.
"This product is absolutely fantastic!"
"Impressions are very easy to read."
"I love the fast-set material."
"Phenomenal product – we didn't take one bad impression. I am switching immediately."
©"The Dental Advisor" May 2003