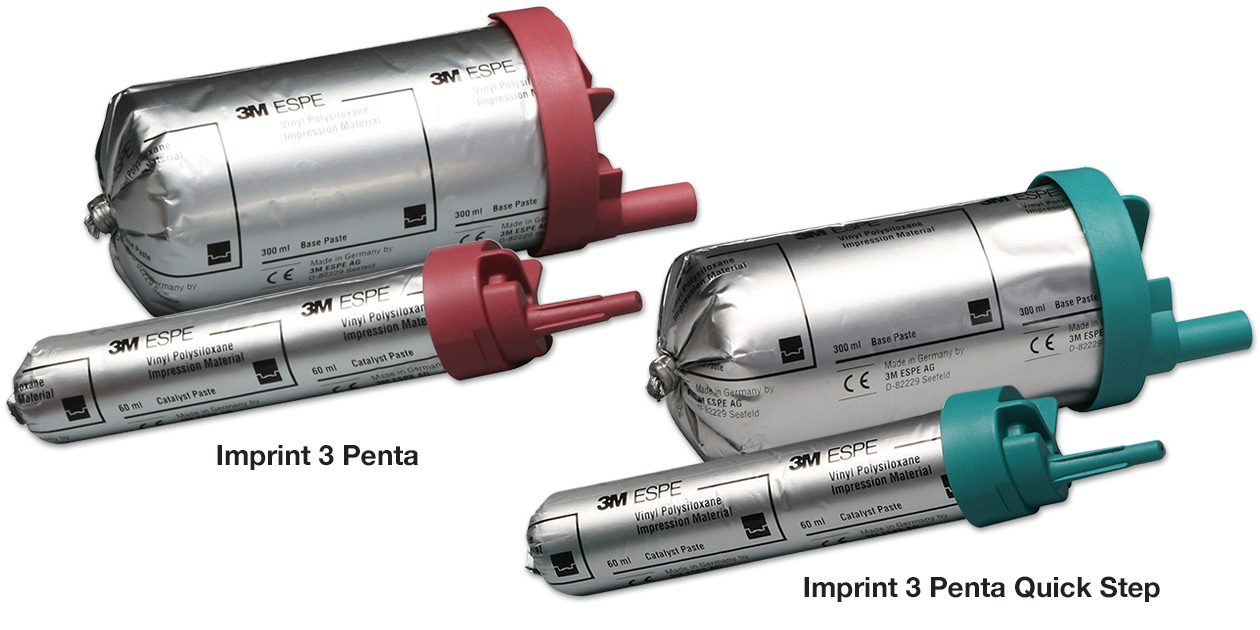 Product Details
Hydrophilic VPS impression material helps you get void-free impressions.
Best-in-class elastic recovery resists distortion for a more accurate impression.
Resists tearing better than most leading brands to help impressions hold true during removal.
| | | |
| --- | --- | --- |
| | Working time | Intra-oral setting time |
| Heavy body | 2'' 00" | 3'' 30" |
| Heavy body Quick Step | 1'' 15" | 2'' 30" |
| Putty | 1'' 30" | 3'' 00" |
Clinical Evaluations
Imprint 3 Quick Step
was used by eight consultants in 64 impressions. This product received a 96% clinical rating.
3M ESPE Imprint 3 VPS Impression Material is a system of addition silicone (VPS) impression materials. It is indicated for use in all impressions, including crowns, bridges, inlays, onlays, and implant abutments. The material is available in a variety of viscosities in both regular and fast setting times and is supplied in 50-ml Garant (automix cartridge) and Penta (Pentamix) delivery systems. The manufacturer's instructions are presented in a color illustrated, trifold guide containing tables outlining the different viscosities, colors, working and setting times, mixing devices, and combinations of the impression materials.

The faster setting Imprint 3 Quick Step impression materials are ideal for one- or two-unit impressions. Consultants evaluated the Quick Step Heavy Body/Light Body Intro Kit that contained two, 50-ml Garant cartridges of heavy-body material; one, 50-ml Garant cartridge each of light- and regular body materials; mixing tips; intraoral tips; and tray adhesive.
The color-illustrated, trifold guide is useful and informative. Packaging is neat with individual compartments for the components. The ease of dispensing from the Garant cartridges was rated excellent. The consensus among consultants was a preference for the regular-body material versus the light-body material; they found that Imprint 3 light-body has a very low viscosity and handles like an extralight, while Imprint 3 regular-body handles like a traditional light-body. Working time is adequate for one- or two-unit cases, and the 2.5-minute setting time was considered ideal. Imprint 3 Quick Step has a neutral taste and is easy to remove from the mouth.

There were very few cases reported in which impressions needed to be retaken due to porosity or voids in the impression. The material is resistant to tearing and provides excellent reproduction of detail. Consultants reported that the blue-green and pink colors of the Quick Step materials contrasted well, which enhanced the readability of margins.

75% of consultants rated Imprint 3 Quick Step equivalent to or better than their current impression material. 50% would switch to this impression material, while 88% would recommend it to a colleague.
©"The Dental Advisor" December 2006
Imprint 3
earned 4.3 stars out of a possible 5.0.
Perhaps the best light body viscosity for those who prefer a syringe material with plenty of flow, but now with Ultra, you now have the option of a syringe material with less flow. Tear strength tests show that it''s very tough (although most evaluators thought its clinical tear strength was about on par with other materials). The accuracy was lauded by most of the evaluators. The automix putty received high marks, with the majority of evaluators either using putty more often or starting to use it again after dropping it due to the need to hand-mix it. Most evaluators thought the taste and smell were neutral.
Several evaluators did not find it to be as hydrophilic as they expected. There is no "rigid"-type tray material. The mouth removal time with Quick Step lags behind those of other fast set materials. One evaluator felt the light body smelled like diesel fuel while another thought it had a "rubbery" smell.
Three different syringe materials should make virtually everyone happy, but its Quick Step is still not quite fast enough for 1-2 units.
©REALITY Publishing Company
2/27/12 website update
www.realityratings.com