Aquasil™ Ultra Cordless Deca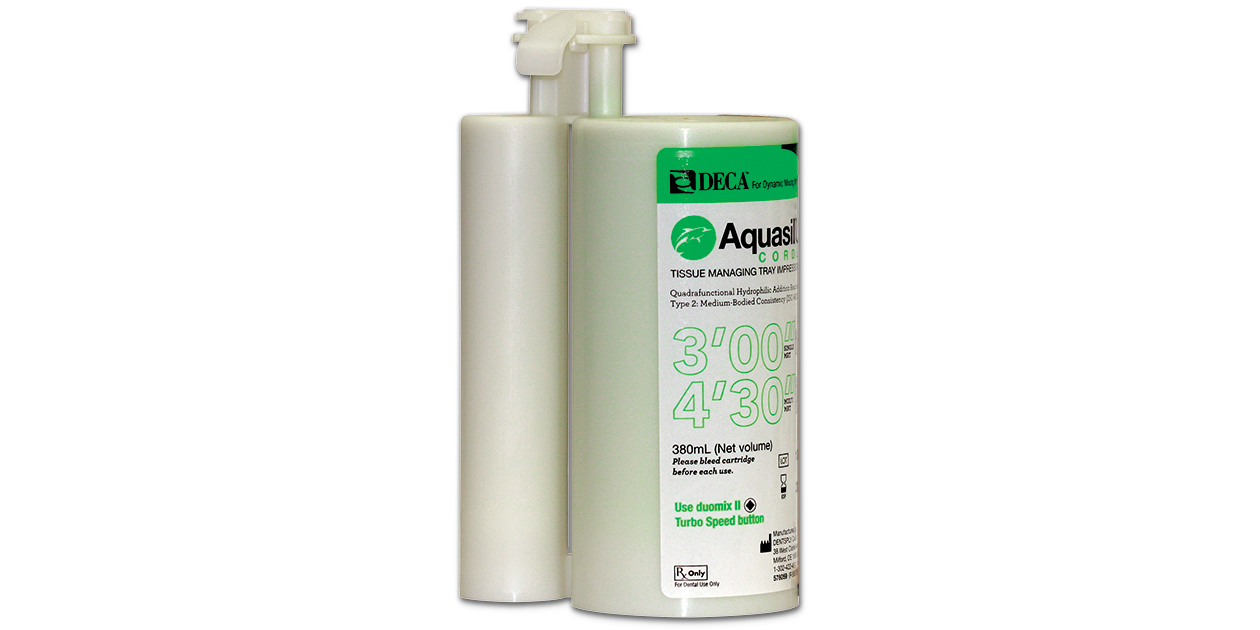 Product Details
A monumental breakthrough
Aquasil Ultra Cordless is the first and only impression system that does not require tissue retraction. No need for cord. No need for paste. Just an easy, one-step system that places super-high tear strength wash material precisely into the sulcus within seconds.
How it works
1. Apply a hemostatic agent as needed to control bleeding, and apply B4® Surface Optimizer.
2. Use the air-powered handpiece to intraorally dispense the wash material. The 4-speed regulator controls the flow of material to the comfortable pen-style handpiece. The ultra-fine intrasulcular tip gently delivers the wash material directly into the sulcus.
3. Seat your impression tray, filled with tray material dispensed from your choice of standard 50ml cartridges or 380ml Deca cartridges.
4. Remove to capture your detailed, super-high tear strength impression. Mouth removal time for single unit impressions is 3 minutes; 4.5 minutes for multi-unit impressions.
Note: Only Aquasil Ultra Cordless tissue managing wash and tray materials are compatible with this system.
Simple setup
The digit power dispenser easily connects to both traditional and continental delivery units, and works with three popular quick connect options or ISO threaded connectors.
Huge time savings
By not requiring you to pack cord or use retraction paste, the Aquasil Ultra Cordless System reduces placement time by 70% – saving you up to $50 per impression.