Impregum™ Soft
(Made in Germany.)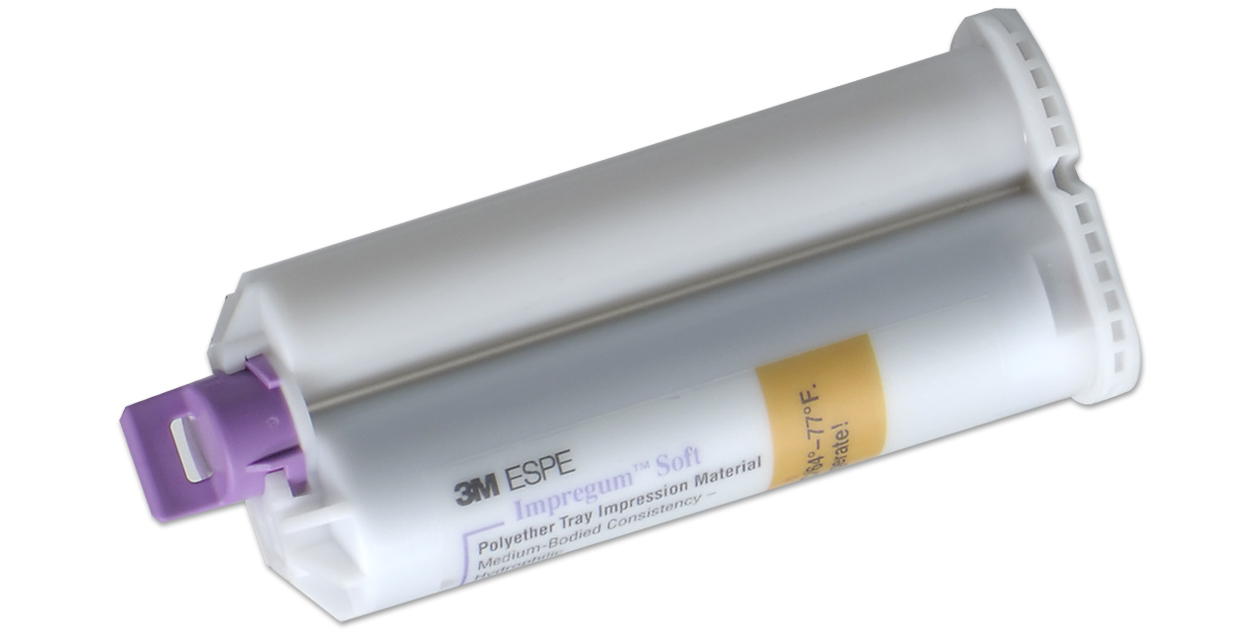 Product Details
Even under difficult clinical conditions, provides high precision fit of finished work. Initial hydrophilicity for better impressions in moist/wet
conditions. Snap set allows ample working time with no gradual change in consistency, then provides a rapid transition to the set
phase. "Soft" generation polyether makes removal from the mouth easier. Improved mint taste and smell. Can be dispensed from your current impression material automix gun dispenser.
| | | | |
| --- | --- | --- | --- |
| | Working time | Total set time | Set time in mouth |
| Light Body, regular set | 2:00 | 5:30 | 3:30 |
| Light Body, Quick Step | 1:00 | 4:00 | 3:00 |
| Tray, regular set | 1:45 | 6:00 | 4:15 |
| Tray, Quick Step | 1:00 | 4:00 | 3:00 |
Reviews
Impregum Soft
earned 4.5 stars out of a possible 5.0.
Better flavor than original version, two set times, three viscosities, cartridge and Penta dispensing. The regular version remains the gold standard for full arches. Our tests confirm its more than adequate working time. The flow from the syringe version will completely fill the shark fin. Increased flexibility makes it significantly easier to remove from the mouth, eliminating most of the anxiety of removing a full arch maxillary impression, and does not pose as much of a threat in removing other restorations.
Taste still more unpleasant than the neutral taste of the vinyls. Quick Step is "faster", but don't confuse this with "fast set", since the regular set time of 6.0 minutes has been reduced to 4.0 minutes. While any reduction in time is good, 4.0 is still rather pokey for 1-2 units. Tray material may not be hard enough to use in a flexible sideless tray for closed mouth impressions.
Overcomes most of the taste and rigidity objections, has terrific flow, and is probably the product of choice for full arch purposes, but it still can't compete with the ubiquitous vinyls in the 1-2 unit, fast set arena.
©REALITY Publishing Company 2/27/12 website update