3M™ Impregum™ Penta™ Soft Quick Step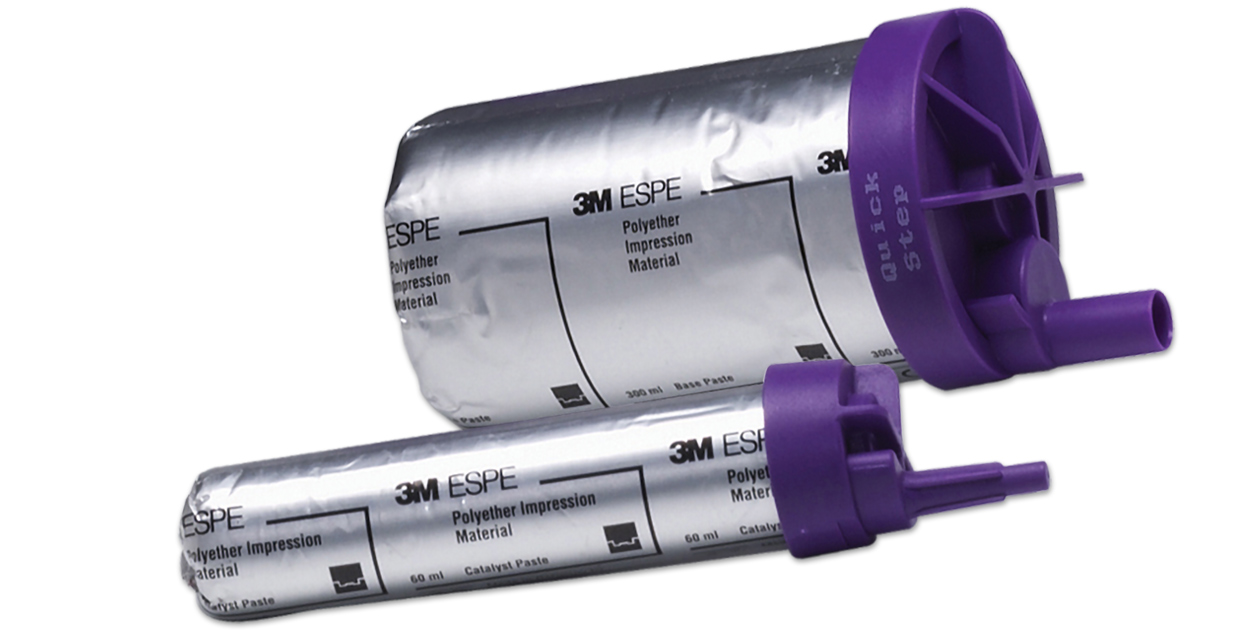 Free item will be of equal or lesser value to lowest price purchase item.
Product Details
Cuts working time and setting time by at least 33% over regular-setting 3M™ Impregum™ Penta™ Soft material. Less rigid compared to 3M™ Impregum™ Penta™.
Hydrophilic before, during, and after set for unsurpassed accuracy.
Flows smoothly under pressure in critical areas and remains fixed without pressure.
Snap-set properties for reduced distortion.
Mint taste for increased patient comfort.
Clinical Evaluations
Impregum Penta Soft
was evaluated by 24 consultants in over 300 clinical cases. Impregum Penta Soft Medium body is a highly recommended polyether impression material packaged for use with the Pentamix or Pentamix 2 automatic mixing and dispensing systems. It received a 95% rating.
3M ESPE Impregum Penta Soft is a medium-viscosity, polyether impression material for dynamic mixing machines. This hydrophilic impression material becomes more fluid under pressure, rendering it suitable for recording tissue detail in a Monophase impression. It is also rigid enough after setting that it may be used with a triple-tray technique. Use of an automatic dispensing system provides the material with fewer voids and less waste. Impregum Penta Soft is packaged for use with the Pentamix 2 and other dynamic mixing machines. [Safco editor's note: Impregum Penta Soft will also work in the Pentamix 3 machine.]
Consultants who were current users of Impregum generally agreed that Impregum Penta Soft was easier to remove from the mouth. Although several consultants mentioned the improved ease in handling the system, it was clearly the quality of the material itself, which was considered most important. Characteristics listed by consultants as most-liked included versatility, hydrophilicity, ability to capture tissue detail, and flowability. The 6-minute setting time was longer than some consultants considered ideal. Many reported an improvement in the taste, yet several consultants still listed taste as one of the least-liked characteristics of this product. The starter pack provides material for an average of 10-15 full-arch impressions. All consultants indicated that they would purchase and recommend Impregum Penta Soft.
Cover patient's lips with petroleum jelly, so that the impression material separates from the skin easily.
Wait 30 minutes before pouring the impression.
Warm the impression for easier removal from the stone model.
Use of wetting agents before pouring the impression will impair the quality of the model and is unnecessary due to the natural hydrophilicity of the material.
"Multi-purpose – good result."
"A great material for those who like polyethers."
"I like the single-mix system."
"Great for impressions where moisture contamination is likely."
"Sticks to skin."
©"The Dental Advisor" February 2007