Kromopan®
(Made in Italy.)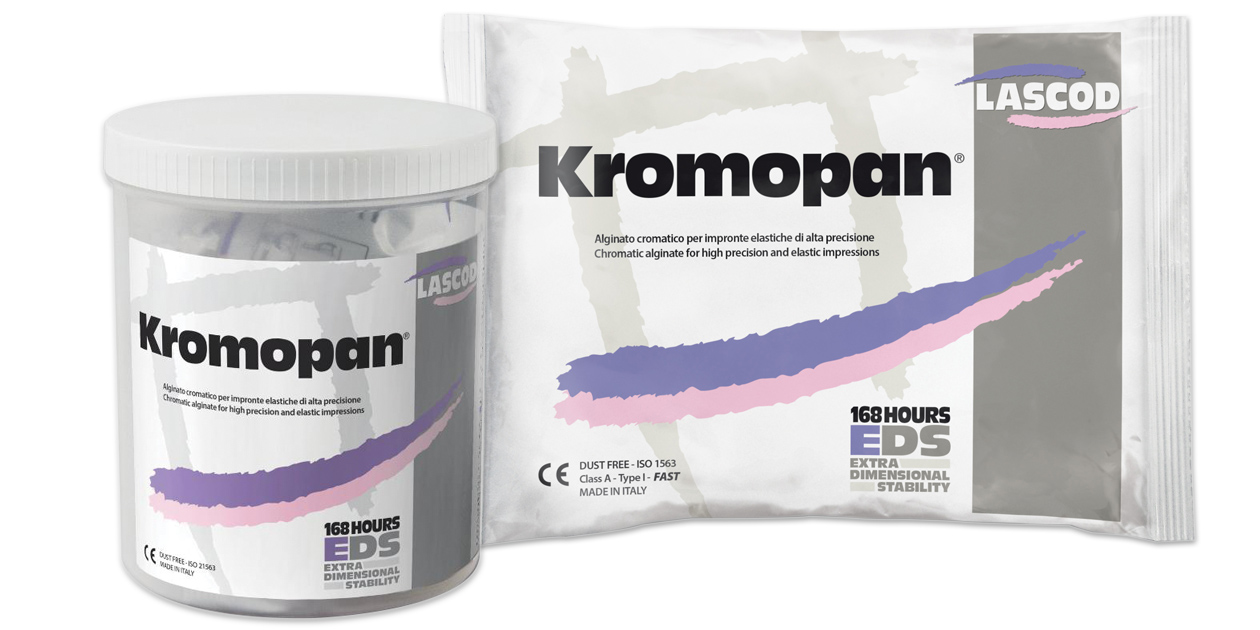 Product Details
Dustless, chromatic color-changing alginate.
Chromatic phase indicators ensure a perfect mix and perfectly timed insertion, regardless water hardness or temperature.
Impressions maintain dimensional stability for up to 168 hours.
Spearmint flavor.
| | |
| --- | --- |
| Work time (inc. mix) | 1:45 |
| Min. set time in mouth | 0:30 |
Reviews
Kromopan
was used by 19 consultants in more than 400 impressions. This product received a 95% clinical rating.
Kromopan is a stable alginate hydrocolloid with a chromatic phase indicator. The initial purple color indicates spatulation time; the pink color is tray loading time, followed by seating. The manufacturer claims that impressions can be stored for up to 168 hours before pouring.
Kromopan received high ratings for ease of mixing, lack of dust, odor, and consistency. The color change is a very useful indicator of the working and setting time, thereby reducing the length of time the impression is in the mouth. The thick consistency and short setting time make the procedure very comfortable for patients, particularly those with a strong gag reflex. The resulting impression shows good detail, is smooth, and has minimal voids.

80% of consultants indicated they would purchase and recommend Kromopan.
"Seat impression tray when material begins to change to white color."
"Liquid measure should be larger for two scoops of powder."
"Improve instructions."
©"The Dental Advisor"
January / February 1996