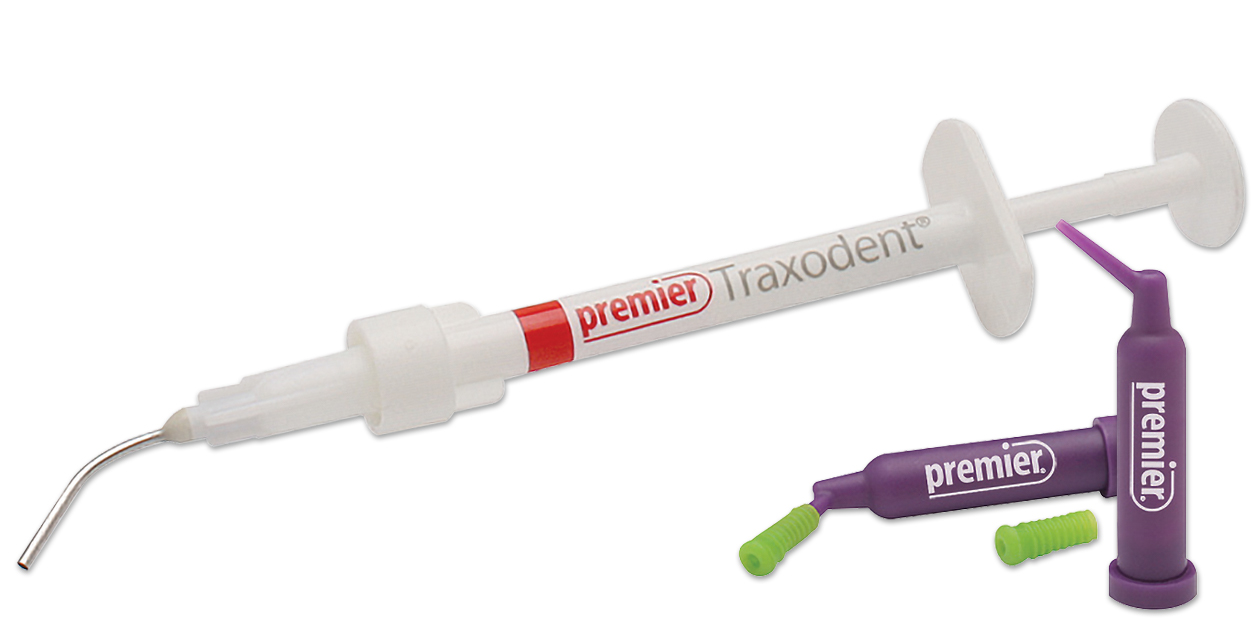 Watch Product Video(s)
Read Product Review(s)
Product Details
Traxodent is a 15% aluminum chloride retraction paste. Once placed in the sulcus, the absorbent paste displaces soft tissue, creating retraction while the aluminum chloride stops bleeding and crevicular seepage. After two minutes the sulcus is rinsed, leaving a clean, dry, and accessible margin.
Traxodent offers you:
Quick effective retraction: approximately 2 minutes - no fumbling with hemostatic solutions - saves chair time.
Superior hemostasis: stops bleeding and crevicular seepage while retraction occurs - easily absorbs excess crevicular fluid.
Increased patient comfort: avoid tearing gingiva - less pressure on sensitive tissue.
Choice of delivery system: use an ergonomic disposable syringe with bendable syringe tip or the convenient unit dose capsules.
Maximum freshness: each syringe is packaged in a ready-to-use and resealable foil pouch.
Traxodent is also highly recommended for veneer placement when a dry field is required.
Clinical Evaluations
Traxodent
was used by 21 consultants. Traxodent received a 91% clinical rating.
Traxodent Hemodent Paste Retraction System is a 15% aluminum chloride topical gingival retraction paste, formulated to provide gingival retraction and hemostasis. It is intended for use prior to taking an impression, cementation, cavity preparation or wherever hemostasis and retraction are required.
Consultants liked the ease of use (good viscosity) and the quality of hemostasis achieved. They reported that retraction was improved when cord was used in conjunction with the paste. Traxodent rinses off the tooth well, leaving a clean surface with no residue. Some consultants preferred to use cotton rolls or gauze rather than the retraction caps included with the kit. Thirty-eight percent of consultants reported that Traxodent was better than their current gingival retraction paste, whereas 24% reported it was the same. Eighty-six percent would recommend it.
Do not use on persons with known allergy to aluminum chloride.
Do not use in patients with significant periodontal disease or furcation involvement.
Use Traxodent paste in conjunction with retraction cord.
Bite on cotton instead of caps provided.
Use a wet cotton pellet to remove any remaining paste that doesn't come off with rinsing.
"I have used Traxodent with my two-cord system and the results are great."
"Easy to use; rinses off completely."
"This material seemed to work well following a gingivectomy, where cord could not be placed. I would not recommend it if osseous surgery were performed."
"It was difficult to get into sulcus without using retraction cord first. Cotton compression caps did not fit well interproximally, so retraction was often insufficient in spots."
©"The Dental Advisor" June 2010