3M™ Astringent Retraction Paste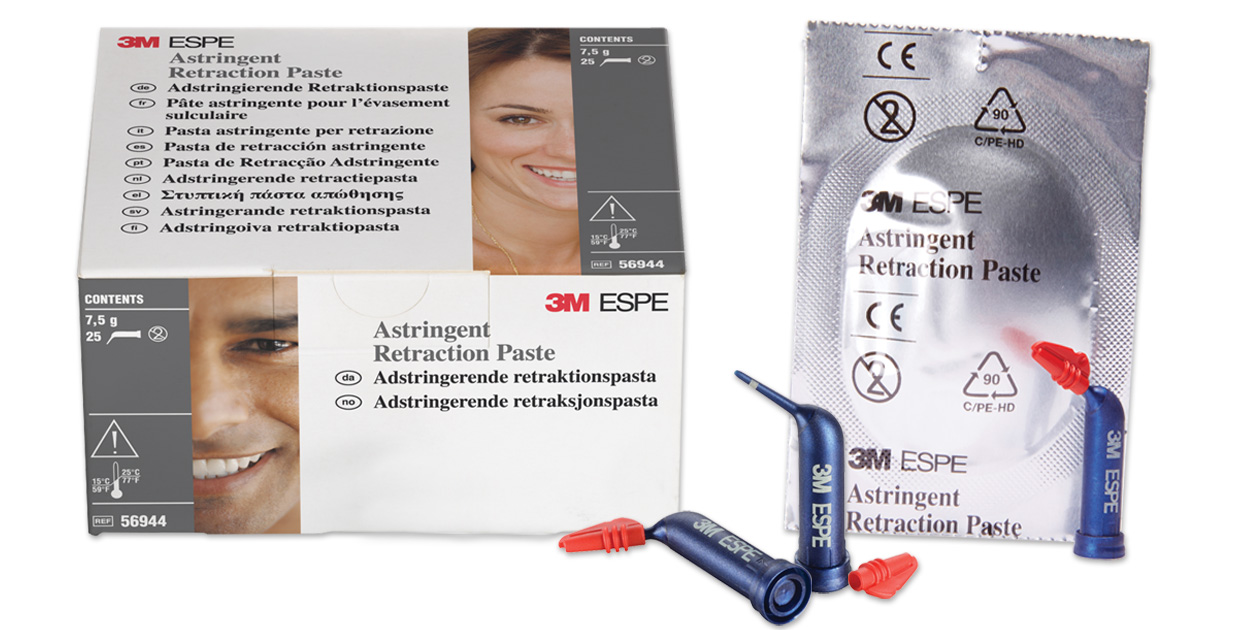 Product Details
High viscosity, 15% aluminum chloride astringent retraction paste. Dispenses easily through an extra-fine tip and effectively deflects marginal gingiva.
The extra fine tip provides easy interproximal access and fits directly into the sulcus.
Provides effective gingival retraction in up to half the time of cords.
Enables a clean, dry sulcus and robust hemostasis.
Gentle on tissue for improved patient comfort.
Hygienic unit-dose capsules are compatible with most composite dispensers.
Clinical Evaluations
3M Astringent Retraction Paste was evaluated by 30 consultants in 612 uses. This retraction paste received a 91% clinical rating.
Description
3M Astringent Retraction Paste is an astringent retraction paste supplied in a single-use capsule. The capsule is compatible with common composite dispensers. The extra-fine, soft-edge tip has an orientation ring that corresponds in size and position to a periodontal probe. The retraction paste contains 15% aluminum chloride and can be used alone or in conjunction with retraction cord for all indications requiring temporary deflection of marginal gingiva. Its use requires a clean and dry sulcus area (e.g., when taking impressions, cementing temporary and permanent restorations, and when preparing Class II and Class V restorations).
Product Features
3M Astringent Retraction Paste has excellent hemostatic properties and produces a clean, dry sulcus. The best results for retraction are achieved when the paste fills the entire sulcus.
3M Astringent Retraction Paste contains enough paste for use on one to three teeth. The narrow tip is a highly rated feature. While the primary use is for tissue retraction before crown and bridge impressions, it is also useful for moisture control when seating ceramic restorations. The blue color is easy to see in the mouth and aids in ensuring complete removal from the sulcus. Care must be taken to rinse off the paste completely. A chalky residue can remain on the tooth and gingiva after initial rinsing and may require scrubbing to remove it. The foil blister packs are designed to keep the material moist, although consultants occasionally encountered capsules that were dry, and the paste could not be extruded.
43% of consultants rated 3M Astringent Retraction Paste better than other gingival products they had used and 27% rated it as equivalent. 60% would switch and 80% would recommend it to a colleague.
Clinical Tips
This material should not be used in patients with periodontal disease, open furcations or exposed bone.
Store capsules in their foil pouches until the time of use.
Orient the tip perpendicular in the sulcus and express the paste slowly.
If residue remains on the tooth/gingiva after rinsing, scrub with a micro-tipped applicator brush to remove it.
Consultants' Comments
"The best paste system I have ever used."
"An excellent hemostatic agent."
"Love the narrow diameter of the tip."
"Great for use with Class V restorations."
"Hard to rinse off."
©"The Dental Advisor"
May 2013 www.dentaladvisor.com