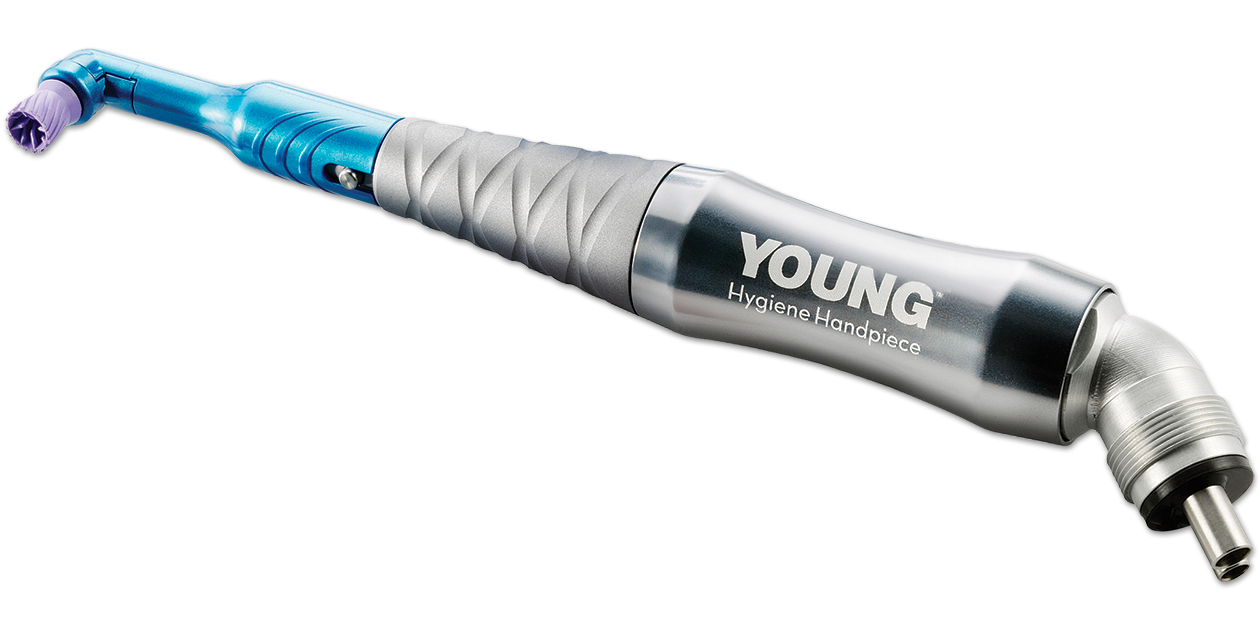 Product Details
Designed to fit the contours of the hygienist's hand and to deliver the superior comfort and control clinicians need during polishing.
The matte grip nosecone rotates 360 degrees, helping to reduce the need to shift the wrist as often during polishing. Another feature – the contra-angled connector – helps reduce cord drag aggravation, thus lessening wrist fatigue.
Constructed with a Reverse Radius™ silhouette that's curved to fit comfortably in the dental hygienist's hand for smooth, easy handling.
The handpiece nosecone and motor easily detach into two parts for fast and thorough sterilization. Backed by a 2-year manufacturer''s warranty.


Safco Complete Satisfaction Guarantee
You are welcome to use the Young hygiene handpiece on a complete satisfaction guarantee basis; if you are not fully satisfied with this product,
return it within 30 days for a complete refund.
You may use one in your office on a trial basis; however, we can only accept the return of one unit in used condition.
Clinical Evaluations
The Young Hygiene Handpiece was evaluated by 44 consultants in 2,043 uses. This hygiene handpiece
received a 96% clinical rating.
Description
The Young Hygiene Handpiece is designed to fit the contours of the hygienist's hand, delivering the ergonomic comfort and control necessary during polishing. A contra-angled connector attaches the handpiece to the tubing at a 45° angle, minimizing drag.
The Young Hygiene Handpiece is constructed with a Reverse Radius™ silhouette, which is curved rather than straight to fit the clinician's hand. The engraved matte grip rotates 360°, reducing the need to shift during polishing. The handpiece nosecone and motor detach into two pieces. Prior to sterilization, the collet can be cleared of any debris when necessary, and the handpiece should be lubricated.
The Young Hygiene Handpiece is made in the USA and has a two-year warranty.
Equipment features
The Young Hygiene Handpiece is lightweight and has excellent ergonomics. Dental hygienists noted decreased hand fatigue, as the angled connector kept the tubing in a more passive position. For some users, a period of acclimation was necessary to find the proper hand position, and some would have liked a slightly longer handpiece. The swivel rotates freely once users find the correct position related to the connector angle.
The Young Hygiene Handpiece runs smoothly and quietly. Disposable prophy angles are easy to install and remove, yet remain stable during operation. The matte finish provides good grip and is easy to clean.
73% of consultants reported that the Young Hygiene Handpiece was better than competitive products; 16% said it was equivalent, and 11% said it was worse. 84% of consultants would switch to the Young Hygiene Handpiece, and 89% would recommend it.
Consultants' Comments
• "Best torque, balance and ergonomic design of all prophy handpieces on the market."
• "The most comfortable handpiece I have used."
•"I loved the way this handpiece moved with me. I didn't feel like I was pulling on my tubing."
•"Runs smoothly."
©"The Dental Advisor" June 2015