Super-Snap®
(Made in Japan.)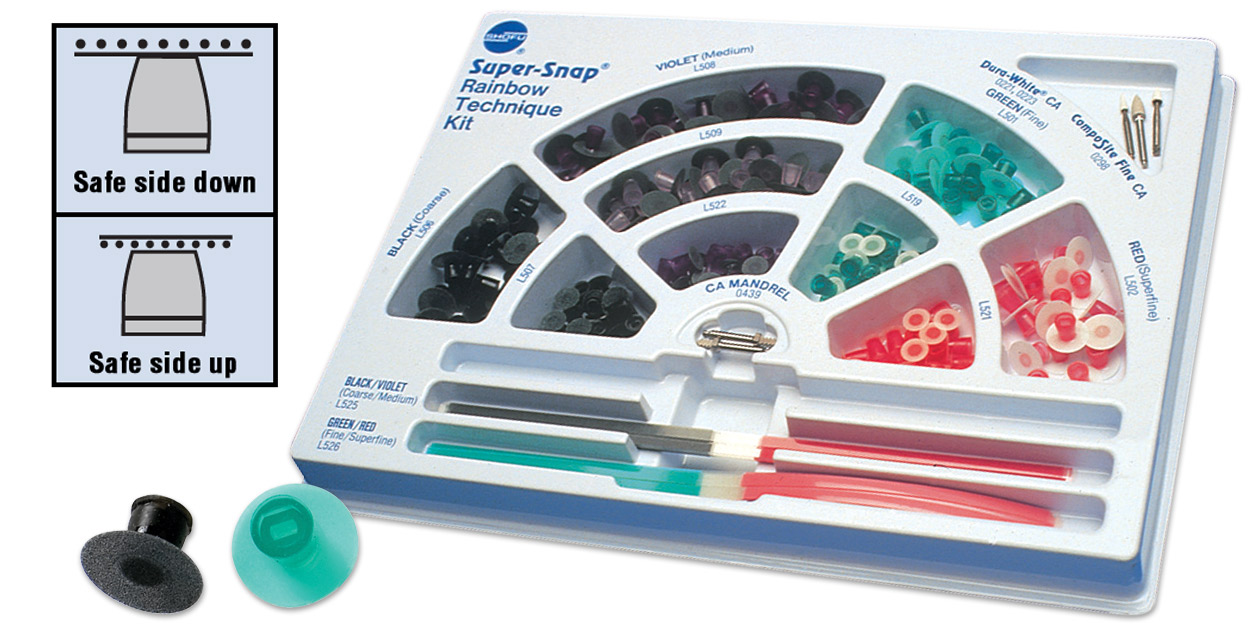 Product Details
Thin, double-sided disks; fast polishing without changing disks. No metal center.
Reviews
Super-Snap Rainbow Technique Kit
was evaluated by 31 consultants in over 1,000 uses. This product received a 93% clinical rating.
The Super-Snap Rainbow Technique Kit is a complete finishing and polishing kit for dental composites. The disks are color coded and arranged in a rainbow in the semi-circular organizer tray. The finishing disks have elastic rubber shanks that hold the disk to the mandrel. Super-Snap is manufactured without a metal center to minimize gouging and discoloration of the composite.
Consultants liked the thinness and design of the Super-Snap finishing disks. The elastic hub with no metal was a well-liked feature. They preferred the smaller disks, finding them to be more useful than the large disks. Consultants were divided in their opinion about the finishing strips, with several commenting that the strips were 'too thick.' Significantly, the consultants liked the resulting finish, with many commenting that the system produced a high-quality surface finish. Several consultants commented that the cover of the kit was not secure.

50% of consultants found the system to be better than their current product and 87% rated the Super-Snap Rainbow Technique Kit to be equal to or better than their current finishing system. 77% of consultants would switch to Super-Snap Rainbow Technique Kit, and 90% would recommend it to a colleague.
Use the entire sequence of Super-Snap disks from coarse to superfine.
Use a light touch.
Make sure the disk is fully seated on the mandrel.
Use water when polishing to minimize clogging of disks.
"The best feature of Super-Snap disks is the lack of a metal center."
"The flexible hub makes disks easy to change."
"Abrasive grit stays on the disk - does not flake off on the tooth."
"Final gloss is great."
©"The Dental Advisor" April 2008