OneGloss® PS
(Made in Japan.)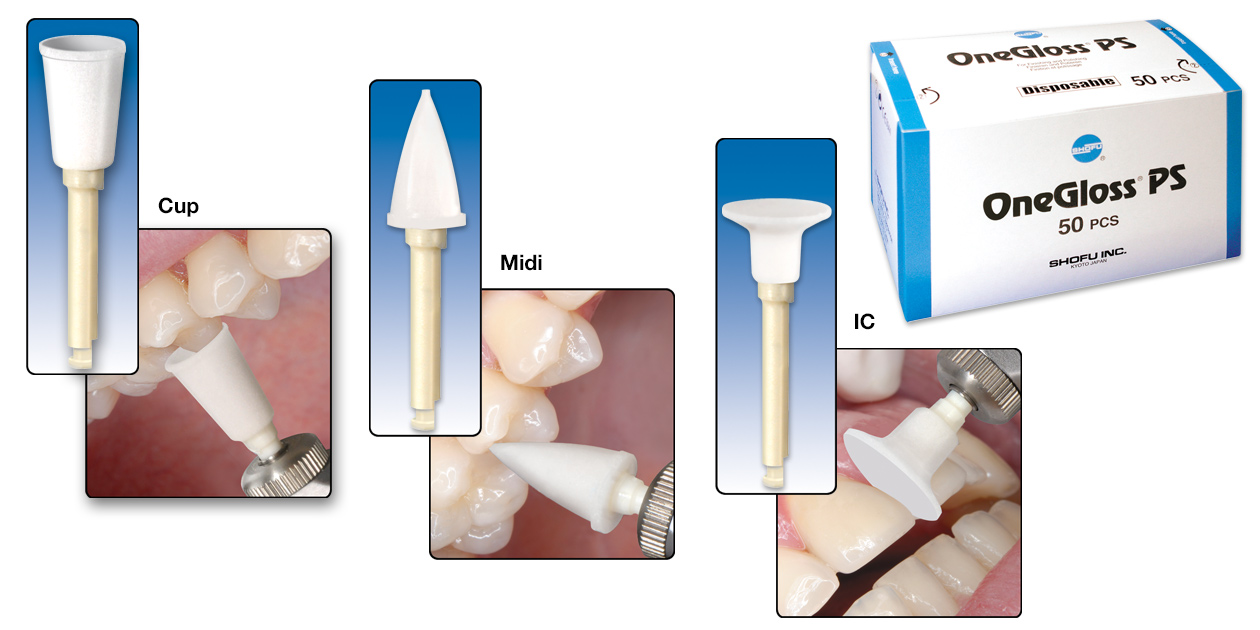 Product Details
Completely disposable one-step silicone polishers that are mounted on sturdy plastic CA mandrels to ensure smooth, steady operation.
Polish and finish in one step just by altering your finger pressure. You can adjust, finish, and polish in just seconds!
Durable enough to withstand polishing up to an entire arch; they do not crumble.
Can also be used to remove excess cement on tooth surfaces, to remove intrinsic stains, or for polishing enamel after scaling. They will not scratch enamel.
Clinical Evaluations
OneGloss PS
was evaluated by 15 consultants in 362 uses. This product received a 91% clinical rating.
OneGloss PS are disposable, one-step aluminum oxide finishers and polishers for use on composite restorations and temporary crowns and for removal of excess cement and stains from enamel. OneGloss PS (Plastic Shank) is designed for slow-speed, latch-head handpieces at 3,000-10,000 rpm. OneGloss PS is available in three different shapes (cups, cones, midi points). The aluminum oxide finishers and polishers are mounted on sturdy plastic mandrels and are individually wrapped.
Nearly all of the consultants liked the selection of shapes and the durability of the finishers and polishers. The polishers are individually packaged in clear cellophane that is easy to open at the time of use and keeps them clean during storage.

OneGloss PS produces a smooth finish and a light polish to composite surfaces. For a high luster, other products may be used after OneGloss PS.

53% of consultants reported that OneGloss PS finishers and polishers were better than their current composite finishers and polishers and 13% reported that they were equivalent. 53% would switch to OneGloss PS finishers and polishers and 73% would recommend them.


Use higher pressure for finishing and lighter pressure for polishing.
Use with water spray with latch-type slow-speed handpiece.
Do not exceed 15,000 rpm.
"I like the shape selection, ease of use and individual packaging."
"Polishers are very durable - they don't break down when you exert pressure."
"Shapes were good and instruments were flexible."
"Does not leave grit on the tooth after use."
"The points wobbled in the handpiece."
"I prefer multiple-use finishers and polishers."
"Final polish did not produce a high luster."
©"The Dental Advisor" September 2011