Root ZX® II
(Made in Japan.)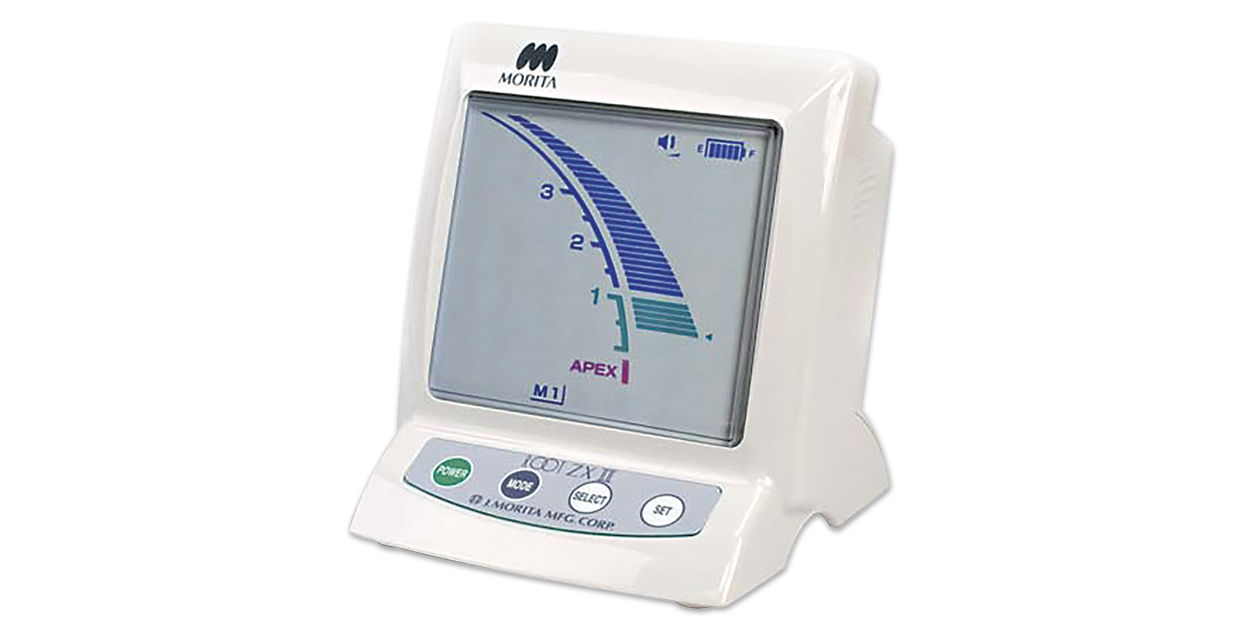 Product Details
Features an easy-to-use large high contrast screen. The action of the meter in the display corresponds exactly to the tactile sensation of using the file. Using a PC board with patented technology, the Root ZX II makes it easy to accurately locate the apical foramen in a wet field. This battery operated unit is self calibrating; there are no zero-adjustment buttons to push. One year warranty.
Works in a wet or dry field.
Unmatched clinical accuracy.
Auto power-off conserves battery life.
Non-glare tilt screen with digital and graphical feedback.
Autoclavable medical-grade cords and connectors.
Probes are gold plated to resist micro-corrosion.
Safco Complete Satisfaction Guarantee
You are welcome to use the Root ZX II apex locator on a complete satisfaction guarantee basis; if you are not fully satisfied with this product,
return it within 30 days for a complete refund.
You may use one in your office on a trial basis; however, we can only accept the return of one unit in used condition.
Clinical Evaluations
Root ZX II
with the low-speed handpiece module was used by 5 consultants in over 100 procedures. This product received a 96% clinical rating.
Root ZX II is a battery-operated apex locator with an optional low-speed handpiece module, and according to the manufacturer, produces clinical accuracy not influenced by blood, other discharges, or electrolytes. A larger color graphic display, along with auditory signals, shows the file position relative to the apical constriction. The file lead can be attached to the file during negotiation of the canal or simply touched to files that are already in place.

The base of the unit is broad for improved stability, and it accepts a low-speed handpiece module. The apex locator is active while the handpiece is in use, giving the user a graphic display and auditory signal of the file location at all times. The motor system offers speeds from 150–800 rpm, automatic reverse when reaching the apex, automatic slow-down near the apex, and an automatic reverse system that is based on a torque meter incorporated in the system. Each of the features may be activated or deactivated, according to the user's preference. The unit comes with three pre-set programs that may be changed as needed. The file holder and lip clip are autoclavable, and the unit itself is smooth and easy to disinfect.
Accuracy of the Root ZX II apex locator was rated as excellent. The new color LCD display is easy to read, and the auditory tones are subtle to not disturb the patient. The large base was considered more stable and an improvement over the original unit.

The handpiece module attaches easily to the back of the unit, providing a compact device for operation of rotary instruments. The handpiece begins operation automatically as soon as the file is introduced into the canal. While a foot pedal is included, consultants found the automatic start feature a convenience and used it almost exclusively. Pre-programmed modes are useful, yet easy to change when desired. The automatic reverse and the torque meter were highly rated features of the motor unit. Consultants noted that the there was a learning curve with the system and that the automatic reverse activated too early when canals were overly wet.

Four out of five consultants reported that Root ZX II was better than their current apex locator and would both switch to and recommend this equipment.
Make sure canal is well lubricated but not too wet.
Remove rubber stoppers from rotary files to allow secure attachment of the handpiece's grounding clip.
Check with the manufacturer of your rotary files for proper speed and torque settings.

Consultants' Comments
"A 'must have' for my endodontic procedures."
"Sounds are more pleasant than on the original unit."
"Easy to move from room to room because of its compact size."
"Automatic reverse and torque control have a learning curve."
©"The Dental Advisor" March 2006
Root ZX II
earned 4.5 stars out of a possible 5.0.
Has the best display of those being marketed and a simple one button technology, thereby avoiding some complexities found in other units. It tends to be reliable with a variety of fluids in the canals. The design is the right size with a small footprint. The cables are durable and the clips easily sterilized. With a rather flat learning curve, it is fairly easy to use. Even in complicated situations or curved canals, its accuracy has been validated by x-rays.
Since it works by calculating different frequency ratios, there is a lot of static around metal (an access opening through amalgam would be a prime example). And the clip of the electrode to the base of a file takes about 3mm of length. In long canals, you may have to use a longer file. In addition, this clip could be more durable and beefed up, although it is still better than that provided by other units. Nevertheless, it could enhance its versatility by providing a touch tip that does not have to be clipped onto an instrument. Finally, it seems that irrigants, such as sodium hypochlorite, might contribute to misleading readings due to their high ionic potential.
Seems to be the cream of the crop.
©REALITY Publishing Company
Volume 20 (2006)
www.realityratings.com