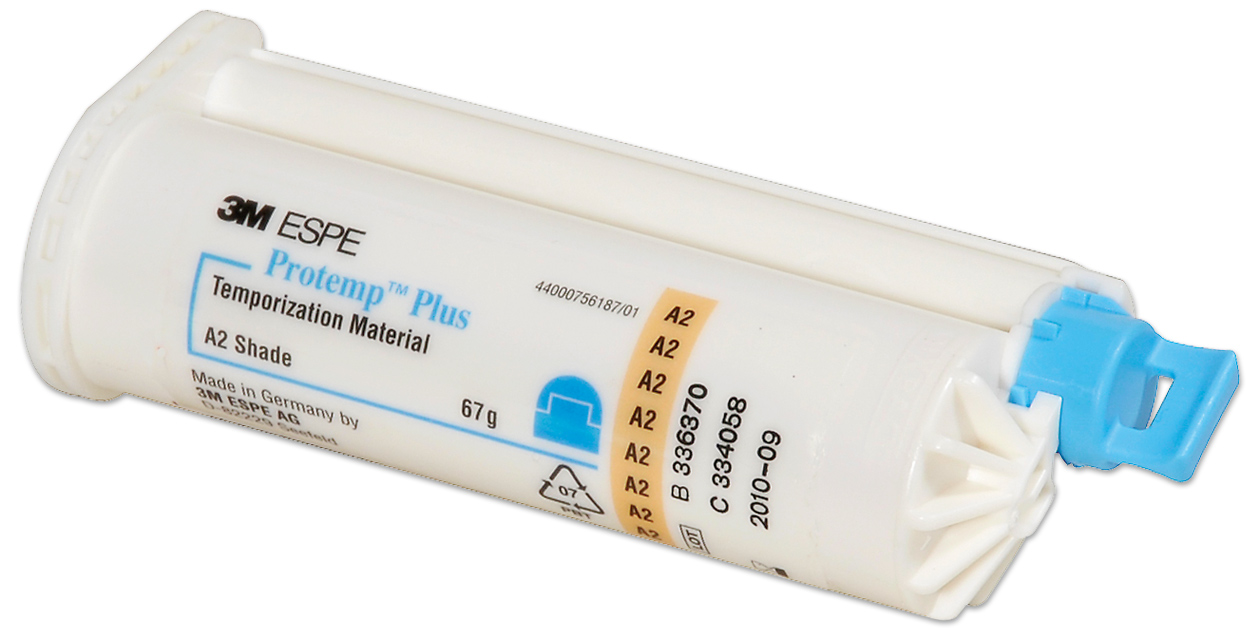 Watch Product Video(s)
Read Product Review(s)
Product Details
Automix bis-acrylic temporary material for crowns, bridges, inlays, onlays, veneers and long-term temporization.
Highest fracture resistance on the market – suitable for long-term temporization.
A smooth surface from the beginning allows a natural shine without polishing or glaze – simply clean the surface with alcohol.
Sophisticated filler technology provides strength and esthetics.
Six natural-looking shades to match Filtek Supreme Ultra restorative.
Uses DS 50 or DS 74 guns marked 4:1/10:1.
Working time 0'' 40"
Intraoral setting time 1'' 40"
Clinical Evaluations
Protemp Plus
1-Year Clinical Performance
Description
3M Protemp Plus Temporization Material is a two-component composite with a new generation of fillers for fabrication of interim restorations. It is indicated for temporization of single and multiple-unit crowns, bridges, implants, inlays/onlays, and veneers, including long-term provisional restorations.
Clinical Evaluation Protocol
Eight consultants placed a total of 145 units in 95 patients and recalled them at 6 weeks, 3 months, 6 months, 9 months, and 1 year. Of the 145 units, 108 were single units and 37 multiple units. The multiple units included 10 bridges (three-, four- and eight-unit spans). The single units included crowns, implant crowns and a few inlays and onlays.
45% of the restorations were in the mouth for 3 months only. The reason some restorations were not in function for a year was often the result of patient request, insurance coverage considerations, or dentist discretion. In a few cases the tooth was scheduled for extraction and the Protemp Plus crown served well during this interim period.
At the one-year recall, 51 restorations out of 145 were still in function. Other patients had dropped out of the evaluation before recall due to reasons not related to the restoration. In fact at the completion of the recall, 19 restorations or about 12% still remain cemented in the mouth because patients requested to keep them for now.
Clinical Observations
Gingival Health: In at least two bridge cases, one four-unit and one eight-unit bridge, the tissues were very inflamed with the original PFM bridge. Upon removal of permanent bridge and placement of temporary bridge, the gingival health improved so much that the patient requested to keep their Protemp Plus bridge.
Resistance to Fracture: Fractures that occurred were observed in the first three weeks. After that time, the restorations performed well.
Resistance to Staining: Some staining was observed in smokers and heavy coffee drinkers, but the stains were easily cleaned and polished at recall.
Ease of Repair: Few restorations required repair, but in general repair was easily accomplished with flowable composites when necessary.
Summary
3M Protemp Plus Temporization Material was evaluated as a long-term temporary material over a period of 1 year. It received very good to excellent ratings for all categories evaluated. This product received a 96% clinical rating.
Consultants' Comments
"This has been a wonderful compromise for both patient and doctor.
The patient gets to keep their tooth and I get to give him an inexpensive crown that will last."
"Emergency visit for a broken bridge in the esthetic zone. Nice results considering patient cannot afford other treatment at this time."
"Protemp Plus provided excellent marginal adaptation."
"Several patients totally forgot they had a temporary."
"Just leave the temporary – patient happy."
"Protemp Plus was excellent during implant placement and healing period."
"I used a flowable composite veneer to enhance anterior esthetics."
"Best material that I have seen for long-term temporization with great results."
Patients' Comments
"Wow, beautiful."
"Pleased with immediate results."
"Feels good."
"Temporary restoration still feels fine – no problems."
"Doing great – just leave it in."
"It is a shame you have to replace it."
"I like this bridge much better than my old one and my gums are much better and it looks and feels better." (These are comments regarding an eight-unit bridge.)
"Loved it."
©"The Dental Advisor" July-August 2011www.dentaladvisor.com
Protemp Plus
earned 4.3 stars out of a possible 5.0.
Uncanny high gloss can be created by rubbing unadjusted surfaces with alcohol gauze. Fluorescence, especially B3, is reasonably close to natural teeth. Excellent handling. Seems to be less brittle than the version it replaces.
Most shades are lighter than their Vita analogs. Still need to polish or glaze any adjusted areas –merely wiping these areas with an alcohol gauze doesn't restore the luster. Has the second highest exotherm. Very expensive in cartridges.
Impressive handling and unique alcohol shine, but most shades are slightly lighter than their designations.
©REALITY Publishing Company
Volume 22 (2012)
www.realityratings.com