3M™ Ketac™ Nano Clicker™
(Made in USA.)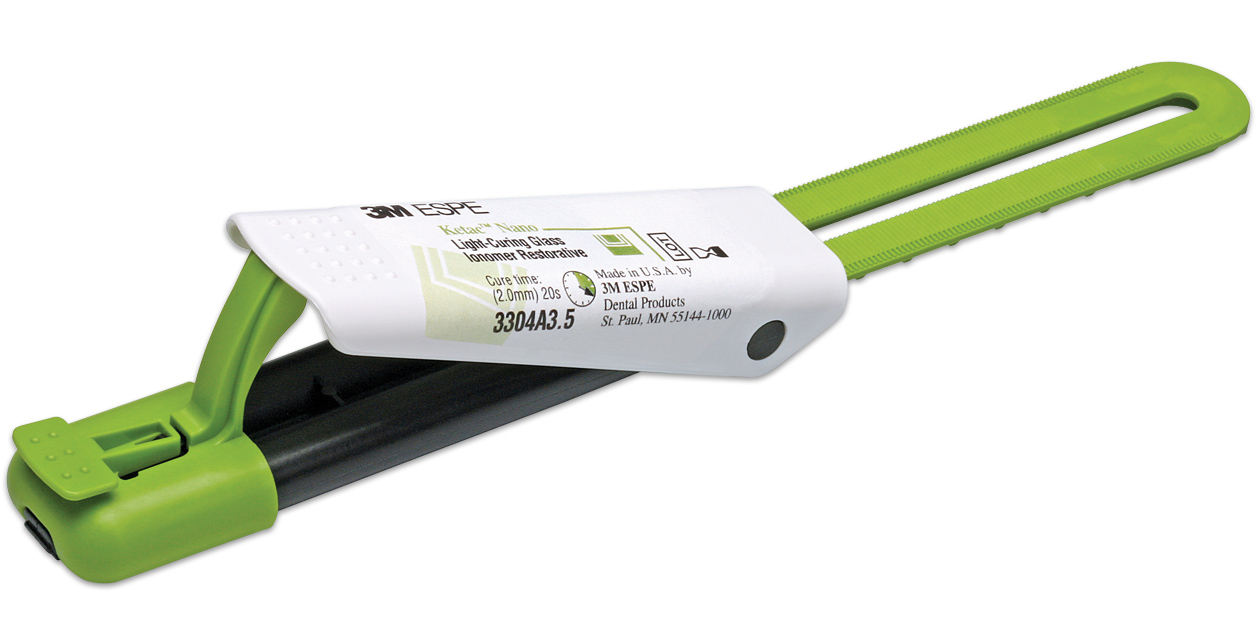 Product Details
Nano-ionomer resin-modified glass ionomer restorative for cases where both fluoride release and esthetics are important.
No need for mixer, activator, applier or other devices.
Dispenser contains approximately 40 applications (80 clicks).
Important notice: 3M™ Ketac™ Nano must be used with the special 3M™ Ketac™ Nano Primer in order for the restoration to bond to the tooth.
Clinical Evaluations
Ketac Nano
was evaluated by 24 consultants in 648 uses. It received a 96% rating.
3M ESPE Ketac Nano Light-Curing Glass Ionomer Restorative is a resinmodified glass ionomer in a paste/paste formulation. The new Quick Mix Capsule fits into any 3M ESPE Aplicap applier or an applier of similar design and provides instant mixing and dispensing of the material. This eliminates the need for hand mixing or trituration of the capsule. The material is radiopaque and releases fluoride. It is designed to provide the major benefits typical of glass ionomers, along with the additional benefits of improved esthetics, wear resistance and high initial polish. Ketac Nano restorative is indicated for restorations of primary teeth, small Class I restorations, Class III and V restorations, transitional restorations, laminate/ sandwich restorations, and small core buildups. Ketac Nano restorative is also available in the Clicker Dispenser for hand mixing.
The Quick Mix Capsule provides convenient mixing and dispensing for Ketac Nano restorative. The long, thin nozzle allows direct placement of the material into the prepared tooth. Because of the challenging handling nature of this class of material, instrumentation should be minimized after filling. Consultants liked the shade selection, final color match and resulting polish.

62% of consultants reported that Ketac Nano restorative was better than their current resin-modified glass ionomer and 21% reported that it was equivalent. 75% would switch, and 79% would recommend it.
Ketac Nano Glass Ionomer Primer must be applied to the preparation before restoring the tooth with Ketac Nano restorative.
When ready to dispense restorative from the Quick Mix Capsule into the preparation, flip the orange mix tip until it is in a straight line with the capsule. Do not force beyond stop. Once the nozzle is swung open and activated, do not reclose it, as this may cause a capsule failure.
Bleed a small amount (size of small pea) of product before placing, as this ensures a proper mix.
To avoid handling the sticky material, overfill the preparation, light cure it and then cut it back to proper form. Or use the Ketac Nano Primer to wet instruments prior to handling.
Use cavity forms for Class V restorations and core forms to tightly adapt restorative to the tooth and achieve a smooth, glossy surface.
"No trituration required - consistent mixes, great viscosity."
"Final restorations had a good color match, better than other resinmodified glass ionomers."
"Quick Mix Capsule is an excellent delivery system."
"Adaptability to preparation and handling were more difficult than resin composite."
"Tacky – sticks to instruments - wetting instrument with primer helps."
"Provide more primer in the kit."
"I would prefer a dual-curing material."
©"The Dental Advisor" March 2011