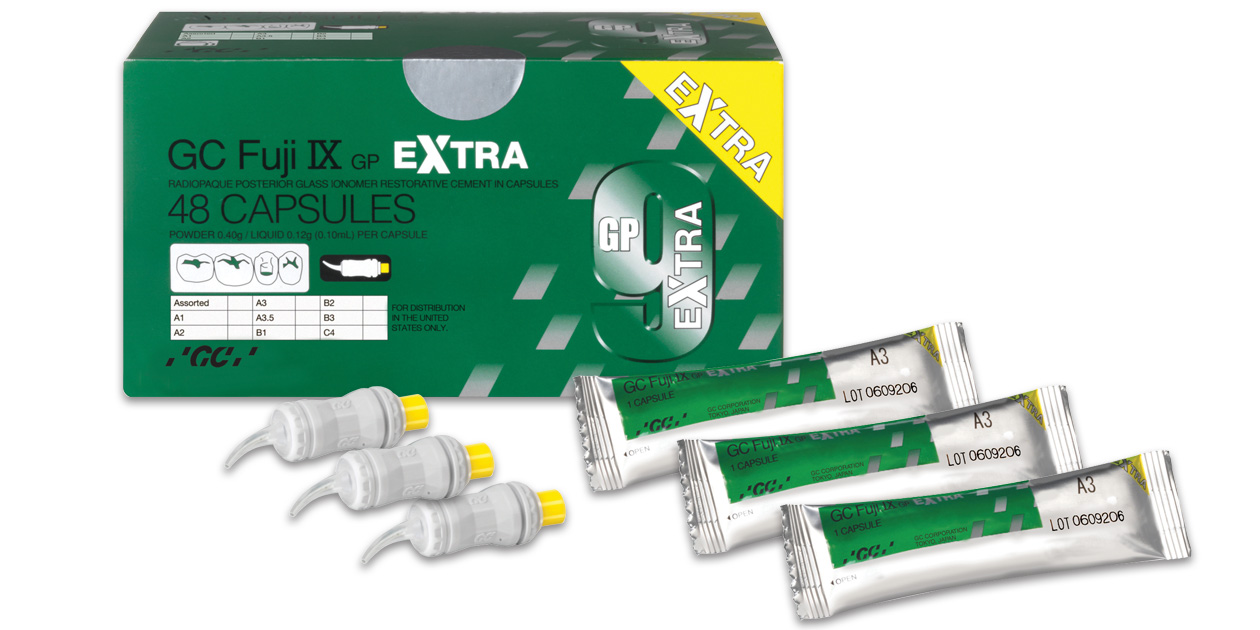 Free item will be of equal or lesser value to lowest price purchase item.
Offer includes Miracle Mix, Fuji II Core, Fuji II, Fuji II LC, Fuji IX GP,
Fuji IX GP Fast, Fuji IX GP Extra, Fuji Filling LC, GC Self Conditioner,
GC Cavity Conditioner, Fuji Coat LC, Fuji Triage.
Product Details
Offers an extra fast setting time (2½ minutes) with six times the fluoride release of previous generations and increased translucency. Also suitable for caries control restorations, long-term provisionals, and as a high strength foundation beneath coronal coverage restorations.
Clinical Evaluations
GC Fuji IX GP Extra
was evaluated by 29 consultants in over 450 restorations. This product received a 93% clinical rating.
GC Fuji IX GP Extra is a conventional glass ionomer restorative that chemically bonds to both enamel and dentin; the Extra designation refers to enhancements in setting time, fluoride release, strength, and translucency. The material has a high fluoride release, non-etch surface preparation, and biocompatibility. The capsules are protected by individual foil envelopes; storage in a cool, dark place is recommended.
The working time for GC Fuji IX GP Extra is 1.25 minutes from the start of the mix. Finishing can begin approximately 2.5 minutes after the start of mixing. It is recommended that GC Fuji Coat LC be placed immediately after placement and then again after finishing and polishing; this step is recommended to prevent dehydration during the setting of GC Fuji IX GP Extra and to have a post-polish protective layer present during the final maturation of the chemical reaction.
GC Fuji IX GP Extra has a mixing and delivery system that is familiar and comfortable to all consultants experienced in using glass ionomers. The packaging and the consistent mix were highly rated. Consultants found having multiple shades is very useful, deeming the esthetics to be excellent for a glass ionomer. The increased translucency allowed consultants to use this product in the anterior region with esthetic results.

GC Fuji IX GP Extra is especially useful for cervical restorations, where the high fluoride release is important. The lack of postoperative sensitivity was the highest rated category, correlating well with the lack of bonding sensitivity that is present during the placement of glass ionomers.

Generally, consultants found GC Fuji IX GP Extra to be quite sticky initially; however, they noted that when the material is allowed to set slightly, the handling improves significantly. Placing GC Fuji Coat LC twice during the procedure was time consuming.

90% of consultants would use GC Fuji IX GP Extra rather than other restorative materials (amalgam, composite, compomer) in pediatric and geriatric patients. 70% rated GC Fuji IX GP Extra as equal to or better than their current glass ionomer, 74% would switch, and 85% would recommend it to a colleague.
"Excellent finishing and esthetics for a glass ionomer!"
"I enjoyed the versatility of its use. Time and time again I looked for different ways to incorporate this product into daily use."
"I would really prefer more material in each capsule, especially when building up a core."
©"The Dental Advisor" March 2008
Fuji IX GP Extra
earned 4.3 stars out of a possible 5.0.
Sets almost as fast as a dual-cured material that has been light-activated. Amazing adhesion that works really well as a quick fix for fractured teeth. Durability is greater than anticipated. Maximum and rechargeable fluoride release for caries susceptible patients, especially children. High biocompatibility even when placed near the pulp. Can be packed like an amalgam as it begins to set.
Although it sets very fast, at least two evaluators would have preferred dual curing properties with light activation. On the other hand, if you need extra working time, this is not the product to use. Despite its enhanced translucency, it is still quite opaque, meaning its Vita shades are not good matches. Still somewhat sticky and tacky immediately after mixing. Does not fluoresce. Requires keeping a triturator in the treatment room. One evaluator had trouble dispensing it.
A definite improvement over regular Fuji IX. Works wonders for emergency fracture repairs and extremely useful in pediatric applications and core buildups, but do not expect composite-like esthetics and sculptability.
©REALITY Publishing Company
2/21/12 website update
www.realityratings.com