3M™ Paradigm™ DeepCure
(Made in Germany.)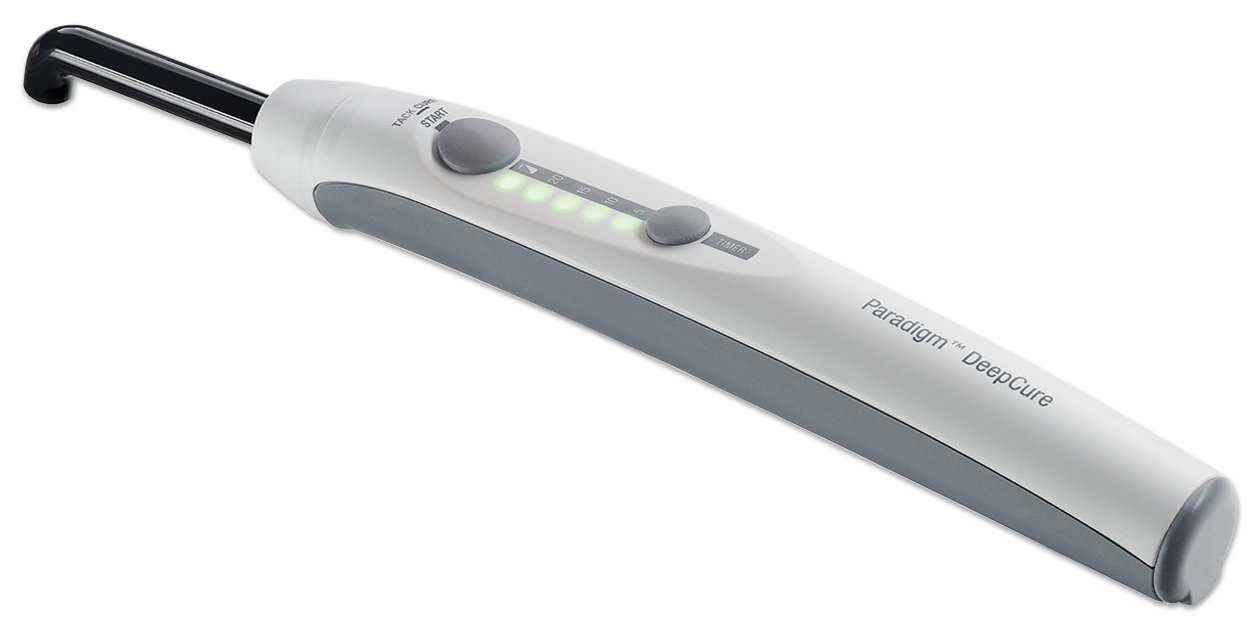 Net effective cost per light is only $557.30 when you buy 2 and get 1 free!
Product Details
The Paradigm brand from 3M offers you:
3M quality
Affordable prices
Reliable performance
Refusal to compromise
Economical, lightweight cordless LED curing light for all of your light-curing procedures - including deep, bulk-fill restorations. This high-performing light offers advanced optics to deliver a safe, predictable, reliable cure, even at the bottom of the proximal box.
Plus, optimized light guide geometry makes it easier to access hard-to-reach areas.
Features include:
Simple, intuitive 2-button operation.
Multiple-setting light timer with preset cure times and a continuous 120-second mode.
Tack-cure mode allows predictable curing and easier removal of excess light-cured cement.
Friction-fit, 360° rotating light guide designed with an optimum angle and height for patient comfort.
Vent-free for fast and easy cleaning and disinfection.
Built-in battery with 120 minutes of cure time from a full charge.

Specifications:
Broadband wavelength
430-480 nm
Light intensity
1,470 mW/cm2 (-10%/+20%)
Max. curing time (composites)
10 sec
Preset programs
5, 10, 15 and 20 seconds, continuous mode (120 sec.) and tack-cure mode
Light guide
10mm
Weight
180g
Power supply
Lithium ion battery
Approx. 120 min. battery run time (~720 10-sec cures) with constant light output regardless of battery charge
Manufacturer''s warranty
2 years (battery 1 year)
Safco Complete Satisfaction Guarantee
You are welcome to use the Paradigm DeepCure LED curing light on a complete satisfaction guarantee basis; if you are not fully satisfied with this product,
return it within 30 days for a complete refund.
You may use one in your office on a trial basis; however, we can only accept the return of one unit in used condition.&l