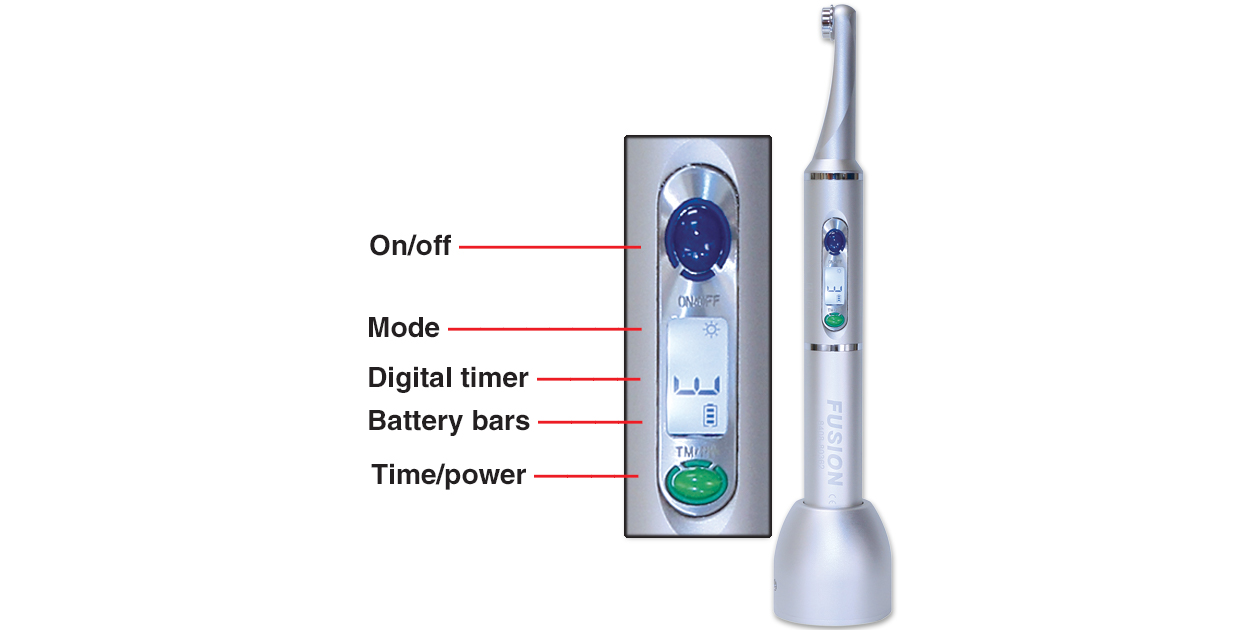 Product Details
Fusion 5 has been rebuilt from the inside out to make it the most powerful and dependable curing light, featuring:
Impressive performance:
Ultrafast 3-second cures.
4,000 mW/cm2 uniform intensity across 10mm curing tip.
Unique, patented optics deliver a laser-like curing beam with minimum dispersion.
Cordless power: 70-minute plasma run time with constant output on smart lithium-ion batteries – enough power for 1,400 3-second cures on one charge.
Recharges in a counter stand or direct plug-in.
Distinct design:
Super thin and lightweight for better ergonomics.
Functionality that is intuitive and easy to use with backlit LCD interface.
Tip is extremely thin, with 90° angle and 360° swivel for improved access.
Modular design constructed of solid aircraft aluminum.
Silver color.
Specifications:
Broadband wavelength
420-490 nm (upgradable to 385-490 nm)
Light intensity
4,000 mW/cm2
Max. curing time (composites)
20 sec
Recommended curing time (A3 and lighter shades)
3 sec
Preset programs
6 Programs
High Power: 3 sec
Pulse Power: 3, 5, 10, 20, 60 sec
Light probe
3mm, 9mm, 10mm, 13mm
Weight
3.9 oz. (110g)
Power supply
Lithium ion battery (user replaceable)
Capacity: 70 min. (high plasma-lilke power)
Charging time: approx 90 min.
Manufacturer''s warranty
2 years (curing unit and power adapter); 1 year (battery and charging stand)
Safco Complete Satisfaction Guarantee
You are welcome to use the Fusion 5 LED curing light on a complete satisfaction guarantee basis; if you are not fully satisfied with this product,
return it within 30 days for a complete refund.
You may use one in your office on a trial basis; however, we can only accept the return of one unit in used condition.
Clinical Evaluations
Fusion 5 Curing Light
was evaluated by 13 consultants with an average of 85 uses per consultant. It received a 91% clinical rating.
Consultants' Comments
"Great curing light and its low weight is impressive."
"Convenient cordless feature."
"I liked the ability to customize the curing time and curing light intensity."
"The shape of the light makes it very easy to use, even interproximally."
"Buy this light!"
"Angulation and reaching the molars was awkward; otherwise, I love this curing light."
©"The Dental Advisor"
March-April 2017 www.dentaladvisor.com