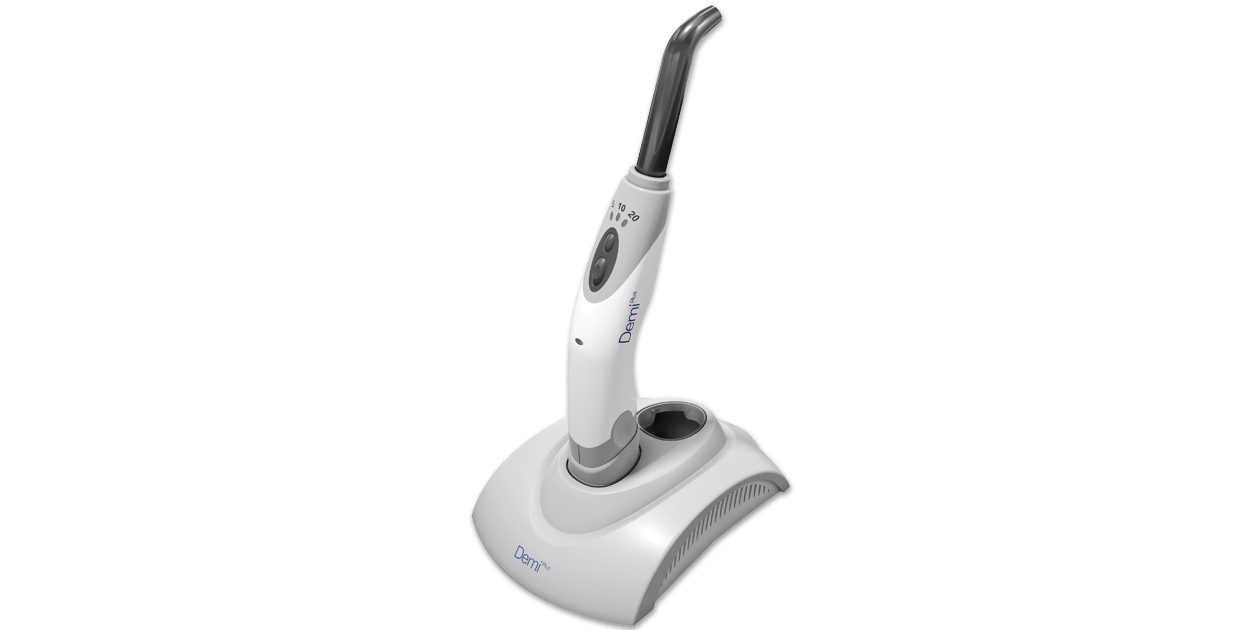 Product Details
Powered by Demetron Technology, the Demi Plus combines sophisticated engineering with innovative design advancements.
True 5-second cure.

Periodic Level Shifting (PLS) technology shifts output intensity from 1,100 mW/cm2 to a peak of 1,330 mW/cm2 multiple times throughout the curing cycle with a wavelength of 450 to 470 nm. PLS drives cool, continuous high output for a true 5-second cure without generating excessive heat.



Never shuts down.

Whisper quiet fan and thermal control system keep it cool for uninterrupted operation.



Extended Turbo+ Light Guide

(included with the unit) enables better application with improved access for posterior procedures. The handpiece accepts all Demetron light guides.



Small & light.

Weighs only 5.8 oz., just half the weight and half the counter space of the L.E. Demetron 2.



Impact and chemical-resistant

.

Valox® resin exterior is lightweight yet highly durable.



No degradation in output.

Lithium ion super battery provides 500 five-second cures on a single charge, with consistent output throughout the entire charge.



3 year Demetron warranty

from date of purchase (1 year on the battery).
Safco Complete Satisfaction Guarantee
You are welcome to use the Demi Plus curing light on a complete satisfaction guarantee basis; if you are not fully satisfied with this product,
return it within 30 days for a complete refund.
You may use one in your office on a trial basis; however, we can only accept the return of one unit in used condition.
Clinical Evaluations
Demi Plus LED Light Curing System
was evaluated by 11 consultants in 570 uses. It received a 96% rating.
The Demi Plus Light Curing System is a visible LED light-curing unit intended for polymerization of light-cured materials. It is powered by Demetron Technology and has a high-performance thermoplastic polyester resin exterior. The Demi Plus is cordless and designed to be lightweight, yet durable, chemical resistant, impact resistant, and able to withstand extreme temperatures. The Demi Plus employs PLS Technology (periodic level shifting), which shifts the output intensity from 1,100 mW/cm2 to a peak of 1,330 mW/cm2 multiple times throughout the curing cycle. PLS Technology drives cool, continuous high output for a true five-second cure without generating excess heat. The 8mm Extended Turbo Light Guide, which is included, improves access for posterior procedures; seven other light guides are available for purchase. The light has a life of 300 full charge/recharge cycles. A fully charged battery will yield 500 five-second cures. Recommended curing times are: universal composite shades A3 and lighter (2 mm depth) - five seconds; shades A3.5 and darker - 10 seconds; bonding agents, universal luting cements and self-etch, self-adhesive cements - five seconds. The Demi Plus comes with a three-year warranty.
Manufacturer's Instructions:
The manufacturer's instructions were rated as good. Handpiece Design and Ergonomics: This light is an ergonomic hybrid between a pen-style and a pistol-grip light. The slight angle in the handle allows a comfortable position to grasp the light and trigger the on/off button. Consultants liked the feel and grip of the handpiece. The buttons for the timer and the on/off switch are positioned close together, and it is possible to push the wrong one.

Ease of Use/Ease of Access in the Mouth: Ease of use and ease of access to the mouth were rated very good. The longer tip makes it easier to reach posterior teeth. The light guide rotates 180° for positioning from any angle.
Ability to Cure Materials:
Consultants rated the ability to cure a variety of materials as excellent.
Patient Comfort:
Patient comfort was rated very good with no reports of excessive heat.
Noise Level:
Nearly all of the consultants reported that the audible tones every five seconds were too loud. An option for a volume control was suggested.
Docking Station/Battery Life:
Most consultants docked the light in the charging station between uses, and the battery never became fully discharged. The station contains two sockets for charging, and the light is stable when docked. Consultants rated the time required to charge the battery and the battery life as excellent.
Ease of Cleaning/Disinfection:
Ease of cleaning and disinfection were rated very good to excellent. The manufacturer recommends disinfection by wiping with a product containing less than 20% alcohol.
36% of consultants reported that Demi Plus LED Light Curing System was better than their current light-curing unit and 46% reported that it was equivalent. 73% would switch to Demi Plus LED Light Curing System and 91% would recommend it.
Charge the light for 16 hours before first-time use.
Place the head of the light on a 90-degree angle to the surface being cured to insure a full cure.

Consultants' Comments
"Easy to use, multiple curing capabilities, intense light, solid charging station."
"Ease of use in the mouth because of the size and rotation of the light."
"I liked longer tip – easier to reach posterior teeth."
"Beeps are too loud."
"The buttons for the timer and the on/off switch are so close that it is easy to push the wrong one."
"Have an option for no sound."
©"The Dental Advisor" May 2011