CompCore™ AF Stack SyringeMix™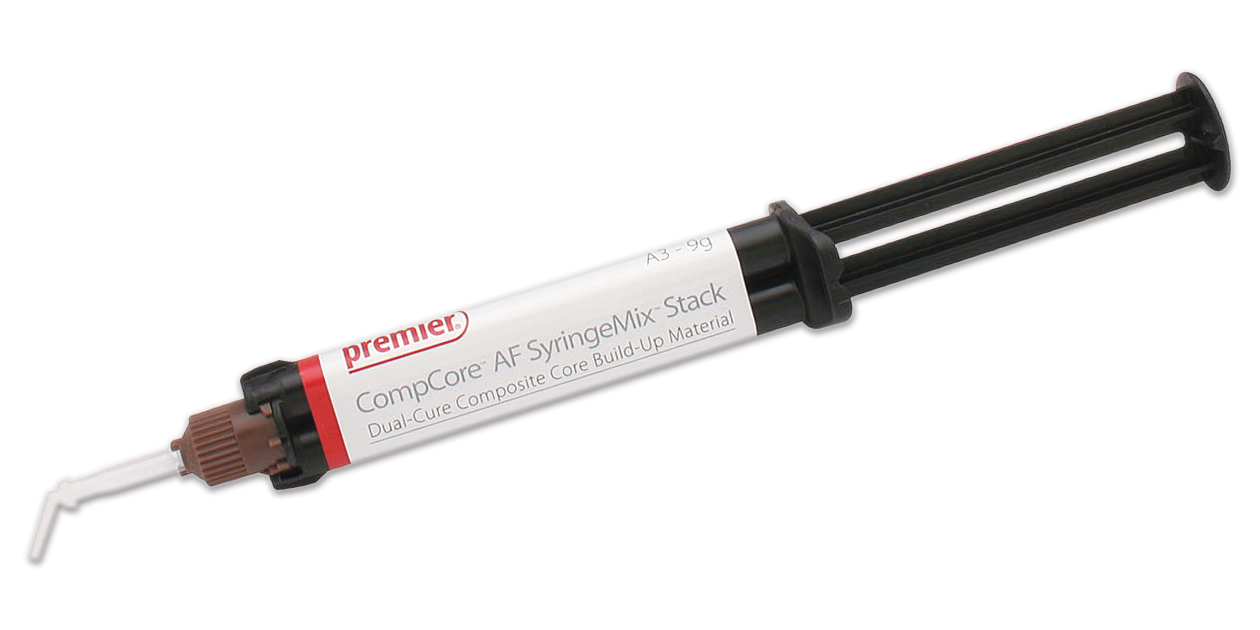 Product Details
Dual-cure, stackable core material incorporating Hyperbranched Technology™ to enhance the mechanical properties of conventional Bis-GMA composites. Radiopaque.
Provides dense void-free core; cuts like dentin. Releases fluoride.
Harder with less shrinkage than conventional composites. Provides
greater depth of cure.
Fluoride-Releasing, Automix Dental Composite Core Build-up Material.
Advanced Formula, Dual-Cure CompCore™ AF provides exceptional performance and the enhanced light-curing properties save considerable time. If light-curing is not an option – allow CompCore™ AF to self-cure in 4.5 minutes intraorally!
Improved natural appearance -The greater translucency of the enhanced CompCore AF presents a more natural tooth appearance which minimizes the chance of shadows under ceramic crowns- yet provides good contrast and excellent radiopacity.
Outstanding handling for ease of use - CompCore AF Stack will stay put – even in difficult maxillary core build-ups, yet flows under pressure for excellent adaptation. Preps like dentin without ditching.
Superior durability for peace of mind.
CompCore AF dental composite core build-up material utilizes exclusive Hyperbranched Technology™1 and nano-fillers for superior mechanical properties and long term clinical success – available in automix SyringeMix™ and cartridge dispensers.

Refrigeration suggested; this product is stored under refrigeration at Safco.
Clinical Evaluations
CompCore AF SyringeMix Stack
was evaluated by 34 clinical consultants to build up over 370 teeth. This product received a 95% clinical rating.
CompCore AF SyringeMix Stack is a dual-cured, fluoride-releasing, radiopaque composite core build-up material for use in vital and non-vital teeth. The material uses "hyperbranched technology," which the manufacturer reports as promoting crosslinking and conversion of monomers to ensure a more complete cure. Refrigeration is recommended for maximum shelf life. Bonding agents that are compatible with dual-cured composites, such as IntegraBond, are acceptable as long as the manufacturer's instructions are followed. The working time is 2.5-3.0 minutes with a chemical cure time of 4.5 minutes. The light curing time is 40-50 seconds.
*
CompCore AF SyringeMix Stack provides a consistent mixture of core build-up material that dispenses easily and stacks well. Most consultants liked the smaller mixing tips and syringe delivery, stating this delivery system was easier to manipulate and pass from assistant to operator compared to larger 25-g automix cartridges. Because the material is highly opaque, many consultants waited the recommended time after light curing for the chemical cure before preparing the tooth. The working and setting times are adequate for the majority of core build-ups. Consultants liked the intraoral tips and the ease of placement into post spaces, endodontic accesses and other narrow areas.
63% of consultants found CompCore AF SyringeMix Stack to be equivalent to or better than their current composite core build-up material.
Warm the material to room temperature before use.
To avoid air bubbles, do not pull the tip out of flowing material while injecting.
Due to the opacity of the material, the depth of light curing is 2 to 3 mm; however, deeper areas self cure in 4-5 minutes.*
"The best core material I have used."
"Flows well."
"Sets quickly."
"Too opaque for use under anterior all-ceramic crowns."

*
Safco editors' note: Since the time of this review, Premier has made changes to
this product that altered its light cure times.
©"The Dental Advisor" November 2008