Venus® Pearl
(Made in Germany.)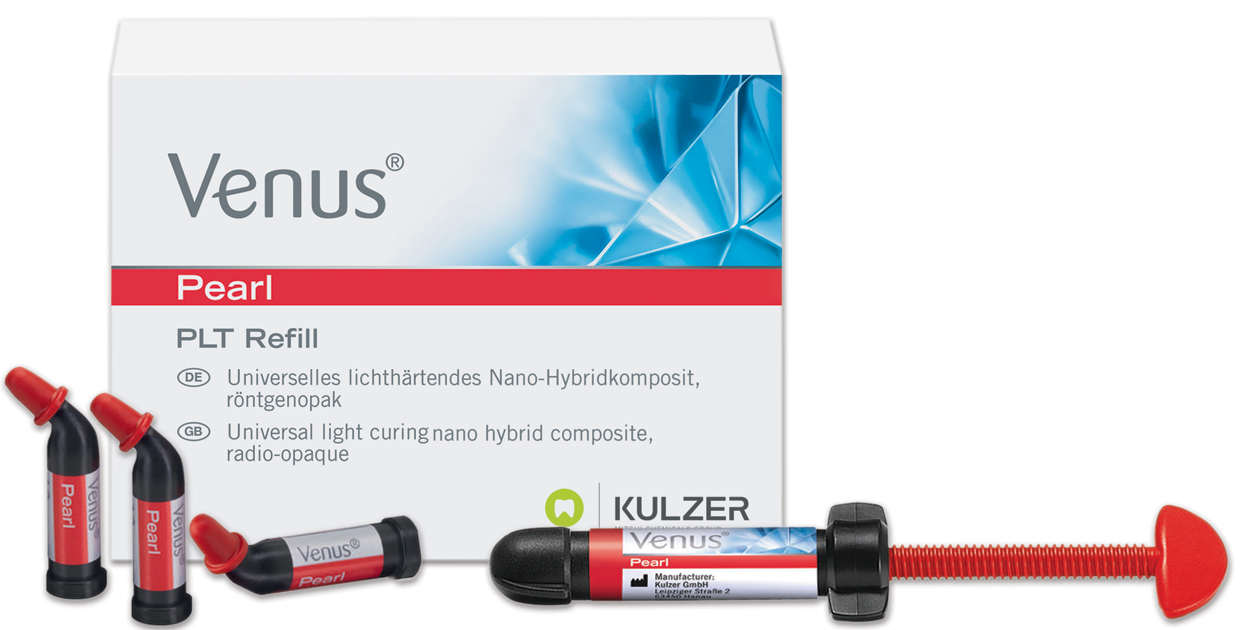 Product Details
Universal nano-hybrid composite indicated for all classes of anterior and posterior restorations, direct composite veneers, core build-up or porcelain repairs.
The innovative formula, based on the urethane monomer chemistry of Venus Diamond, possesses superior physical properties such as low shrinkage stress and high flexural strength. The creamy consistency allows for easy and convenient handling, excellent sculptability, and superb polishability. The wide range of shades provides excellent color adaptation through a single or multiple layer technique for beautiful, long-lasting, esthetic results.
Reviews
Venus Pearl
was evaluated by 28 consultants in 833 uses. This universal composite received a 91% clinical rating.
Venus Pearl is a light-cured, universal, radiopaque, nano-hybrid composite based on the urethane monomer chemistry of Venus Diamond. According to the manufacturer, Venus Pearl provides the same combination of low shrinkage stress and increased durability as Venus Diamond with a creamier consistency for fine detailed work with excellent sculptability and polishability. It is suitable for all classes of anterior and posterior restorations. Venus Pearl is designed to produce a durable, highly esthetic result with a long-lasting high luster polish.
Venus Pearl is a very good universal composite that may be used in single shades or layered when desired. The consistency is softer than Venus Diamond, which was viewed as a good expansion to the Venus line of composites for dentists who like a lower viscosity, especially for anterior restorations. Handling was rated very good. Shades provided in the basic kit are somewhat opaque; however, the full range of shades available offers three levels of translucency including incisal shades.

Finishing is easily accomplished with an excellent quality of the final polish. 32% of consultants rated Venus Pearl better than other universal composites they had used and 43% rated it to be equivalent. 46% would switch to it and 79% would recommend it to a colleague.
Clinical Tip
Venus Pearl handles well with a brush to manipulate the surface of the material.
"Good consistency and esthetic results."
"Very radiopaque."
"Material gains translucency upon light curing."
"Polishes to a high luster."
"Opacity is good for masking stained dentin but limits blending with enamel."
"A little soft for packing into posterior preparations."
©"The Dental Advisor" March 2013
Venus Pearl
earned 4.3 stars out of a possible 5.0.
Very good handling – minimal stickiness and quite sculptable. Can be manipulated with a brush. Minimal voids. Most shades come close to Vita analogs. Good range of opacities. Nice esthetics. Can be polished to a high gloss. Plenty of working time. Core shade has cool color and exceeds hardness of dentin. Most evaluators consider it to be better than Venus Diamond.
Does not cure well in proximal box of Class II. Shade layering wheel was considered to be too confusing by almost half of the evaluators. Fluorescence was just fair. Bleach shades are not light enough and too opaque.
Better handling than Venus Diamond for those who don't like real stiff composites and its esthetics won't disappoint you, but be careful using it posteriorly in a proximal box and bleach shades need improvements.
©REALITY Publishing Company 10/3/13 website update