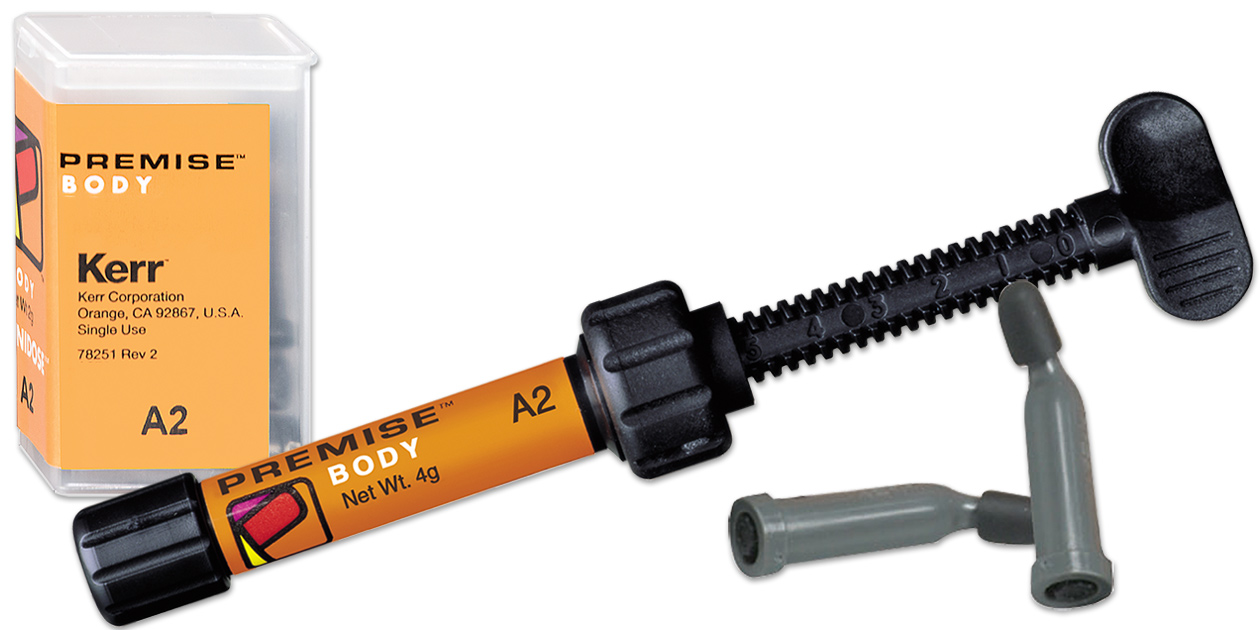 Watch Product Video(s)
Read Product Review(s)
Product Details
Universal nanofilled restorative composite offering superior esthetics and handling, along with outstanding strength and ultra-low shrinkage.
A proprietary tri-modal filler system uses three distinct filler sizes for smooth, consistent handling, reliable strength, and up to 45% less shrinkage than other composites. Highly sculptable, non-sticky, and non-slumping, with a quick, easy polish and a luster that lasts. Easily recreates the look of natural dentition.
Clinical Evaluations
Premise
was evaluated by 22 consultants in over 596 clinical applications. This product received a 91% clinical rating.
Premise is a light-cured resin composite containing three different sized filler particles (tri-modal): prepolymerized fillers, 30-50 microns; barium glass, 0.4 microns; and silica nanoparticles, 0.02 microns. The total filler load is 69% by volume (84% by weight). The different sized particles are intended to optimize handling, strength and polish and to reduce polymerization shrinkage.

The composite is suitable for anterior and posterior restorations with no complicated shading system or special polishing techniques.
Premise is supplied in excellent packaging consisting of two individual plastic boxes, one containing the composite either in unit dose or syringes and the other containing the adhesive and accessories. Both kits are all-inclusive and complete for any anterior or posterior composite restorative procedure.

The composite was judged as very good for handling, ability to sculpt and non-stickiness during placement. The shade match both before and after curing is consistent with the shade guide provided. Resulting restorations tend to be slightly opaque. Finishing and polishing can be readily accomplished with conventional composite polishing techniques.

68% of the consultants rated Premise equivalent to or better than the composite they were currently using and 54% would recommend it.
"Nice esthetics and does not slump."
"Able to establish good proximal contacts."
"The opaque shades are very useful for blocking out underlying dark colors."
"Shades are slightly opaque for anterior restorations; posteriors look great."
"The shade guide breaks too easily."
"Composite is too stiff with very little flow."
©"The Dental Advisor" October 2005
Premise
earned 4.0 stars out of a possible 5.0.
Simple shade selection that should match most Vita shades without a formula. Its handling also was appreciated by most evaluators. It will cure to the 80% mark on the gingival wall, but requires 40 seconds. Volumetric shrinkage is 2.0, which is on the low end, and it was also polished to an enamel-like gloss with all three test instruments.
It does not wet the preparation as well as it could and it is not easy to brush. Fluorescence is just fair, with the material appearing lighter than natural teeth. It is on the high end of the continuum when it comes to porosity.
Shade matching and polishing made easy, but watch out for the surface voids.
©REALITY Publishing Company
2/18/12 website update
www.realityratings.com