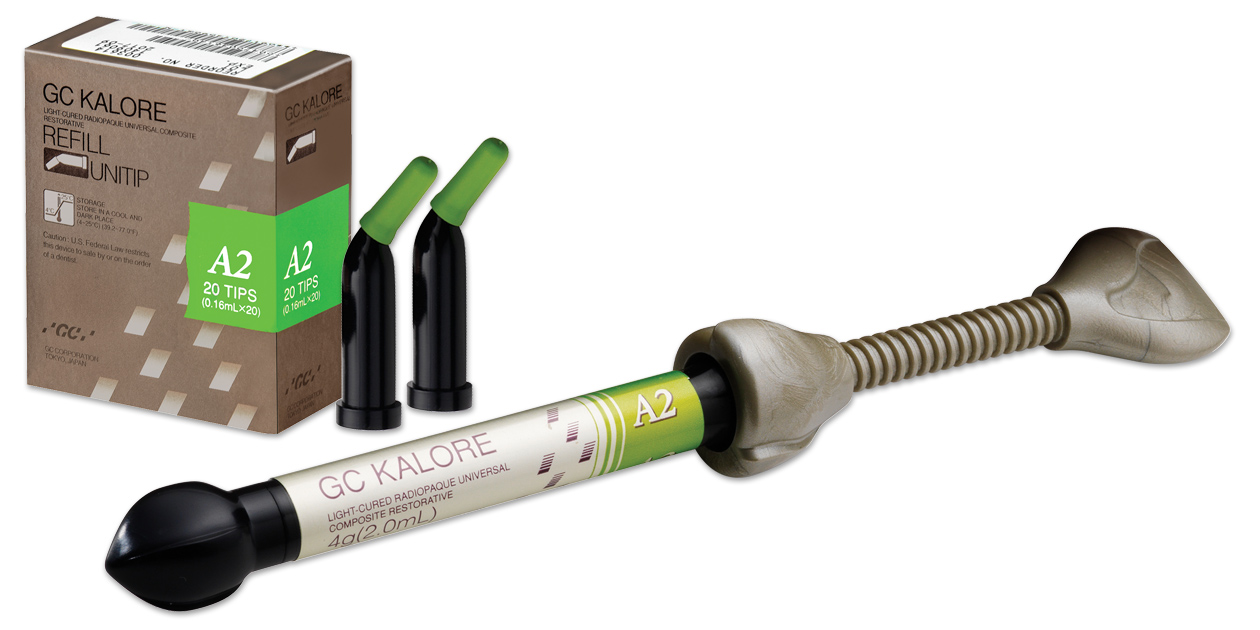 Watch Product Video(s)
Read Product Review(s)
Product Details
Universal light-cured composite utilizes a new monomer technology from DuPont to create a putty-like property that allows the material to spread easily. The prepolymerized fillers eliminate problems associated with composite sticking to the instruments. Luster and polishability are a result of the monomer's long chain. The low shrinkage stress around the fillers provides better durability and longevity of the restoration.

Available in 2 opacities and multiple shades for precision matching and polychromatic stratification.
Reviews
GC Kalore
3-Year Clinical Performance
GC Kalore is a low-shrinkage, universal nanofilled composite indicated for use in all classes of direct restorations. This composite combines a new monomer from DuPont along with UDMA but contains no Bis-GMA. The product contains High Density Radiopaque (HDR) pre-polymerized fillers. Curing time is 20 seconds with a standard halogen or LED light for most shades.
Clinical Evaluation Protocol
178 GC Kalore restorations were placed and monitored over a three-year period.
Recall ratings for 87 restorations were recorded and are included in this report.
Of these restorations, 93% were posterior and 7% were anterior.
At recall the following categories were assessed on a scale of 1-5 (1=poor, 2=fair, 3=good, 4=very good, 5=excellent).

Clinical Observations:
Resistance to Fracture/Chipping:
GC Kalore proved to be very durable during the three-year recall period. Over 98% of the restorations evaluated received >an excellent rating. Of 87 restorations, one had a slight chip that did not require treatment and one fractured, requiring replacement. The fractured filling was a Class II restoration on tooth #20.
Esthetics:
90% of restorations were rated excellent for esthetics at three years. The remaining 10% were rated very good and showed minor discoloration or lack of blending with the tooth. Superior esthetics was obtained when shades >were layered at placement. It blends well and has a high quality of finish and polish at placement; restorations maintained an excellent finish over the three-year period.
Resistance to Marginal Discoloration:
The majority of restorations placed were resistant to staining and marginal discoloration. 95% of restorations evaluated received an excellent rating. Four restorations showed slight staining at the margin.
Wear Resistance:
Only one restoration was observed to have slight wear at year three. That restoration was a Class I filling on a second molar. The remaining 86 recalled restorations rated very good or excellent for wear resistance.
GC Kalore universal composite had excellent ratings for resistance to chipping/fracture, resistance to marginal discoloration and wear resistance over a three-year period. Shades blended well and excellent esthetics was maintained. This product received a 98% clinical performance rating.
Consultants' Comments
"Body shades can be used alone or layered."
"Great handling characteristics – not sticky at all."
"Good consistency for establishing interproximal contacts."
"Material is radiopaque."
©"The Dental Advisor" June 2013 www.dentaladvisor.com