Herculite® Ultra
(Made in USA.)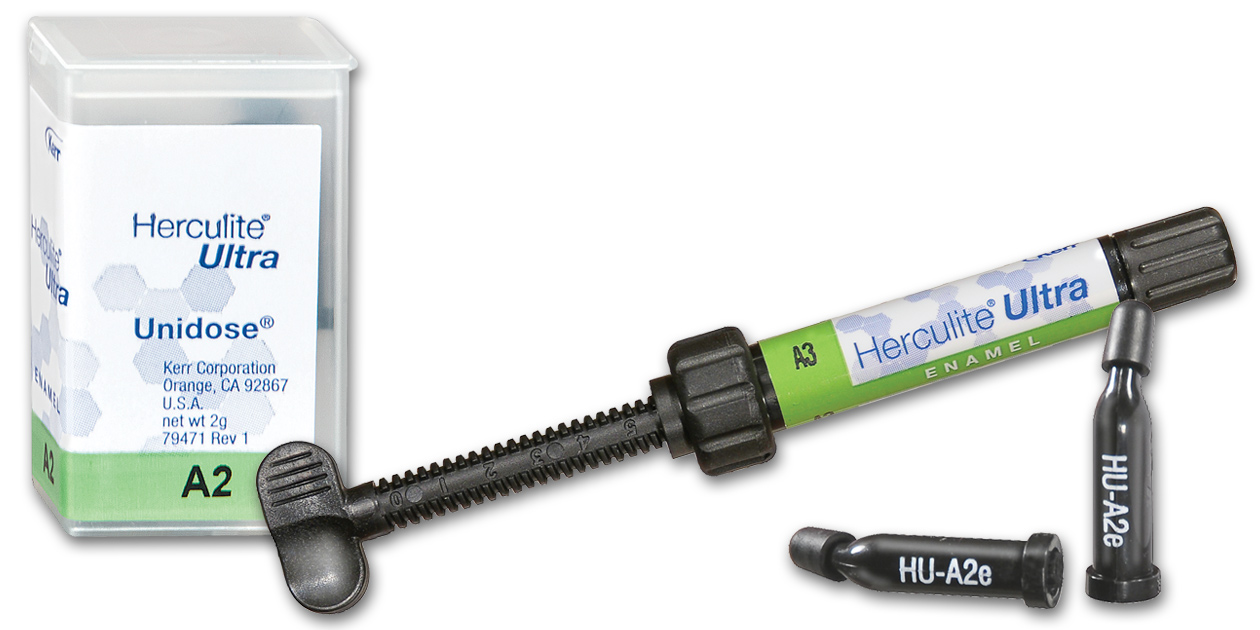 Watch Product Video(s)
Read Product Review(s)
Product Details
This innovative nanohybrid composite offers advanced nanofiller technology that delivers superior esthetics and optimal handling. Features the high polishability, chameleon-like blending, and strength and endurance that are unique to the Herculite brand. Herculite Ultra improves the lifelike appearance of the final restoration by replicating the opalescence and fluorescence of the natural tooth.
Non-slumping. Superb ease of placement.
Maintains lifelike luster long after initial restoration.
High wear strength and mechanical properties for durable, long-lasting restorations.
Optimized filler size for superior tooth-blending effect.
Simplified shade system is ideal for the general practitioner. Beautiful restorations can be achieved from a single shade.
Clinical Evaluations
Herculite Ultra
earned 4.3 stars out of a possible 5.0.
Very good handling and consistency. Shade selection, while truncated, still should cover most uses. Polishes easily and gloss retention is one of the best in this category. Compared to the original Herculite XRV, most evaluators (53%) considered Ultra to be much better, while another 27% felt it was slightly better. One evaluator stated Ultra is more consistent from a manufacturing standpoint compared to XRV. Enamel exceeds 80% curing goal at the bottom of the proximal box, but required 40 seconds of curing. Low porosity.
Opacity of enamel shades is too high, which can interfere with its chameleon effect claim (although one evaluator still thought its chameleon effect was acceptable.) Only one bleach shade. Claim of decreased shrinkage is true when compared to XRV, but not so when compared to other products in this category. Fluorescence is poor, with the material appearing darker and purplish compared to natural teeth. Curing times in directions can lead to undercuring.
Simplified shade selection is to be applauded along with its handling and it is much better from a polishing perspective compared to its legacy namesake, but its chameleon effect suffers due to the enamel shades being overly opaque.
©REALITY Publishing Company
2/18/12 website update
www.realityratings.com