Harmonize™
(Made in USA.)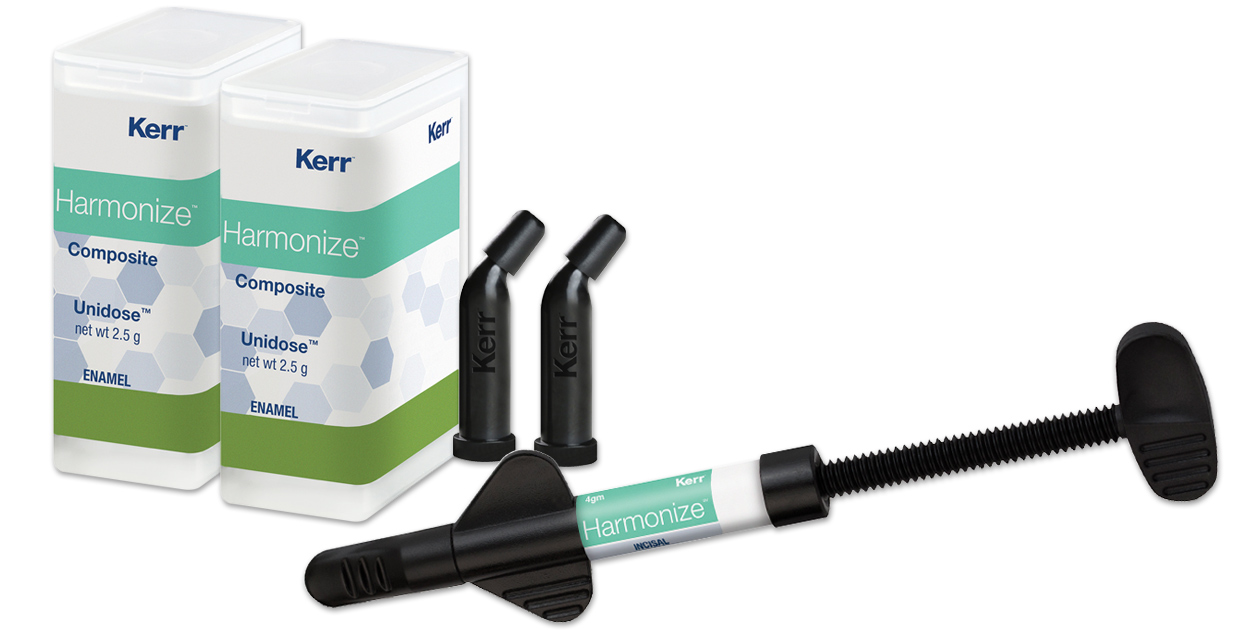 Watch Product Video(s)
Read Product Review(s)
Product Details
Harmonize is a nanohybrid light-cured, esthetic resin-based, universal composite designed for the placement of direct restorations. Harmonize is infused with Adaptive Response Technology (ART) – a nanoparticle filler network with features that help clinicians achieve a lifelike restoration with ease and simplicity.
Additionally, the ART nanoparticle filler network provides better blending capabilities and enhanced structural integrity. Restorations using Harmonize are difficult to detect and lead to positive patient outcomes.
Harmonize offers:
Superior blending and chameleon effect due to the unique filler particles which refracts and diffuses light in a way that closer resembles enamel compared to other materials.
Unmatched gloss retention.
Exceptional handling from the rheological modifier that makes the composite soft and highly moldable without stickiness.
Easier sculpting and holding power to reduce the time needed for trimming and finishing.
Better polymerization, more integration with the resin, with increased strength and durability.
Reviews
Harmonize Nanohybrid Universal Composite
was evaluated by 33 consultants for a total of 829 times. It received a 96% clinical rating.
Description
Harmonize™ Nanohybrid Universal Composite is a light-cured, esthetic nanohybrid resin composite. The filler load is 81% and the filler particles result in refraction and diffusion of light such that this composite offers a chameleon effect to blend with tooth structure. This composite can be placed, packed and sculpted immediately. It is non-sticky and soft during sculpting - the viscosity then increases to prevent slumping. Light curing should be performed with a minimum light output (LED or halogen) of at least 600 mW/cm2 in the 400-520 nm range.
Unique features
Adaptive Response Technology (ART) enables dynamic viscosity for superior handling and optical characteristics that mimic human enamel.
Excels in all three categories: strength, handling, and esthetics.
Fast polishing time, great natural luster.
Consultants' Comments
"Easy to dispense, and highly packable, yet sculptable and not too sticky. I can achieve a great contour and have less trimming to do."
"I found it good for anterior composites but was too translucent for the posterior region."
"With an adequate bevel, the interface between the tooth and composite was invisible."
"Beautiful polish, it polished to a mirror finish and seems like glass. It looks so natural."
"This composite looks so lovely, there must be some special light refraction ingredient in it."
"I'll be using this for every esthetic case; it beats every other product I've tried so far."
©"The Dental Advisor" September - October 2017www.dentaladvisor.com