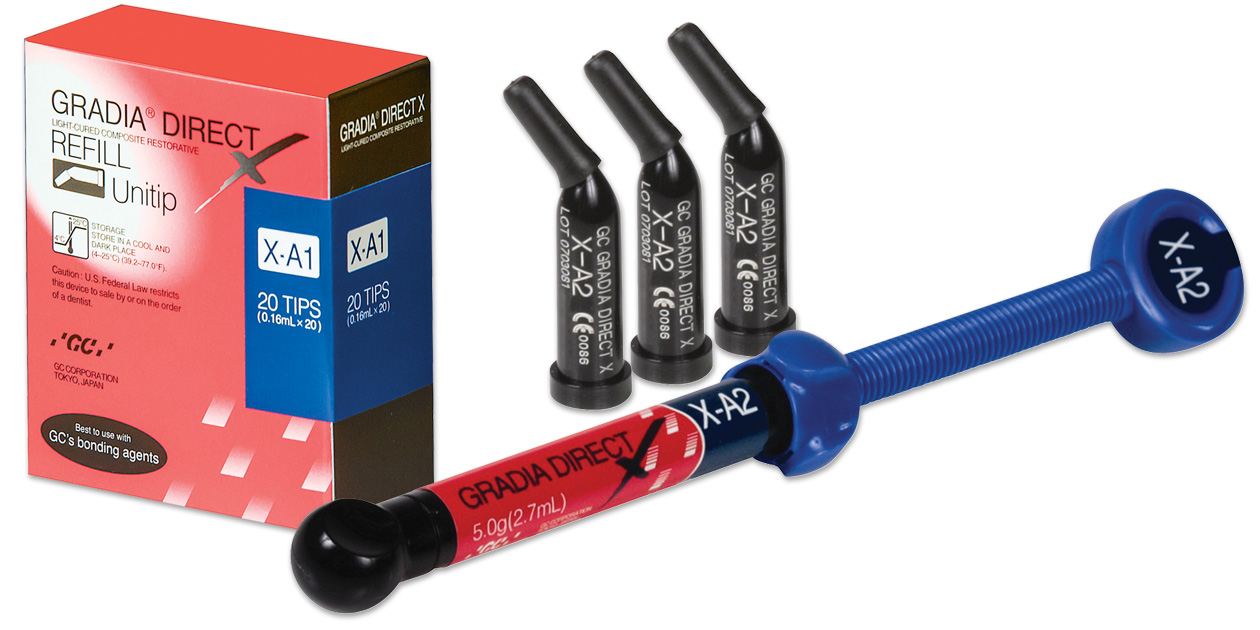 You may mix and match Gradia Direct and Gradia Direct X refills to qualify
for this offer. Free item will be of equal or lesser value to lowest price
purchase item.
Product Details
Gradia Direct X composite has the same excellent handling characteristics as Gradia Direct, with a 60% increase in radiopacity. It incorporates a new nanofiller which blocks x-rays but not visible light; the result is improved translucency ideal for the most natural looking single shade restorations.
Gradia Direct X offers you:
Excellent wear resistance, yet won't wear away opposing enamel.
Extremely low polymerization shrinkage stress for reduced post-operative sensitivity.
Activated filler particles strengthen matrix for increased fracture toughness.
Smooth handling for easy placement.
Sculptable and brushable.
Clinical Evaluations
Gradia Direct/Gradia Direct X
earned 3.8 stars out of a possible 5.0.
All versions possess uncanny handling—both sculptable and brushable—and it doesn't slump, but is soft enough to be pushed and patted without sticking to instruments. As a matter of fact, its thixotropic quality allows it to almost selfcorrect surface flaws and wet the preparation well. These qualities make it not only a good restorative composite, but also a superior mock-up and provisional veneer material. The original version is also one of the few materials today that separates the anterior from the posterior versions, with the former being radiolucent for better esthetics, enhancing chameleon-like invisibility. And it is reasonably easy to polish, with two of our test instruments imparting the highest shine and the third coming very close. Gradia Direct X adds better polishability and radiopacity, with this latter property being similar to that of enamel.
Shade matching is tricky, even with Gradia Direct X. Fluorescence is much higher than tooth structure. Does not reach 80% cure goal at bottom of proximal box.
The handling champ gets a boost with the X version when it comes to polish and radiopacity, but shade matching is still a challenge.
©REALITY Publishing Company
3/10/12 website update
www.realityratings.com