Gradia® Direct
(Made in Japan.)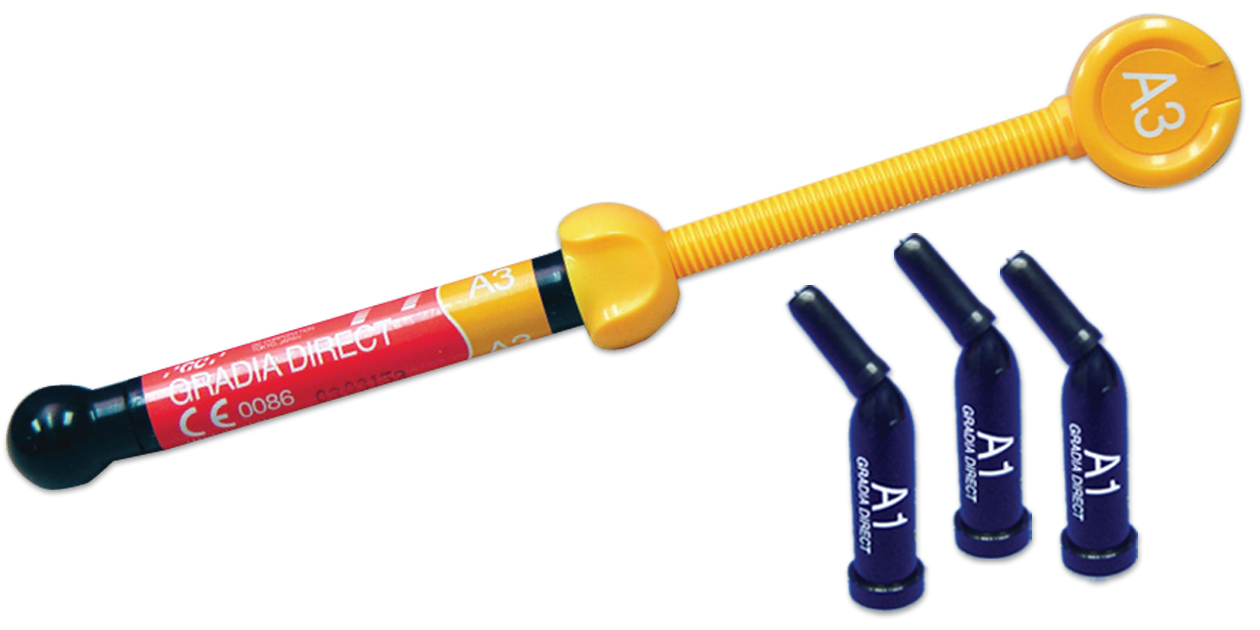 Product Details
Light-cured micro-filled hybrid resin composite provides outstanding esthetics without sacrificing strength, durability and longevity. High fracture toughness. Very durable, exceptionally resistant to occlusal wear, yet kind to opposing dentition.
Reviews
Gradia Direct
3-Year Clinical Performance
Description
Gradia Direct is a micro-hybrid composite system recommended for anterior and posterior use. Anterior shades are formulated to provide convenient shade matching and easy sculpting with a creamy consistency; posterior shades have a heavier body for packing in interproximal areas and are radiopaque.
Standard shades alone are adequate for use in the majority of restorations. Additional "Inside" (opaque) and "Outside" (translucent) shades are provided for a multi-layering technique.
435 restorations in 232 patients were evaluated at three years.
Restorations evaluated included 377 posterior and 58 anterior restorations.
Categories were rated on a 1-5 scale; 1 = poor, 2 = fair, 3 = good, 4 = very good, 5 = excellent.
"Great universal composite."
"Beautiful blending with the tooth."
"Smooth surface texture is maintained."
"Posterior shades have nice radiopacity."

Clinical Observations:
94% of Gradia Direct restorations were rated excellent for resistance to fracture at three years. Two class IV restorations required replacement due to fracture. Seven restorations sustained moderate chipping, requiring repair, and 16 exhibited minor chipping requiring only refinishing or no treatment.
The multiple shades of Gradia Direct are capable of creating restorations that blend well with the teeth. 87% of the restorations recalled were rated excellent at three years, 11% rated very good and 2% rated good. The surface texture remained smooth, and no change in shade occurred over time.
Resistance to Marginal Discoloration
At three years 92% of restorations were rated excellent for marginal discoloration, compared to 93% at two years and 99% at one year. The remaining restorations exhibited staining that was mild to moderate; none required replacement.
95% of restorations were rated excellent for wear resistance. The remaining 5% were rated very good, showing mild wear. In some of those cases, consultants noted wear on functional cusps or evidence of bruxism.
Gradia Direct performed well over the three-year monitoring period in both the anterior and posterior regions. The restorations had long-lasting esthetics, minimal wear and marginal discoloration, and negligible fracture or chipping. This composite received a 94% clinical rating.
©"The Dental Advisor" May 2008
Gradia Direct/Gradia Direct X
earned 3.8 stars out of a possible 5.0.
All versions possess uncanny handling—both sculptable and brushable—and it doesn't slump, but is soft enough to be pushed and patted without sticking to instruments. As a matter of fact, its thixotropic quality allows it to almost selfcorrect surface flaws and wet the preparation well. These qualities make it not only a good restorative composite, but also a superior mock-up and provisional veneer material. The original version is also one of the few materials today that separates the anterior from the posterior versions, with the former being radiolucent for better esthetics, enhancing chameleon-like invisibility. And it is reasonably easy to polish, with two of our test instruments imparting the highest shine and the third coming very close. Gradia Direct X adds better polishability and radiopacity, with this latter property being similar to that of enamel.
Shade matching is tricky, even with Gradia Direct X. Fluorescence is much higher than tooth structure. Does not reach 80% cure goal at bottom of proximal box.
The handling champ gets a boost with the X version when it comes to polish and radiopacity, but shade matching is still a challenge.
©REALITY Publishing Company
3/10/12 website update
www.realityratings.com