3M™ Filtek™ One Bulk fill restorative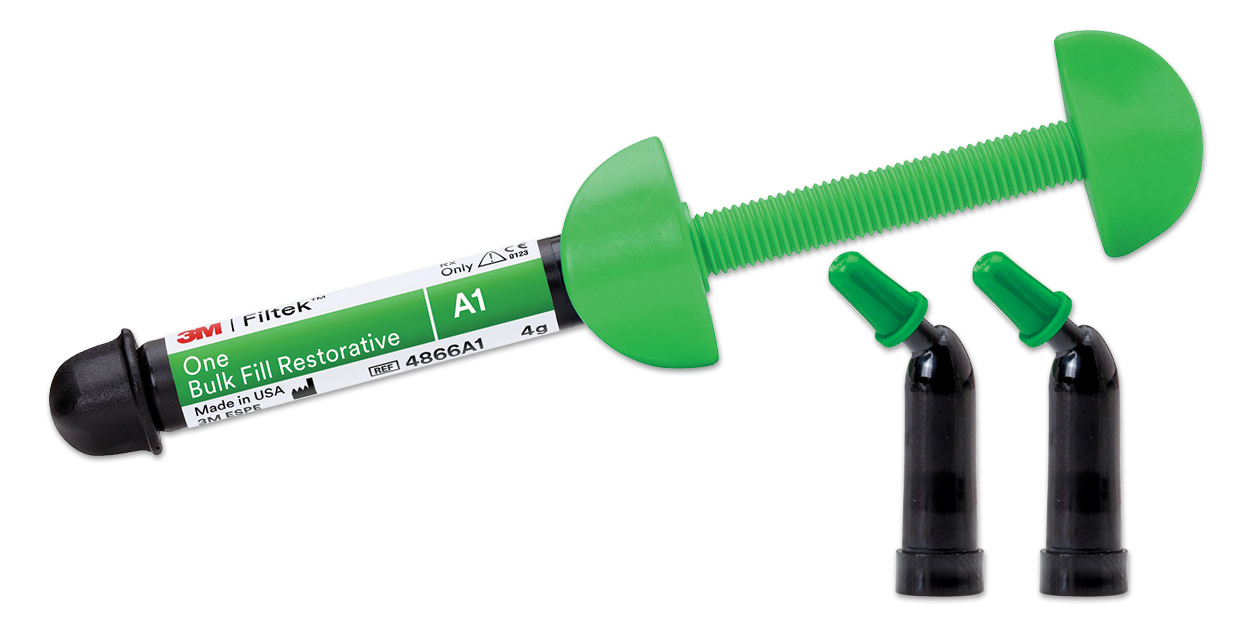 Product Details
Bulk fill restorative. Posterior restorations made simple with this one-step bulk placement solution.
Excellent adaptation and handling.
Eliminates the need for additional layers and multiple steps, without compromising wear resistance or stress relief.
Improves productivity with fast, easy placement in one increment up to 5mm with no additional capping layer.
Clinical Evaluations
Filtek One Bulk Fill Restorative

was evaluated by 41 consultants for a total of 1,075 restorations. It received a 92% clinical rating.
Description
Filtek™ One Bulk Fill Restorative is a light-cured, bulk fill nanocomposite restorative material, with increased opacity for improved esthetics. With a 5mm depth of cure, it allows for fast and easy one-step placement and can be sculpted. Filtek One Bulk Fill Restorative is designed specifically for the posterior, providing excellent marginal adaptation, superior wear resistance and excellent polish retention. The opacity is increased on curing, resulting in esthetic results without compromising the depth of cure. In addition, the aromatic urethane dimethacrylate helps to reduce polymerization shrinkage and stress. The addition-fragmentation monomer also reduces the polymerization stress.
Unique Features
Increased opacity for improved esthetics.
One-step placement with a 5mm depth of cure.
Excellent adaptation.
Highly radiopaque.
Indications
All classes of anterior and posterior direct restorations.
Base/liner under direct restorations.
Core build-ups.
Splinting.
Indirect restorations including inlays, onlays and veneers.
Restorations in deciduous teeth.
Extended fissure sealing in molars and premolars.
Repair of defects in porcelain restorations, enamel, and temporaries.
Clinical Tips
The increased opacity is important in posteriors with amalgam staining.
Make sure to follow the recommended curing time – it varies by light source and depth.
Consultants' Comments
"Great blending ability, polishability and a nice final shade. It is more opaque than most bulk fill materials."
"It adapts seamlessly to the tooth."
"Placed well in bulk."
"Use for pediatric cases – a single increment, bulk fill. Great material for build-ups."
©"The Dental Advisor"
September-October 2017 www.dentaladvisor.com
Filtek One earned 4.6 stars out of a possible 5.0.
More opaque than previous version, which minimizes graying out. Excellent depth of cure and exceeds even 90% cure in proximal box, but only after 40 seconds of light curing. Low shrinkage, low porosity, exceptional handling, not sticky, adapts well to cavity walls, adequate polish and shades, blends well into tooth structure. Nice tip design. Tips have enough material for most preps. Good radiopacity.
Still too translucent to consistently block out shine-through in through-and-through anterior preparations. Needs more shades for anterior teeth. Fluorescence is poor – it appears purplish and darker than tooth structure. Not much working time under dental unit light. Hard to read shade on tips. Even though graying out is less than with previous version, it is not eliminated.
Bottom line:
A definite improvement on its predecessor and an excellent choice as a posterior restorative, but it is still not the product of choice for anterior use.
©REALITY Publishing Company
12/13/17 website update
www.realityratings.com