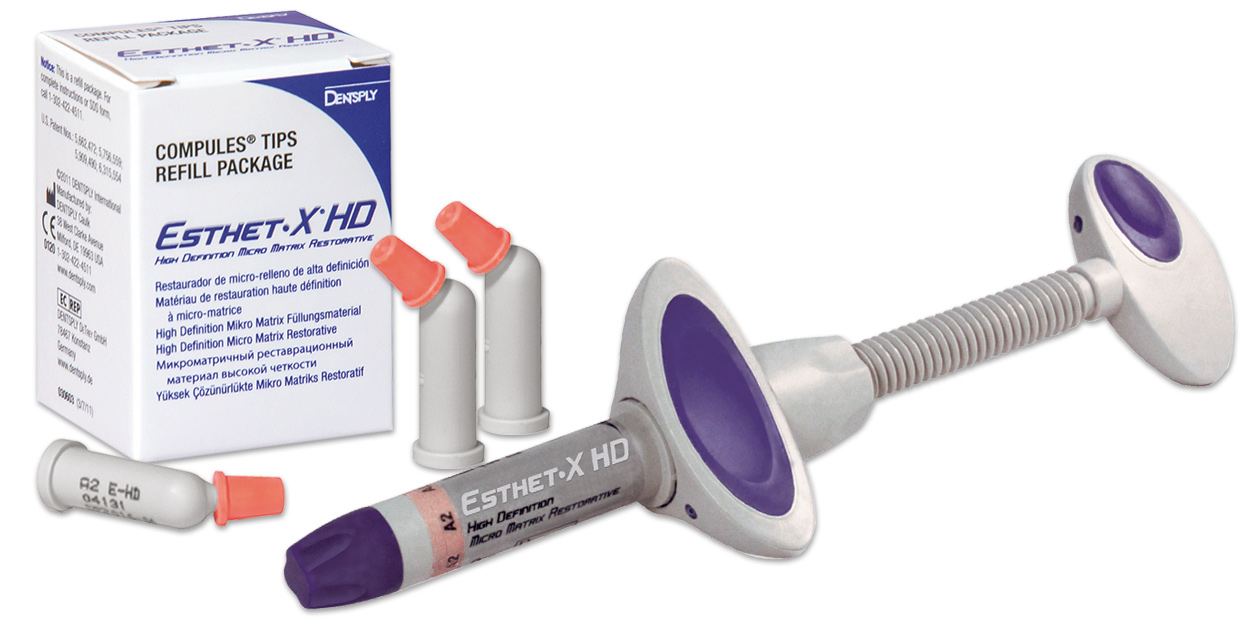 Watch Product Video(s)
Read Product Review(s)
Limit 5 redemptions per office. Free item will be of equal or lesser value
to lowest price purchase item.
Product Details
High definition micro matrix restorative. Optimized nano-filler particle distribution provides faster, easier to achieve, brilliant and long lasting polish. Excellent fracture toughness and optimal sculptable handling for both anterior and posterior restorations. Consistently brilliant results with single shade or multiple shade techniques. Radiopaque.
Clinical Evaluations
Esthet-X HD
was used by 31 consultants in 1,227 uses. It received a 93% clinical rating.
Esthet-X HD High Definition Micro Matrix Restorative is a visible-light-cured, radiopaque, composite restorative material for anterior and posterior restorations of primary and permanent teeth. It may be used in a single shade or in a layering technique and offers a number of unique shades for hard-to-match cases. Esthet-X HD is indicated as a direct restorative for all cavity classes in anterior and posterior teeth, for direct esthetic veneering and cosmetic reshaping, and for indirect fabrication of inlays and onlays. It is compatible with all methacrylate-based bonding agents.
The shade selection is excellent for creating esthetic restorations with the layering technique. The shade match and translucency create very good blending with the surrounding tooth enamel. The composite is an excellent choice for anterior cases. If layering is not desired, any of the shades may be used alone. When sculpting the surface of the composite, the material is moderately sticky and drags with the instrument. A nice polish is easily achieved with conventional rotary instruments. The kit is complete and includes everything needed for the procedure. The printing on the Compules Tips is small and difficult to read. Consultants suggested that labeling of the individual compartments in the kit with shades would improve chair-side efficiency.

36% of consultants reported that Esthet-X HD was better than their current resin composite and 52% reported that it was equivalent. 80% would switch and 94% would recommend it.
Use an opaque shade layer in class III and class IV restorations. If not, the translucency may result in a darker (gray) look to the restoration. The opaque shades are more saturated in color and help give depth to the color in the final restoration.
Ambient light causes the material to begin setting.

Consultants' Comments
"Very complete kit."
"Great final polish – high shine."
"Excellent for anterior esthetic cases."
"Handling was good."
"Good selection of shades – allows for layering technique. Shades are not too opaque, and the translucency is good for most cases."
"Composite has a chameleon effect - picks up underlying tooth color."
"Shades are difficult to read on the compules."
©"The Dental Advisor" September 2011 www.dentaladvisor.com
Esthet-X HD
earned 4.1 stars out of a possible 5.0.
Strengths:
All evaluators considered it to be better overall than the original version and especially easier to polish, which validates its main claim. Nice handling and brushable. Should appeal to a broad spectrum of clinicians. Outstanding assortment of shades: dentin, body, and translucent enamel, which can also be used for incisal placement. One evaluator felt it blended well into tooth structure and another thought you could match virtually any tooth. Easy-to-use shade guide that offers the ingredients for gourmet restorations. Fluorescence is reasonably close to that of natural teeth. Illustrated technique guide clearly demonstrates the proper use of the material. Very organized packaging.
Translucent enamel shades are too translucent when used to replace facial enamel and could lead to a gray-appearing restoration. This is why one evaluator thought using the translucent shades was tricky since they tend to lower the value. It did not achieve the 80% cure mark in the proximal box, even after 40 seconds. One evaluator thought it was not as easy as other composites in creating seamless and invisible margins. Two evaluators found the material in the compule tips to be overly dry. Due to all the choices, not a system for those looking for simplicity. One-quarter of evaluators considered it to be too sticky, with one evaluator commenting that it became even stickier during extended manipulation.
Better than the original version, nice material for daily use, plenty of shades and meets the ultimate goal of being easier to polish, but it''s still somewhat sticky, translucent enamel shades can cause a restoration to appear too gray and it should cure better in a proximal box.
©REALITY Publishing Company
2/28/12 website update
www.realityratings.com