G-aenial™ Universal Flo
(Made in Japan.)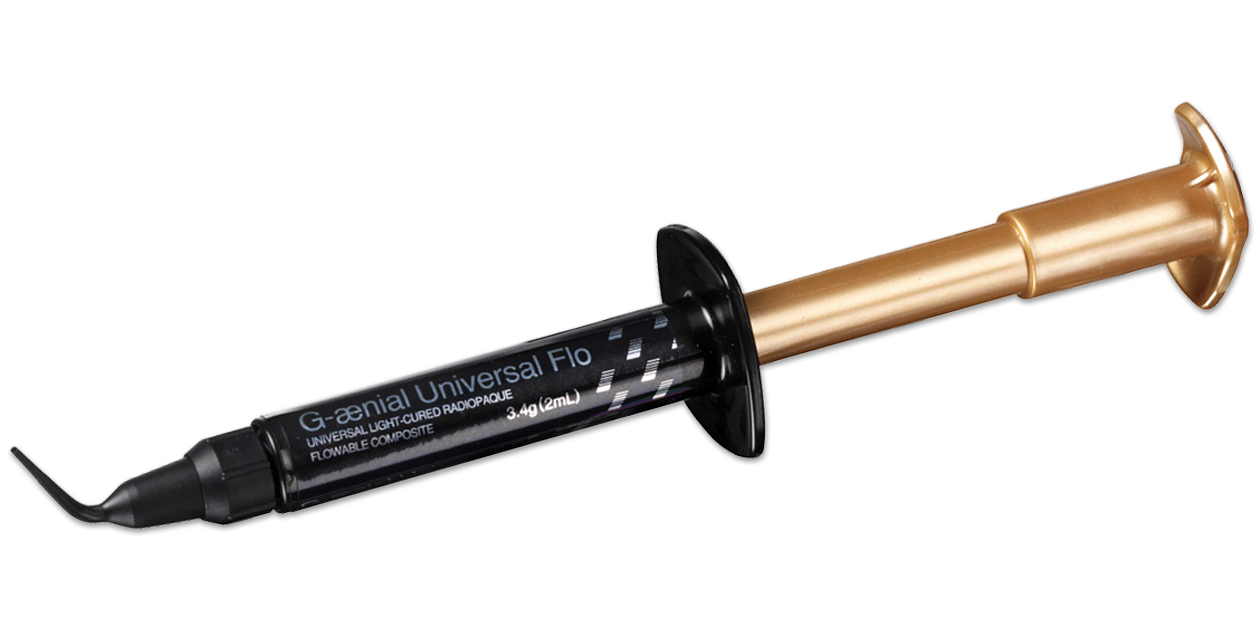 Watch Product Video(s)
Read Product Review(s)
Product Details
Truly universal light-cured injectable composite that has the handling of a flowable (low flow) with the strength and esthetics of a restorative. The new, innovative filler technology provides individually dispersed nanosized strontium glass fillers for high flexural strength and exceptional wear resistance. Achieve the highest level of aesthetic restorations with a beautiful high gloss finish and excellent gloss retention. The flowable, yet non-runny, stackable viscosity makes it the perfect choice for all cavity classifications.
Clinical Evaluations
G-ænial Universal Flo
earned 4.1 stars out of a possible 5.0.
Exceptional physical properties, non-slumping, stackable viscosity, minimal porosity, plenty of shades, good polishability, unique syringe and tip, no possibility of BPA.
Incisal shades have strange designations. Working time is minimal. Syringe shape, size, and tip were not universally appreciated. Doesn't flow well into bottom of proximal box. Not easy to cure. No preloaded tips.
Too soon to tell if it is strong enough to be used as a universal restorative – no evaluator chose to use it in that manner and it is not easy to cure deep in a prep, but its innovative formula including being BPA-free gives it unique appeal, especially in a pediatric setting.
©REALITY Publishing Company
2/17/12 website update
www.realityratings.com