3M™ Filtek™ Supreme Ultra Flowable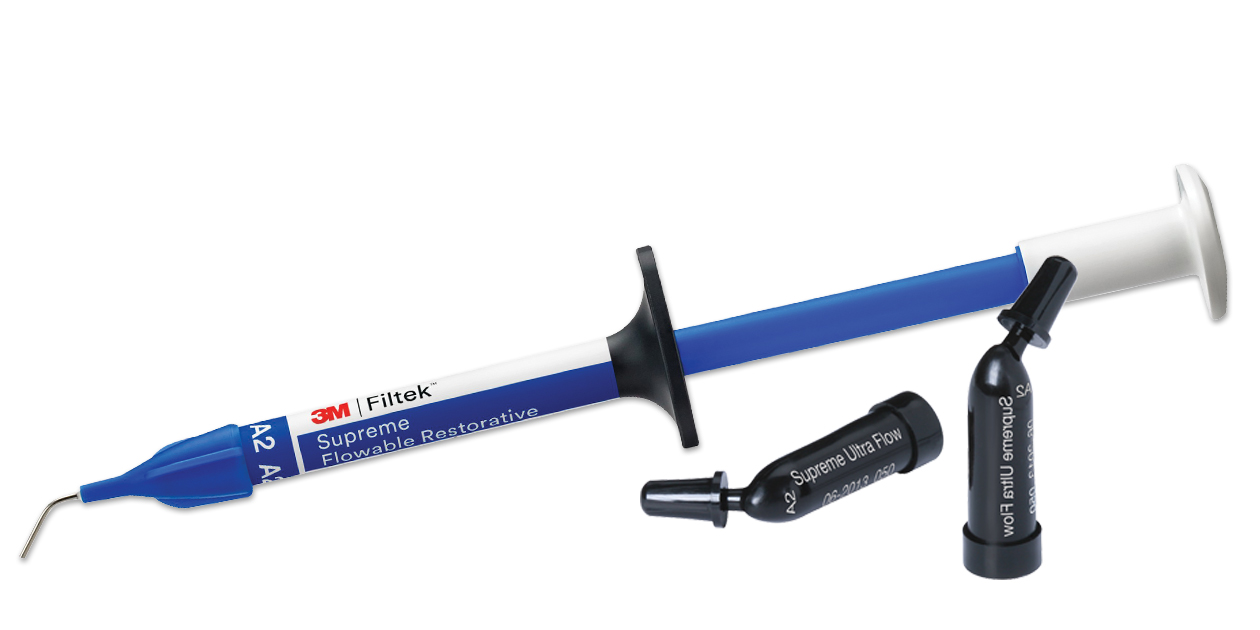 Watch Product Video(s)
Read Product Review(s)
Product Details
Next generation nano-technology flowable composite offers enhanced esthetics, excellent physical properties and flow-on-demand handling. Radiopaque. Shades are formulated to be an exact match to Filtek Supreme Ultra universal composite shades.


New syringe for easier placement! The material has not changed, but the new syringe design is easier to hold and inject, and the blue barrel indicates the remaining material volume. The new syringe tips reduce bubbles and waste. (The new syringe tips must be used with the new syringe style.)
Indicated for the restoration of minimally invasive cavity preparations, as a base or liner under direct restorations, and to repair small defects in esthetic indirect restorations, pit and fissure sealants, block-out undercuts, and resin and acrylic temporary materials.
Clinical Evaluations
Filtek Supreme Ultra Flowable
earned 4.1 stars out of a possible 5.0.
For single viscosity material, its consistency comes close to ideal for across-the-board usage, with minimal to no slumping but with flow when you want it to. Shades and color matching are above average and polish is excellent. Porosity is minimal.
Doesn''t quite hit the 80% cure goal at the bottom of a proximal box. There are no incisal shades, which may limit its use when repairing small incisal edge fractures. Working time is minimal. Too opaque in some cases. No organizer - bags are tough to store on shelf. While fluorescence is better than previous version, it still appears bluish compared to tooth structure.
Probably the best overall single-viscosity material, but it could be even better if it had an incisal shade and it cured better in Class II.
©REALITY Publishing Company
Volume 22 (2012)
www.realityratings.com