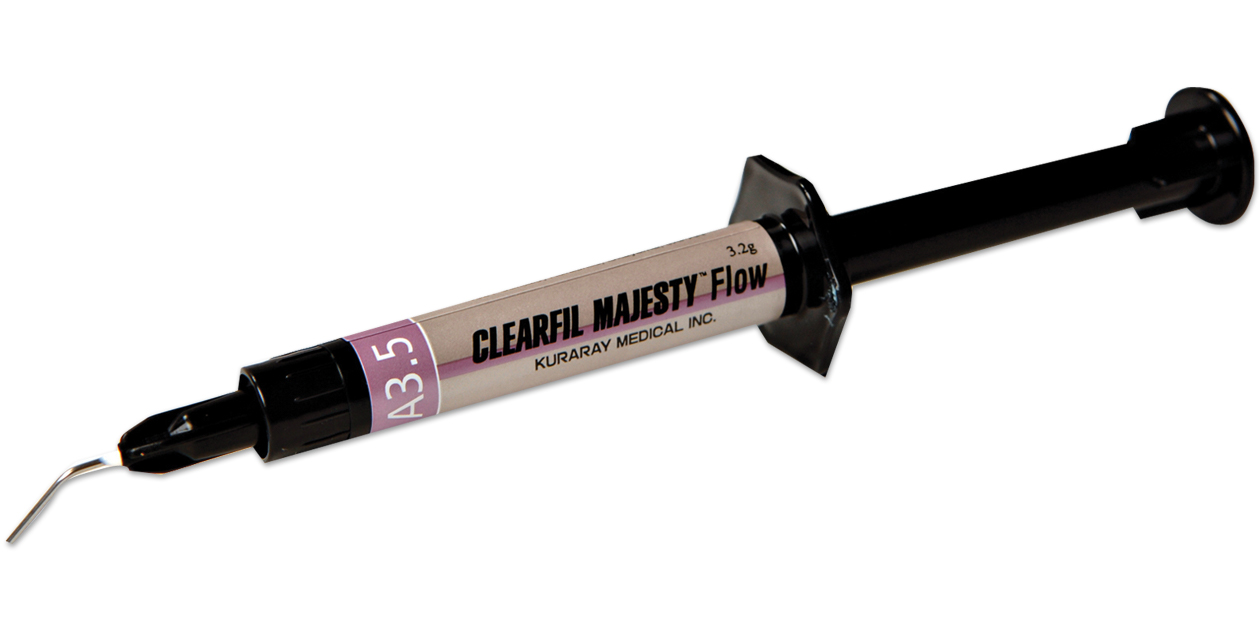 Free refill will be of equal or lesser value to lowest price purchase
value to lowest price purchase refill.
Product Details
Light-cure, superfilled, radiopaque flowable restorative resin that has excellent consistency and strength, very low shrinkage, an extremely high filler loading (81wt%) and an easy, bubble-free syringe dispenser. Flows under minimal pressure, holds its shape and stays in place.
Clinical Evaluations
Clearfil Majesty Flow
was evaluated by 17 editors in over 350 procedures. This product received a 91% clinical rating.
Description
Clearfil Majesty Flow is a light-cured, radiopaque, flowable composite restorative. It contains 81% filler by weight and is indicated for direct Class I, II, III, and V restorations, cavity base/lining and intraoral repairs.
Instructions are clear and concise. The syringes are packaged individually rather than as a kit and each syringe is clearly labeled. The editors would like to see more than 20 dispensing tips included with each syringe.
Viscosity/Ease of Placement
Most editors observed that the viscosity of Clearfil Majesty Flow was optimal. The material flows very well out of the syringe with precise dispensing from the tip and minimal overflow. Stackability is adequate, with some slumping in cervical areas. Wettability of tooth structure is excellent. Minimal bubbles were noted during placement. Keeping the tip within the material minimizes bubbles.
Ease of Finishing/Polishing and Final Esthetics
The material cuts nicely and polishes to a very good finish. Final esthetics is excellent. No concerns in these categories were reported by the editors.
"Stays put - excellent viscosity"
"Nice consistency and shade assortment."
"One of the better flowables I have used."
"The material did not flow completely into sharp corners."
©"The Dental Advisor" November 2007