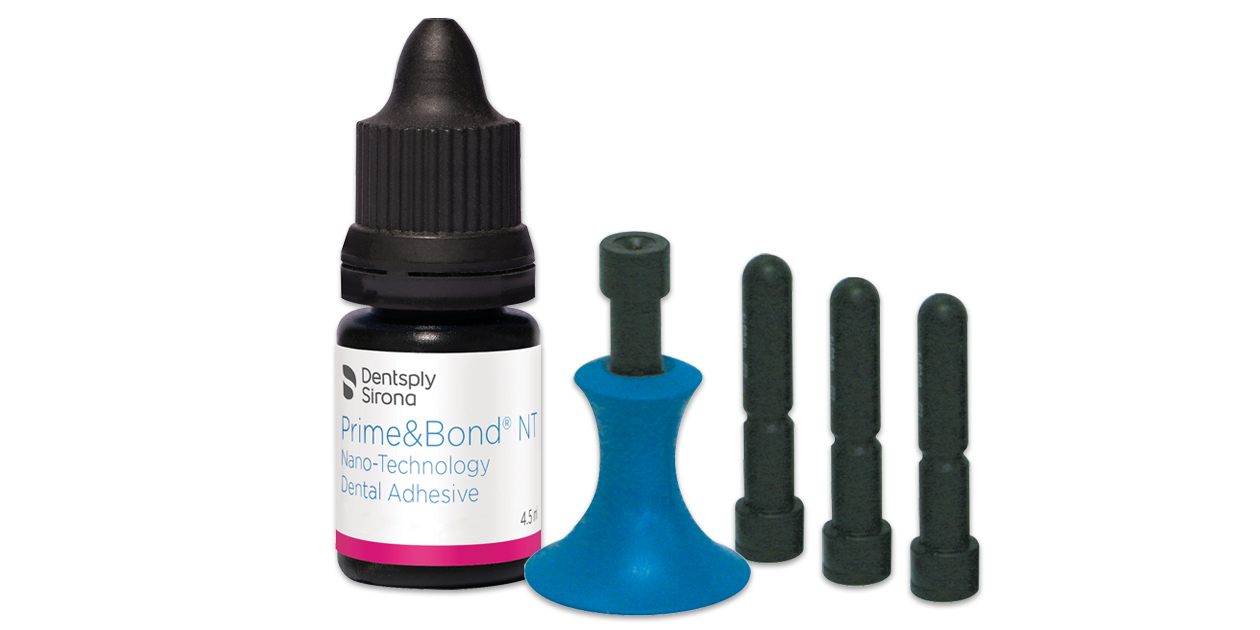 Product Details
Single component, light cure adhesive for direct composite and compomer restorations. Exclusive Nano Technology results in nanofillers small enough to fill and reinforce tubules and ensure marginal integrity while protecting against sensitivity. Simple, forgiving one-coat, one-cure application.
Clinical Evaluations
Prime & Bond NT
12-Year Clinical Performance
Prime & Bond NT is a light-cured, total-etch bonding agent that contains nanofillers of amorphous silicon dioxide, di- and tri-methacrylate resins, PENTA (dipentaerythritol penta acrylate monophosphate), and acetone (solvent). It requires one application followed by a 10-second light cure. Prime & Bond NT is designed to bond composite materials to enamel and dentin. It is also indicated for the bonding of veneers, composites and ceramics, as well as an adhesive cavity varnish for amalgam. When using Prime & Bond NT to bond crowns and veneers, it must be mixed with Self Cure Activator. The purpose of this study was to determine the long-term clinical performance of Prime & Bond NT at 12 years. This product received a 98% clinical performance rating.
Prime & Bond NT was used to bond a total of 151 composites, crowns and veneers over 12 years. Self Cure Activator was used with Prime & Bond NT in the bonding of crowns and veneers. At 12 years, 84 of these restorations were available for recall.


No patients reported any long-term sensitivity in the teeth where Prime & Bond NT was the bonding agent used. >Resistance to Marginal Discoloration 81% of the restorations evaluated at recall showed no signs of marginal staining. Slight marginal discoloration was observed in 17% of the restorations and moderate marginal discoloration was observed in 2%. No restorations were replaced or repaired as a result of marginal discoloration.


No restorations placed debonded during the 12 years in service. One MOD >restoration on a premolar fractured and was replaced. One restoration was replaced and extended as a result of recurrent caries. 3 restorations were subsequently covered with a crown.
©"The Dental Advisor" July-August 2013 www.dentaladvisor.com
Prime & Bond NT
earned 3.8 stars out of a possible 5.0.
No surprises. It has proven chemistry and can work across-the-board. Our tests suggest that the original adhesive will perform better than the dual-cured version for virtually anything that you can light cure, which means any metal-free restoration less than 5mm in thickness. For self-cured purposes, however, the activator is still necessary. Regardless of whether you are using the adhesive alone or mixed with the self-cure activator, be sure to precure it before placing the restoration. It also has the advantage of having a unit dose version.
Sometimes requires additional coats when mixed with the self-cure activator to achieve shiny surface.
Began the single-component adhesive trend and still continues to perform admirably in most clinical situations.
©REALITY Publishing Company
2/28/12 website update
www.realityratings.com