OptiBond™ All-In-One
(Made in USA.)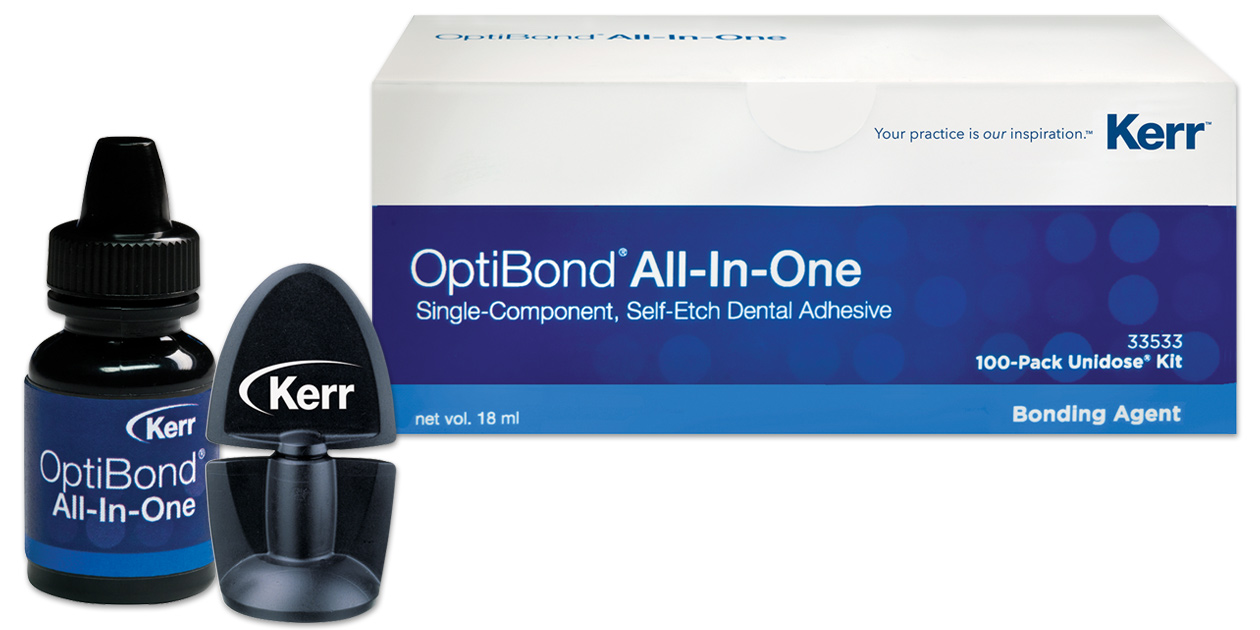 Product Details
OptiBond All-In-One gives you a simple, one-step process, with no mixing. Etching, priming, and bonding are captured in one material.

You get:
Exceptional bond strength – the highest bond strength to both dentin and enamel for 7th generation, self-etch adhesives.
Protection against microleakage and post-op sensitivity.
Direct/indirect use. Excellent adhesion to enamel, dentin, porcelain and ceramics.
Can be used on moist or dry surfaces.
Refrigeration required; this product is stored under refrigeration at Safco.
Reviews
OptiBond All-In-One
was evaluated by 27 consultants in over 1,200 restorative procedures. This product received a 96% clinical rating.
OptiBond All-In-One is a 7th-generation bonding agent and is indicated for etching, priming, and bonding of enamel and dentin in a single step for both direct and indirect procedures. Application requires two, 20-second surface scrubs followed by 5 seconds of a gentle air stream before a 10-second light cure.
Consultants rated the ease of dispensing, application, and versatility of OptiBond All-In-One highly. The unit-dose package, viscosity and surface wetting also were rated very high. The time for a double application of bonding agent seemed long to some consultants, whereas others felt the process was faster since etching was not needed. The solvent in OptiBond All-In-One includes acetone which brings some odor to the product.

81% of consultants found OptiBond All-In-One equivalent to or better than their current bonding agent, 63% would switch, and 85% would recommend it to a colleague.
"Laminated instructions are great."
"Very easy technique - use enough to develop a uniformly shiny bonding surface."
"Great all-around product."
"Doesn't stick to metal matrix bands."
"Bottle may deliver too many drops."
©"The Dental Advisor" March 2008