iBond® Self Etch
(Made in Germany.)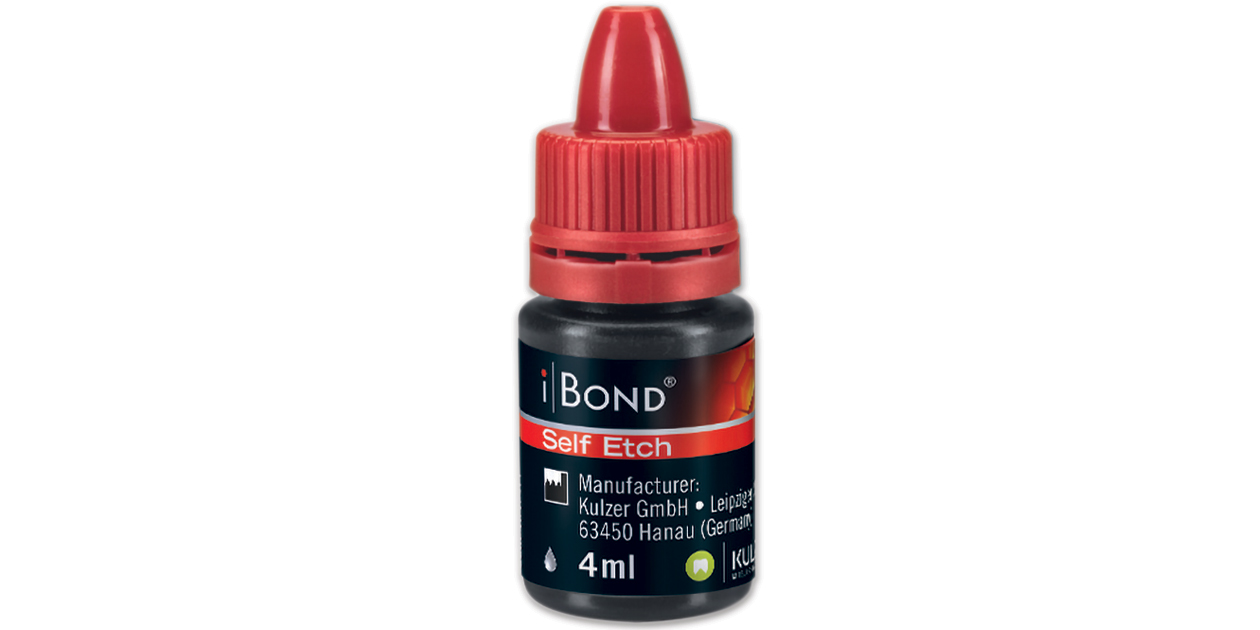 Free item will be of equal or lesser value to lowest price purchase item.
Product Details
New and improved formula offers the same great iBond Self Etch performance without the need for shaking before use and requires no refrigeration.
Light-cured all-in-one bonding agent etches, primes, bonds and desensitizes with just one application. Indicated for direct composite restorations and indirect bonding when used in combination with a light-curing luting cement, and for sealing hypersensitive areas. Offers less technique sensitivity, with high bond strength and proven marginal efficacy due to easy evaporation.
Reviews
iBond Self Etch
bottle kit was evaluated by 26 consultants in 648 uses. It received a 96% clinical rating.
iBond Self Etch is a light-curing, self-etching, one-component bonding agent (7th-generation) for use in combination with adhesive restorations. Separate conditioning (etching) of the enamel and dentin is not required; however, use of an additional etching gel on the enamel before application of iBond Self Etch will not have a negative influence on the bond strength. iBond Self Etch is indicated for bonding of direct light-cured composite restorations, indirect restorations (porcelain and composite inlays, onlays, veneer, crowns) in combination with a light-curing luting cement, and for sealing hypersensitive areas of teeth. Light curing time is 20 seconds. No refrigeration is required after the product is opened for first use.
Consultants reported that iBond Self Etch was easy to dispense from the >plastic bottle and apply to the tooth. The clinical procedure is easy to follow with a minimal number of steps. Most consultants commented that the 20-second curing time is too long for a bonding agent. The viscosity of the adhesive allows complete coating of tooth surfaces without running or pooling, with a low film thickness after air drying. Some consultants and patients noticed a slight odor from the acetone component of the adhesive.

35% of consultants reported that the iBond Self Etch was better than their current bonding agent and 62% reported it was equivalent. 81% would switch to iBond Self Etch and 96% would recommend it.
"Easy to dispense and use."
"The red bottle distinguishes iBond Self Etch from the total-etch version in a green bottle."
"Material comes out of bottle quickly."
"There was a slight odor."

Editors' note: this evaluation was performed with the previous formulation of iBond
Self Etch. Heraeus has introduced an improved formulation that no longer requires
the need for shaking before use and does not need to be refrigerated. Heraeus has indicated that performance remains the same.
©"The Dental Advisor" May 2012