3M™ Adper™ Prompt™ L-Pop™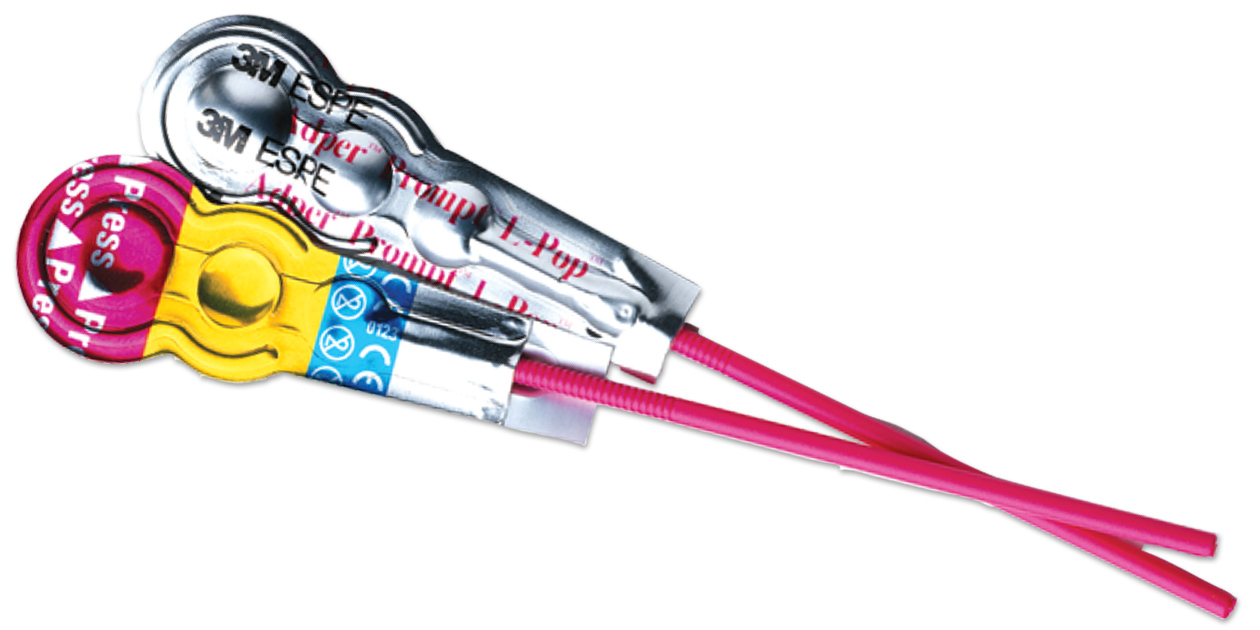 Product Details
One step, unit-dose, self-etch light cured adhesive. Fast, easy L-Pop delivery system allows you to etch, prime and bond direct restorations in a single step - all in seconds. Reduces risk of post-operative sensitivity.
Clinical Evaluations
Adper Prompt L-Pop Self-Etch Adhesive
was evaluated by 25 consultants in over 670 restorative cases. This product received a 91% rating.
3M ESPE Adper Prompt L-Pop Self-Etch Adhesive is a bonding agent with unique packaging that combines all necessary components into a disposable unit-dose applicator.

The bonding agent components are stored in two separate foil reservoirs. Upon squeezing the first reservoir, the liquid moves into the middle reservoir containing a second liquid; it is mixed and activated then squeezed again into the third reservoir where it coats the microtipped applicator. A yellow tint to the bonding agent indicates proper activation.

The adhesive is then applied to the tooth surface and rubbed with moderate pressure for 15 seconds. A gentle stream of air is directed at the tooth to thoroughly spread the adhesive into a thin film. The surface appears glossy and is then light-cured for 10 seconds.
Consultants were very pleased with the instructions and packaging of Adper Prompt L-Pop Self-Etch Adhesive. Most really liked the innovative packaging system, and several mentioned that it was easier to use than the previous formulation. They were very positive about the single-step, unitdose delivery system. Only one consultant mentioned that it was somewhat difficult to activate.

The elimination of a separate etching step and no rinsing were considered to be major advantages. Several consultants noted that Adper Prompt L-Pop Self-Etch Adhesive was quick and easy to use, and they appreciated the unit-dose system for simplifying infection control.

70% of consultants indicated that they would both purchase and recommend Adper Prompt L-Pop Self-Etch Adhesive.
"Excellent product – quick and easy."
"I noticed a definite decrease in sensitivity compared to other bonding agents."
"Proper activation was difficult at times."
"Once bent, the brush did not maintain its position."
©"The Dental Advisor" September 2003